The 13 Best Virtual Date Night Ideas
Whether you're on your first date with them or your hundredth.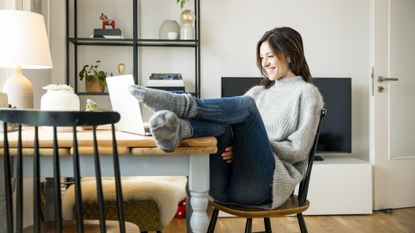 (Image credit: Westend61/Getty Images)
Whether you're in a long-distance relationship or self-isolating from others due to COVID-19 protocols, you're here because date night looks a little different for you. So when you want things to feel special, or just want to get to know someone new, your date options might feel slim. Have no fear: Virtual dates and at-home dates can be just as fun as IRL dates, whether you're looking to deepen your bond, spend quality time together, or just get to know each other. You, your drink of choice, and your laptop are all you need to feel the magic of a date night in your home, even if that special someone is literally a thousand miles away (Vanessa Carlton was ahead of her time, people!). The next time you're arranging a virtual Bumble date or just find yourself looking blankly at your significant other over a Zoom call, whip out this guide.
A Virtual Game Night
Show your competitive side with a virtual game night. We love Jackbox Games, which lets you purchase a pack of different games—like Quiplash, where you have to put in the silliest answers for different clues (think Cards Against Humanity but virtual), or Drawful, which is like Pictionary but even more irreverent. It's a way to showcase your creativity while also getting to know the other person's sense of humor—plus, it's great for low-key virtual group dates, because most of the games get better the more players are involved.
Do a Workout Class
Serve up some endorphins with your date night. Some of your favorite workout classes have gone virtual, which means you and a date can break a sweat in the comfort of your respective homes. The Class by Taryn Toomey is the celeb fave that combines mindfulness and high reps for a workout that leaves you feeling great physically and mentally, and their online Digital Studio offers a ton of remote classes. Or, for an affordable option that doesn't require a decked-out home gym, Housework with Sydney Miller is a high-energy, 50-minute workout that allows the option of using stuff around the house to feel the burn.
Try Some Love Trivia
Expand your knowledge and get to know what makes each other tick by taking a virtual class together. MasterClass offers expert-taught introductions to everything from wine tasting to filmmaking, taught by the biggest names in their respective businesses. (How about learning to make breakfast with Gordon Ramsey?) Or, for a free option, Coursera offers no-cost classes in a huge range of subjects so you and your date can pick what you're both interested in and then learn all about it. Plus, afterwards, you have a ton to talk about as you unpack your new skills.
Go on a Themed Dinner Date
Choose a country, city, film, TV show (you get the gist) and center your night around what you'd most likely experience if you were actually in that place. For example, if you decided to do a Friends-themed dinner, make your Zoom background Central Perk or one of the characters' apartments and choose dishes you think Monica Geller would make.
Curate Playlists for Each Other
Most of us use services like Spotify or Apple Music to listen to music, but that doesn't mean making mix tapes for that special someone is a lost art—you can easily make playlists for somebody using both services. Create playlists featuring songs with special meanings; the songs you recommend; or even try and tell a story through song titles.
Plan a Romantic Candlelit Dinner
Set up that Zoom call, light a couple of candles, perhaps some music to set the mood, and get those delivery food apps out! You and your partner can order food for each other to be delivered and consider it a night on the town without leaving your house. Also, you'll be supporting each other's community and won't have to cook. Consider it a win-win.
Channel Your Inner Artist
Set up a 10-minute timer (or more, I don't judge) and have your date sit for a portrait over your FaceTime or Zoom call. The results may be funny, and seeing what details your partner focused on during those minutes can be special. Don't forget to send the finished products in the mail, so each partner can admire them in person.
Start Your Own Book Club
Select a book that fits both of your reading palettes and give each other a certain amount of time to finish the novel. When you're both done, hop online and discuss what you thought of each book. Bonus points if you provide some special snacks or drinks that would appear in the world of your book!
Binge-Watch a Show or a Movie Together
I miss paying $25 for bad snacks at the movies like the next girl, but apps like Netflix Party give you the option to chat while watching your entertainment of choice. If you're unsure where to start, check out our list for the best original Netflix movies or the films you have to see at least once in your life.
Cook The Same Recipe Together
Select a recipe that correlates with the cooking skills you both have and get ready to enjoy a tasty meal at home. Grab what you need at the grocery store, get on that Zoom call, and get moving. For some added fun, make your version of Food Network's Chopped and see who can make the best-looking dish from the ingredients they have at home. (You might not get to taste, so you'll have to take their word for it...)
Go on a Hometown Date, Quarantine Style
Channel your inner Bachelor and take your boo around your hometown using Google Maps. Select a meeting point on the map and walk them through where you grew up. If you're not in the mood to relive those high school days, mix it up by showing someone your usual commute to work.
Get Creative In Your Closet
This one may be kind of out of the ordinary, but it'll let you get to put on some of those spring clothes you've been itching to wear. Challenge your partner with a ridiculously fun prompt like "Create an outfit with your pajama pants that you can wear out for a night on the town" sort of thing. The responses are funny, and the idea of getting dressed to go somewhere will make you feel a certain kind of way.
Take a Walk Together
Enjoy the fresh air and follow social distancing guidelines all at the same time. (Also, exercise!) Jump on a phone call together before you start your walk and take in your surroundings together. As a bonus, send photos of what you see while you're on your walk.
Marie Claire email subscribers get intel on fashion and beauty trends, hot-off-the-press celebrity news, and more. Sign up here.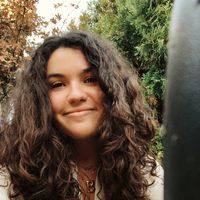 Bianca Rodriguez is the Fashion & Luxury Commerce Manager at Hearst Magazines, covering fashion, beauty, and more for Cosmopolitan, Elle, Esquire, Harper's BAZAAR, and Town & Country. She likes lounging about with a good book and thinks a closet without platform sneakers is a travesty.