The Cast and Characters In Netflix's 'The Old Guard'
Including a Harry Potter alum!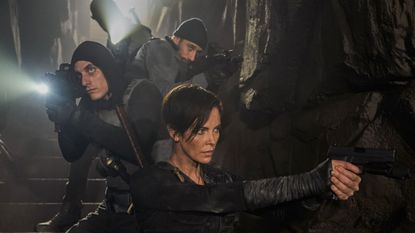 (Image credit: AIMEE SPINKS/NETFLIX)
Marie Claire newsletter
Celebrity news, beauty, fashion advice, and fascinating features, delivered straight to your inbox!
Thank you for signing up to . You will receive a verification email shortly.
There was a problem. Please refresh the page and try again.
Spoilers for The Old Guard ahead. If you're curious about new Netflix film The Old Guard, (opens in new tab) I can confirm that it is a fun, fully realized vision. The plot: Several quasi-immortal characters, led by Charlize Theron as Andy, have acted as anonymous mercenaries for centuries. When a new member of the group emerges (KiKi Layne as Nile) and a Big Pharma company comes hoping to steal the secret to their eternal life, the raucous action really begins. The screenplay was written by the original comic book co-creator, Greg Rucka (opens in new tab), so it's a pretty respectful adaptation of the classic comic series. And the film boasts a star-studded cast with some pretty incredible international actors. (In particular, American actor Layne is a superstar in the making). So if you, like me, spent a whole bunch of the film wondering where you knew these actors from, in between marveling at how awesome they all are, wonder no more. And if the film spawns a sequel, we'll be seeing a lot more of them...
WATCH 'THE OLD GUARD' ON NETFLIX (opens in new tab)
1/13
Charlize Theron as Andy
Surprising no one, if you're familiar with her work, Theron is great in this. She's Andy, full name Andromache the Scythian—and she's been alive for a really, really long time. She doesn't specify in the film, but a companion history video (opens in new tab) specifies 4800 B.C. as the date she learned she couldn't die—making her almost 7,000 years old, if my math is right.
2/13
Theron as Andy
This character is a nice mix between Theron's roles as Furiosa in Mad Max: Fury Road and Lorraine in Atomic Blonde, with a touch of sadness and empathy.
3/13
KiKi Layne as Nile
Also really great is relative newcomer Layne as U.S. Marine Nile who discovers she can't die after taking a gnarly-looking knife wound to the throat. She's starred in If Beale Street Could Talk and Native Son, and she totally kills it (pun intended) in this, too. It's hard to convincingly go toe-to-toe with Theron in fight scenes, but she's super-believable.
4/13
Layne as Nile
If I had one minor quibble, it's that the film doesn't do enough with her—she's stuck looking befuddled for a chunk of the movie as she tries to figure out what being immortal means for her—but if there's a sequel (fingers crossed) she's the one I'm most excited to watch.
5/13
Chiwetel Ejiofor as Copley
Ejiofor's Copley is the ex-CIA guy who recruits Andy's team on a mission—but, as shown in the trailer, actually may have some pretty harmful intentions for the group.
6/13
Ejiofor as Copley
Ejiofor is characteristically terrific playing ambiguously good and evil at the same time, and, spoiler alert, his character may play a big role if there's a sequel.
7/13
Matthias Schoenaerts as Booker
I spent the first third of the movie wondering aloud to my husband, "Where do I know that actor from??" Turns out it's Red Sparrow, although Schoenaerts also had roles in The Danish Girl and Rust and Bone.
8/13
Schoenaerts as Booker
As Booker, he's the second youngest of the group (so, he's only 200 years old) and he's troubled, having watched his entire family die long ago.
9/13
Marwan Kenzari as Joe
Recognize Kenzari? The Dutch actor was Jafar in the Aladdin remake—plus, he was also in the Ben-Hur and Murder on the Orient Express remakes as well. As Joe, he realized he couldn't die after he came up against a foe in battle during the Crusades...
10/13
Luca Marinelli as Nicky
A foe who ends up being another immortal man, Nicky, who becomes his life partner (after the two tried to kill each other a bunch of times, apparently). Luca Marinelli has mostly been known for Italian films up to this point like Martin Eden. He's also in the TV show Trust.
11/13
Kenzari as Joe, Marinelli as Nicky
The two have crazy chemistry together, and honestly, it's one of the sweetest, loveliest parts of the film for me. Just wait until you get to the part where Joe talks about how much Nicky means to him. (The fact that there are two gay "superheroes" in the film is a pretty big deal, too.)
12/13
Harry Melling as Mellick
If that face (or that name) seems familiar to you, Harry Potter fans, there's a good reason for that: Melling played Dudley Dursley, Harry's nasty, cruel cousin. He looks really different (opens in new tab) from his role in the film series, but he channels just as much nastiness and cruelty into his portrayal of a pharma exec hoping to mine the immortal mercenaries for their secret to eternal life.
13/13
Van Veronica Ngo as Quynh
She's only glimpsed in flashbacks and at the very end, but Ngo's Quynh goes from lifelong ally of Theron's Andy to (potentially) bitter enemies. You've seen this Vietnamese actor in Bright, Furie, and The Last Jedi, and—if a sequel to The Old Guard gets greenlit—you'll likely see a lot more of her in that, too.
•••
For more stories like this, including celebrity news, beauty and fashion advice, savvy political commentary, and fascinating features, sign up for the Marie Claire newsletter.
SUBSCRIBE HERE (opens in new tab)
Katherine's a Boston-based contributor at Marie Claire who covers fashion, culture, and lifestyle—from "Clueless" to Everlane to news about Lizzo. She's been a freelancer for 11 years and has had roles with Cosmopolitan and Bustle, with bylines in Parents, Seventeen, and elsewhere. It's "I go to dinner," not "Her huge ego," but she responds to both.