Ghost Movies That'll Convince You to Invest In a Night Light
Suddenly I have the Ghostbusters on speed dial?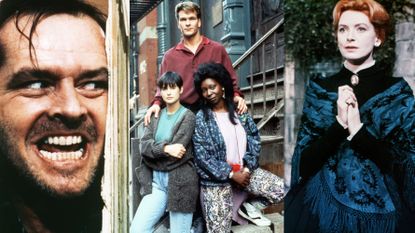 (Image credit: Getty Images)
Marie Claire Newsletter
Celebrity news, beauty, fashion advice, and fascinating features, delivered straight to your inbox!
Thank you for signing up to Marie Claire. You will receive a verification email shortly.
There was a problem. Please refresh the page and try again.
Ghoulish elements are the bread and butter to any spooky movie. Not every film in the genre, from the straight-up terrifying to the Halloween-themed to the family-friendly, features ghosts—but the good ones, the kind that leave you questioning everything, are filled to the brim with them. Sometimes the ghosts very friendly (Hi, Casper!), sometimes they'll help you get rid of annoying house guests (Hello, Beetlejuice!), but sometimes they'll steal your children for their own evil benefit (yeah, not calling out that one). Ahead, here are 28 best ghost movies of all time. I'm not saying you should have the Ghostbusters on speed dial before watching one of these moves, but uh, you might want to play it safe.
'Oculus' (2014)
You're probably not going to want to spend too much time in front of the mirror after watching this flick. Siblings Kaylie and Tim reunite after 10 years to find out what really happened to their parents on that terrifying night so long ago, but they disagree about what led their parents to their ill fate.
'The Others' (2001)
Nicole Kidman and a wonderful British accent are the stars of this film, which is about a mother who moves into a seaside home with her two photosensitive children towards the end of the Second World War. While waiting for her husband to come home, she starts to believe her family isn't the only thing occupying the home.
'The Conjuring' (2013)
Set in the 1970s, paranormal investigators Ed and Lorraine Warren make a house call to an off-the-beaten-path farmhouse that houses the Perron family. It dawns on the couple that this could be the darkest spirit they've ever faced. Also, did I forget to mention it's based on a true story?
'The Haunted Mansion' (2003)
Not all ghost movies need to be scary! In fact, they can be really, really funny, and focus on a family of workaholic realtors who get invited to a creepy mansion to check it out for a potential listing. Naturally, the meeting goes awry.
'The Curse of La Llorona' (2019)
The legendary ghost La Llorona doesn't play, and she has her sights on any children she can get her hands on. Some people *cough* the social worker in this movie *cough* don't believe the tale is true, but she and her two children find out soon enough.
'The Fog' (1980)
At the bottom of the sea off the coast of Antonio Bay, California rests a 100-year-old shipwreck. As the town prepares for the centennial celebration, a misty fog rolls into town, bringing more bad than good to its people, and it won't stop. Now might be a good time to look back into history books to see what really happened all those years ago.
'The Ring' (2002)
Back when VHS was a thing (feel old yet?), a mysterious tape was rumored to lead the watcher to an ill fate one week after they pressed play. A stubborn journalist (Naomi Watts) watches the video, not believing the hype—that is, until she gets a phone call warning her she has seven days.
'Winchester' (2018)
The most haunted house in the world sits in San Jose, California, and is owned by firearm heiress Sarah Winchester (Dame Helen Mirren.) Standing at seven stories with over a hundred rooms, the house is a sight to behold, but what's going on inside its walls is really the main attraction. (Hint: ghosts out for vengeance.)
'Poltergeist' (1982)
Ghosts openly communicating through a television set should send any normal person running for the hills, except the Freelings aren't your average family. They think it's cute, at first, but then their five-year-old daughter goes missing, and the ghosts in the T.V. start to look more menacing than friendly.
'The Ghost and Mrs. Muir' (1947)
A recently widowed Lucy Muir (Gene Tierney), her daughter (Natalie Wood), and loyal maid decided to ditch London for the beach. Sounds like the beginning of a lighthearted movie, except upon arriving at their new digs, Lucy finds out it's haunted by its previous owner, Captain Daniel Gregg. She knows she should be scared of the guy, but he is kind of handsome. Yeah...you see where this is going.
'The Orphanage' (2007)
Laura, a former orphan, decides to raise her adopted son Simón and her husband Carlos in the same orphanage where she grew up. This isn't the weirdest part. No, that goes to her's sons five "invisible" friends who aren't actually a figure of his imagination and aren't very nice.
'Beetlejuice' (1988)
Ghost couple Barbara (Geena Davis) and Adam Maitland (Alec Baldwin) find themselves stuck haunting their country house after they die in a car accident. Their internal limbo is interrupted when an obnoxious family moves into their home. Unable to scare them, they're forced to hire an infamous spirit named Beetlejuice (Michael Keaton) to scare them away.
'The Haunting' (1963)
Love Netflix's The Haunting of Hill House? Us too. So it's only right to set some time aside to the movie the show looks to as a loving older sibling. This time around, a doctor invites people to figure out if the house is really as haunted as it seems. It's definitely not your normal sleepover.
'A Tale of Two Sisters' (2003)
Two sisters reunite after some time apart at their widowed father's country home. To their surprise, he's remarried, and his wife isn't exactly in their good graces. As they try to get back to "normal," strange things start happening, or at least that's what they think their experiencing. You'll be thinking about this one post-credits.
'Candyman' (1992)
Before you head to the theatre for the 2021 reboot of this classic, check out the original. A myth-studying grad student (so, like, the coolest major ever) accidentally summons a one-armed man out for murder after saying his name five times in front of a mirror. She still doesn't believe the myth is true until a bunch of people start to go missing, and suddenly it's up to her to stop him.
'1408' (2007)
The idea of staying in a haunted hotel room known for driving over 50 guests to a deadly madness isn't the ideal getaway for most people. Still, for writer Mike Enslin, it seems like the perfect subject for his next assignment. Known for debunking paranormal hotspots, to him, this seems like a piece of cake, but all those warnings weren't for nothing.
'Casper' (1995)
Say it with me, people: "Not all ghosts are bad!" Need proof? Watch this film about a cute little boy ghost named Casper who helps an afterlife therapist and his daughter get rid of the mean spirits who haunt their house.
'Paranormal Activity' (2007)
Most people record themselves sleeping to see if they snore loudly or talk in their sleep, not to double-check that "bump" in the night isn't the evil spirit they think it is. This newlywed couple definitely regrets deciding to film when they look at their footage in the morning.
'The Innocents' (1961)
In the English countryside, Miss Giddens takes a job as a governess for two orphaned children at their uncle's request. As the three of them grow close, other forces in the house make their presence known. Who knew being a babysitter also means you're a part-time demon hunter? Not us!
'Insidious' (2010)
Family moves into a new house. Family finds out the house is haunted. One of the family members starts to act really really weird after spending one afternoon in the attic. Just a typical day in the neighborhood of horror film plots, but with a twist you don't see coming.
'The Sixth Sense' (1999)
Speaking of crazy twists, you don't see coming...The Sixth Sense takes the cake. A kid who swears he sees dead people should be a first for any child psychologist, except Malcom Crowe (Bruce Willis), who's seen this case before. He knows how it ends, but he wants to change that. Get ready for your mind to be blown!
'Ghostbusters' (1984)
Before you go off singing the catchy theme song, appreciate the total '80s-ness of this film about three former parapsychology professors tasked with saving New York City from some paranormal activity that could casually end-all of humanity. Also, is it possible for a ghost movie to make you crave marshmallows? Asking for a friend.
'What Lies Beneath' (2000)
Despite the fact Harrison Ford plays a cheating husband, he is still very hot in this movie, and that alone should make you press play! His looks don't help him nor his wife (Michelle Pfeiffer) from escaping the ghost that seeks revenge on them for something that happened long ago.
'The Woman in Black' (2012)
Daniel Radcliffe plays a recently widowed man who swaps lively London for a creepy abandoned coastal mansion called Eel Marsh House. Reports of a ghost who's terrorizing the locals around the home draw him to the residence, where he comes into contact with the figure who's the source of everyone's nightmares. Hogwarts is looking real good right about now.
'The Blair Witch Project' (1999)
The mother of all found-footage horror movies will make you never want to 1) go on a camping trip, 2) attempt to find a mysterious witch in an abandoned forest, 3) watch something filmed with a handheld camera ever again.
'Crimson Peak' (2015)
Married life is supposed to come with a certain peace and definitely not a haunted house, a creepy sister, and freaky monsters. Unfortunately, that's what young Edith Cushing (Mia Wasikowska) finds when she marries the ever so suave Sir Thomas Sharpe (Tom Hiddleston) and moves into his eerie castle.
'Ghost' (1990)
Loved-up couple Sam (Patrick Swayze) and Molly (Demi Moore) seem to have the perfect relationship. That's until Sam is murdered and his spirit is stuck wandering the Earth. He's unsure why until he finds out who killed him—and that his murdered has plans to make Molly his next victim. Voiceless, he goes to psychic Oda Mae Brown (Whoopi Goldberg) for help. It's as sexy and thrilling as it sounds.
'The Shining' (1980)
The idea of spending alone time with just your family at an abandoned resort in the dead of winter should be scary enough as it is, but this movie doesn't stop there. Nope! In addition to the secluded getaway, the family's father casually becomes possessed by a sinister presence. Suddenly, the idea of checking out has never looked so good.
Celebrity news, beauty, fashion advice, and fascinating features, delivered straight to your inbox!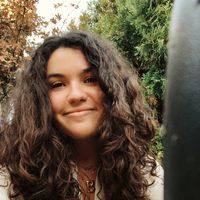 Bianca Rodriguez is the Fashion & Luxury Commerce Manager at Hearst Magazines, covering fashion, beauty, and more for Cosmopolitan, Elle, Esquire, Harper's BAZAAR, and Town & Country. She likes lounging about with a good book and thinks a closet without platform sneakers is a travesty.