40 Non-Scary Horror Movies for Scaredy Cats
You may not like gore, but that doesn't mean you have to sit out spooky season.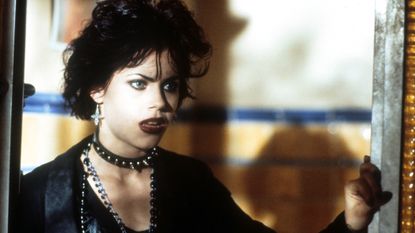 (Image credit: Archive Photos)
In theory, we love to get scared while watching a classic horror movie. But in reality, we were the person who requested the lights stay on at slumber parties. Even as adults, after watching an especially creepy movie, we swear we sometimes see faces in dark corners and hear strange noises coming from empty rooms. Despite this, we're not destined to be left out of the Halloween horror movie craze altogether. For those who, like us, can only take so many James Wan movies (Insidious, The Conjuring) before we start to fear the day as much as the night, here's a list of 35 not-too-scary horror movies. Some are straight-up horror-comedies—with no shortage of thrills. And all are mild enough that even a scaredy cat like me can sleep soundly after viewing.
---
Practical Magic (1998)
Two witch sisters like to avoid their magical family history at all costs. This includes falling in love. Why, you may ask? Because unfortunately for them, any fool that falls in love with them faces an untimely death. You would think this would stop them from dating, but one sister likes to walk on the wild side, no matter the cost.
---
Coraline (2009)
Being the new kid in town isn't going as well as 11-year-old Coraline thought it would go. Her parents are MIA, she has no real friends, and her new house is total boredom central. Desperate to find anything to do, she decides to snoop around her new digs, leading her to discover a trap door leading to the world of her wildest dreams. But like any good person knows, nothing comes for free, and Coraline needs to find out before it's too late.
---
The Rocky Horror Picture Show (1975)
Most people's first thoughts when they find themselves stranded on the side of the road would be to not venture two or so miles down the road to a nearby creepy mansion. Goody-two-shoes married couple Brad (Barry Bostwick), and Janet (Susan Sarandon) think differently, leading them to Dr. Frank-N-Furter's (Tim Curry) humble adobe where a night beyond their imagination exists. Get ready to sing along...like a lot.
---
Hocus Pocus (1993)
Kids will be kids, they say, but uh, most children don't casually awake a trio of wicked nasty witches that were executed in the 17th century for being seriously evil. It's then up to the little guys and girls to get rid of the sinister sisters once and for all, or else they can say goodbye to life as they know it.
---
Jeepers Creepers 2 (2003)
The second installment in this franchise is easier to swallow than its predecessor. Maybe that's because we know what the flesh-eating monster looks like, or the idea of being trapped in a school bus with a bunch of your close friends doesn't seem that bad right now. Either way, this movie is more fun than freaky.
---
Little Shop of Horrors (1986)
Being a plant mom or dad to some is a gift. To others, it's a nightmare. In this case: it's the latter, especially when you're housing a giant plant whose diet consists of only human flesh. How quirky is that? (Also, there's currently a remake of this musical classic in the works set to star Chris Evans and Taron Egerton, so we're stoked.)
---
Jennifer's Body (2009)
Megan Fox playing a possessed high school cheerleader who has a taste for her male classmates, is exactly as fun as it sounds. Watch to see if her best friend, played by a glasses-wearing Amanda Seyfried, can stop her murder spree before Fox gets her claws into Seyfried's boyfriend.
---
Army of Darkness (1992)
The scares-to-silliness ratio skews heavy on the latter with this time-traveling sequel to Evil Dead (1 and 2). Bill Campbell's Ash is extra hammy as the obnoxious chainsaw-for-a-hand anti-hero battling demons while stuck in King Arthur's court.
---
Beetlejuice (1988)
The production design and animation in this modern classic are some of director Tim Burton's wackiest (watch for the dinner party scene alone). The gist: After their lame attempts fail to drive out the humans now living in their home, two mild-mannered ghosts enlist an annoying demon named Beetlejuice to finish the job.
---
Ben (1972)
A lonely boy befriends a rat named Ben, whose army of rodents protect the sweet kid from bullies. Then, they start to kill. If you get too creeped out, Michael Jackson's sweet theme song for the movie will bring you back to your happy place.
---
Blade (1998)
The sexy vampires and their partying subculture give this movie lots of style and may leave you longing for the darkness rather than fearing it.
---
Buffy The Vampire Slayer (1992)
The movie that predates Sarah Michelle Gellar is still plenty badass. A self-centered cheerleader learns she's part of an ancient order destined to rid the world of evil vampires. This movie made me want to be a cheerleader—as long as I could kill the undead as well.
---
The 'Burbs (1989)
When creepy new neighbors move in next door to Ray Peterson (played by Tom Hanks), he and his friends become obsessed with finding proof that the Klopeks are not only weirdos but murderers. The bored suburbanites hatch schemes and harass the poor family. Are the neighborhood vigilantes just mean-spirited busybodies aching for an adventure or is there really something nefarious going down?
---
Chopping Mall (1986)
Killer robots and an 80s shopping mall after-hours? Sold!
---
The Craft (1996)
Girl gets bullied. Girl gets back at bullies with witchcraft. Witchy friends turn on her and she shows them all who's got the real power. This movie has made a bit of a resurgence in the last few years, thanks to our recent cultural fondness for witches.
---
Fright Night (1985)
Not as serious or as dark as the Colin Farrell 2011 remake, this movie centers around a horror-obsessed teenager and a late-night television host who team up to defeat the charming vampire next door.
---
The Gate (1987)
Eighties movies are full of absentee parents, so it's no wonder the two kids left alone in The Gate open a portal to a dark dimension and release a legion of small but terrifying creatures in their backyard. Those tiny dirtbags will haunt your dreams.
---
Ghostbusters (1984)
What seems like a Disney princess movie to some could be another's fright fest. In this classic but controversial choice (for this list anyway), a motley crew slap modified vacuums on their backs and hoover up ghosts around a New York City suddenly plagued by paranormal activity.
---
Gremlins (1984)
Another classic, but this one is a non-controversial pick because those gremlins are menacing AF. When a teenage boy receives a strange creature for Christmas, his father warns him never to get it wet or feed it after midnight. You know what happens—he doesn't listen to any of it and unleashes evil little monsters on the town.
---
Happy Death Day (2017)
In this slasher version of Groundhog Day, a bitchy sorority girl relieves the same day of her life over and over, and it always ends the same way—with her dead. With every death (it's different every time), she not only gains a little more insight on who kills her and how she might put an end to the loop but also slowly evolves into a more empathetic version of herself. The feel-good ending and comedy temper the amount of blood.
---
The Innkeepers (2011)
During the final days of business for a once-grand New England inn, the boredom of the front desk staff turns into dread when old guests—alive and long-deceased—come back to visit. Morbidly curious about the hotel's tragic past, employees Luke (Pat Healy) and Claire (Sara Paxton) go ghost hunting with the help of a psychic played by Kelly McGillis (Top Gun). The movie is a slow burn but gets scary pretty fast at the end—you've been warned!
---
Lady In White (1988)
Along the lines of the popular horror theme of children see dead things, Lady In White centers around an awkward, bullied boy named Frankie (Lucas Haas) who befriends the ghost of a murdered girl. Set in a small town (another common horror trope) haunted by the suspicious deaths of 11 kids, Frankie vows to find the person responsible at whatever cost. Upstate New York in the 1960s and Haas's earnest depiction of Frankie create an air of nostalgia and sweetness that keeps this movie from being too scary.
---
The Monster Squad (1987)
This kids' picture features Dracula and a gang of other classic horror characters teaming up to take over the world. Fortunately, a group of scrappy outcasts foil their plans. Mwahahahaha!
---
Night of the Comet (1984)
After an asteroid strikes Earth, the only folks alive or not turned into zombies in Los Angeles (and possibly the world) are two valley girls. In the end, they have to get to the mall and save humanity.
---
Night of the Creeps (1986)
Nineteen fifties sci-fi meets Revenge of the Nerds meets John Hughes. After two goofy fraternity pledges accidentally defrost the body of a teenager who was infected by an experimental brain-eating lifeform in the 1950s, Greek row is overwhelmed with zombies. And boobs. (It's very 80s like that.)
---
A Quiet Place (2018)
In this thrilling movie starring Emily Blunt (The Devil Wears Prada) and her husband John Krasinski (from The Office and also the film's director), Earth has been overrun by bloodthirsty aliens who depend on their hyper-sensitive hearing to pinpoint their human prey. With two kids in tow and one on the way, the challenge of staying silent is amplified (pun intended).
---
The Return of the Living Dead (1985)
Despite its misleading title, this is not actually part of the same universe as Night of the Living Dead or Dawn of the Dead (those are legit scary). This relies more on zombie jump-scares and a colorful cast of characters. My favorites are the punk kids making out in the cemetery.
---
Shaun of the Dead (2004)
This horror-comedy has the gore of The Walking Dead without the endless brooding and plodding pace. The title character of Shaun is a pop-culture obsessed British slacker played by Simon Pegg (Scotty in the latest Star Trek reboot) who must awake from his video game-induced stupor to save his girlfriend and mates from the hordes of undead. Written and directed by Edgar Wright (Baby Driver), you'll scream with laughter.
---
The Sixth Sense (1999)
The thrill of this movie lies in what's implied not seen and on quick glimpses of restless spirits. The ominous tension of the film hinges on Haley Joel Osment's moving performance as a sweet, scared kid who is relentlessly harangued by dead people. Toni Collette (Hereditary, Muriel's Wedding) also gives a heartfelt performance as his loving but frustrated mother.
---
Slither (2006)
The feature debut of James Gunn (now better known for the Guardians of the Galaxy franchise) has slug-like creatures from outer space invading a small rural community. It's funny and gross and will make you squirm with delight.
---
Something Wicked This Way Comes (1983)
A strange wind blows through town and with it a mysterious carnival. But the citizens of this idyllic hamlet harbor secret desires and the carnival barker, appropriately named Mr. Dark (played by Jonathan Pryce who was most recently seen on television as the High Sparrow in Game of Thrones), is just the man to draw them out. Two young boys are all that stand between him and the souls of his unsuspecting victims. Based on the fantasy novel by acclaimed author Ray Bradbury (Fahrenheit 451, The Martian Chronicles), there isn't any gore but the movie sets a tone of foreboding that can be hard to shake well after its over.
---
Tremors (1990)
There's something about remote desert towns: The folks are always quirky and bad shit goes down. In this case, the creatures come up from underground and people start disappearing one by one. The weirdos are the best part of this and, frankly, every movie.
---
Twilight Zone: The Movie (1983)
A movie made up of four mini movies. My favorites are the two directed by Joe Dante (Gremlins) and George Miller (the Mad Max movies). Dante's "It's A Good Life" is visually arresting and the bratty kid at the center of it all is creepy in the way only kids can be. Miller's take on the classic gremlin tale is truly horrifying. Tip: Don't watch it on or before you board a plane.
---
The Watcher in the Woods (1980)
Probably the scariest movie on my list—and it's rated PG and made by Disney! Ghost kids are always super scary and as a suburban kid, I know nothing good ever goes down in the woods. Plus, there's chanting and British accents. The happy ending will help, but the image of the lost girl will stick with you. (Bonus: They rebooted it for Lifetime last year.)
---
What We Do in the Shadows (2015)
This cult mockumentary follows a group of centuries-old vampires maneuvering the mundane quotidien tasks of modern life as housemates. It's the classic fish-out-of-water story mixed with blood and Big Brother shenanigans. Directed and written by Taika Waititi who is now putting his own quirky spin on big-budget superhero movies (Thor: Ragnarok). Jemaine Clement (Flight of the Conchords) co-starred, co-directed and co-wrote the film with Waititi and, as always, gives a memorably offbeat performance—this time as a randy bloodsucker. The movie was such a hit that it spawned a television show.
---
Zombieland (2009)
Clever, fun, and (dare I say?) realistic. What would you do if zombies had taken over the planet? Find your people, look for cool places to hang out, eat what you want, and kill anything that got in your way, including *spoiler alert* Bill Murray.
---
Hubie Halloween (2020)
In this feel-good (but surprisingly, clever) Halloween flick, Adam Sandler plays the ever-endearing Hubie Dubois, a self-dubbed neighborhood watchman who takes it upon himself to look out for the citizens of his town, Salem, Massachusetts, on Halloween night.
---
Knives Out (2019)
Who dunnit!?! Bring on the Halloween murder mystery party! This campy murder mystery movie has all the trimmings of one in the classic genre, but a modern, fun twist. After Harlan Thrombey, a wealthy mystery writer, dies at his 85th birthday party, his greedy, dysfunctional family (made up by an all-star ensemble cast) tries to uncover what happened — while fighting for the family fortune.
---
It's the Great Pumpkin, Charlie Brown (1966)
If you have a taste for nostalgia and not for scares, opt for this classic animated halloween special, which follows the Peanuts gang on their Halloween adventures.
---
Casper (1995)
They don't call him a friendly ghost for nothing: In this classic '90s movie, an adorable young Christina Ricci plays Kathleen "Kat" Harvey, a young girl who befriends Casper, a ghost of a 12-year-old boy who haunts her family's new manor.
---
Casper Meets Wendy (1998)
Well, while you're on a Casper kick... In this follow-up flick based on the Harvey Comics, Casper meets Wendy the Good Little Witch (played by a then 10-year-old Hilary Duff, in her breakout role). Though the movie was direct-to-video and received negative reviews at the time, it's a cute one to play on background at your Halloween bash.
RELATED STORIES
Celebrity news, beauty, fashion advice, and fascinating features, delivered straight to your inbox!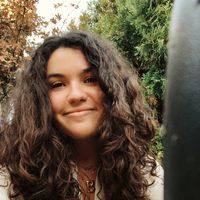 Bianca Rodriguez is the Fashion & Luxury Commerce Manager at Hearst Magazines, covering fashion, beauty, and more for Cosmopolitan, Elle, Esquire, Harper's BAZAAR, and Town & Country. She likes lounging about with a good book and thinks a closet without platform sneakers is a travesty.