The Cast of Netflix's 'Away' Is a Mix of New and Old Faces
The cast of Netflix's hit space TV show 'Away' includes Oscar winners, international stars, and some fresh faces. Here's your complete list.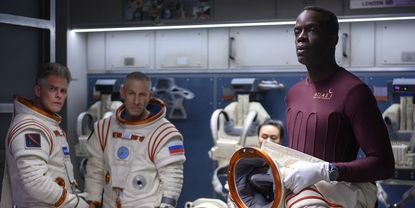 (Image credit: DIYAH PERA/NETFLIX)
Netflix's newest out-of-this-world hit Away boasts a cast that looks awfully familiar: It features Oscar winners, international stars, and a couple of fresh faces. The 10-episode show follows an international space team and their crazy-long journey from the moon to the planet Mars—so, like, your average run-of-the-mill space trip. Except it includes all the stuff going down with their friends and family on Earth, too. It's heavy on the drama, but with a plot as good as this one, it's hard not to binge. So while you're freaking out over whether we'll get a season two anytime soon, I took the liberty of figuring out why the Away cast looks so familiar and exactly where you've seen them before.
1/13
Hilary Swank as Emma Green
The two-time Oscar winner has been on the scene since the '90s, but you most likely recognize her from films like Million Dollar Baby, P.S. I Love You, and Boys Don't Cry.
2/13
Monique Gabriela Curnen as Melissa Ramirez
Monique has starred in a handful of your favorite TV shows like Power, Elementary, and Lie to Me.
3/13
Brian Markinson as George Lane
Any Mad Men fans here? If so, you probably remember Markinson as Dr. Arnold Rosen. If that doesn't ring a bell, then perhaps you'll remember him as Albert in a Girlfriend's Guide to Divorce.
4/13
Talitha Eliana Bateman as Alexis Logan
Away is the actress' first major TV role. Before that, she starred in a
5/13
Adam Irigoyen as Isaac Rodriguez
Irigoyen got his start as a Disney kid on the show Shake It Up before moving onto shows like The Fosters and The Last Ship.
6/13
Vivan Wu as Dr. Lu Wang
Wu comes from a family of actors and has been acting since she was 15. She's starred in the Oscar-nominated film The Last Emperor and the fun classic Teenage Mutant Ninja Turtles.
7/13
Gabrielle Rose as Darlene Cole
The Canadian actress has acted in some of your favorite tearjerkers like A Dog's Purpose and If I Stay.
8/13
Martin Cummins as Jack Willmore
Riverdale fans, please rise—who could forget Cummins as Officer Tom Keller on the infamous CW show? He's also acted in other TV shows like UnREAL and When Calls The Heart.
9/13
Josh Charles as Matt Green
You most likely recognize Charles from his Golden Globe-nominated role as Will Gardner on The Good Wife, but if you really want to throw it back, you'll also remember him as Knox Overstreet in Dead Poets Society.
10/13
Ray Panthaki as Ram Arya
The British actor has been on the scene for a hot minute. staring in big films like Colette and television dramas such as Gangs of London.
11/13
Mark Ivanir as Misha Popov
You recognize Ukraine-born Ivanir from a handful of Steven Spielberg films like Schindler's List, Terminal, and Tintin. He's also been in big TV shows like Homeland and Royal Pains.
12/13
Felicia Patti as Cassie Ramirez
You won't be able to tell, but this is one of Patti's first-ever roles. Besides Away, she's starred in the TV short Love You More.
13/13
Ato Essandoh as Dr. Kwesi Weisberg-Abban
Essandoh's been in a ton of your favorite action films like Jason Bourne, X-Men: Dark Phoenix, and Blood Diamond. And if big blockbusters aren't your taste, then you may recognize him from TV shows Elementary and Blue Bloods.
Bianca Rodriguez is the Fashion & Luxury Commerce Manager at Hearst Magazines, covering fashion, beauty, and more for Cosmopolitan, Elle, Esquire, Harper's BAZAAR, and Town & Country. She likes lounging about with a good book and thinks a closet without platform sneakers is a travesty.