The Cast of Netflix's 'Virgin River' Has Some Familiar Faces
Get to know the residents of the (fictional) NorCal town of Virgin River.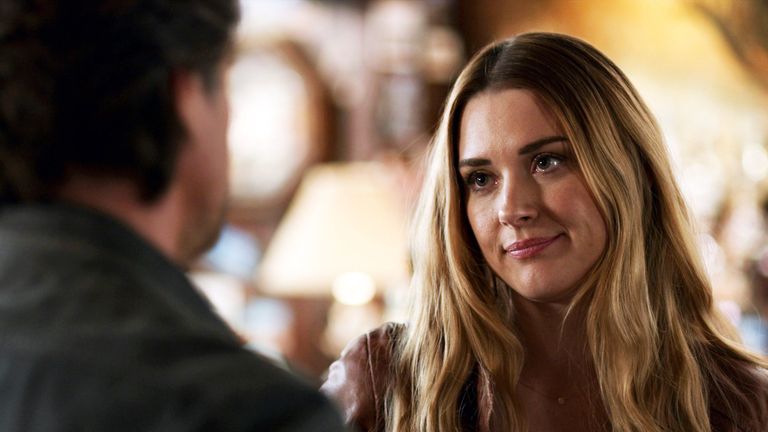 (Image credit: Netflix)
They say that small towns have the biggest secrets, and if the close-knit characters of the town of Virgin River (opens in new tab) are any indication, "they" are absolutely right. Sure, Virgin River is a fictional town (opens in new tab) with fictional drama, but anyone who's watched Virgin River and hasn't gotten completely and totally invested in the tangly love lives, work lives, and general life lives of Mel, Jack, Doc, Hope, and the rest of their neighbors, friends, and frenemies is simply lying to themselves—or keeps getting up for bathroom breaks at the worst possible times. Like all great soapy shows before it, Virgin River boasts a jam-packed cast of characters who come and go dramatically, double as their own secret twins, and may or may not be hiding secret identities. It's a lot to keep track of, so here's a crash course in who's who on Virgin River.
1/17
Alexandra Breckenridge as Mel Monroe
Nurse practitioner Mel leaves L.A. to move to Virgin River in hopes of leaving her painful past—including a miscarriage and the death of her husband—behind her, but soon finds herself knee-deep in a brand-new set of issues. Breckenridge has been on TV for over two decades, with recent roles on This Is Us, The Walking Dead, and American Horror Story.
2/17
Martin Henderson as Jack Sheridan
As a love interest to Mel, Preacher's best friend, owner of Jack's Bar, father to Charmaine's as-yet-unborn twins, and a former Marine suffering from PTSD, Jack has more than enough to deal with. Henderson, a New Zealand native, previously held a long-running role as Dr. Nathan Riggs on Grey's Anatomy and, fun fact, played Britney Spears' boyfriend in the "Toxic" music video! (opens in new tab)
3/17
Lauren Hammersley as Charmaine Roberts
Charmaine is pregnant with Jack's twins—which, understandably, gets in the way of Jack's relationship with Mel, because what would a Netflix drama be without a love triangle? Hammersley is a Canadian actress and photographer whose most recent TV role was on Orphan Black.
4/17
Colin Lawrence as John "Preacher" Middleton
Preacher pulls double-duty in Jack's life as both his closest friend and the chef at Jack's Bar. As essentially the heart and soul of Virgin River, Preacher has a reputation as a fierce protector of his community, which certainly serves him well as he sorts through all its drama. London-born Lawrence has appeared in Riverdale, iZombie, and The Killing, among many other credits.
5/17
Tim Matheson as Doc Mullins
Dr. Vernon Mullins wears many hats in Virgin River: He's the town physician, Mel's prickly boss, and Hope's husband. Good luck keeping up. Matheson has been in Hollywood for more than half a century, most notably with roles in Animal House and The West Wing, the latter of which earned him two Emmy noms. He's also directed a handful of episodes of Virgin River.
6/17
Annette O'Toole as Hope McCrea
As the mayor of Virgin River, Hope is juggling not only the management of the town, but also her own health issues and her ongoing relationship struggles with Doc. O'Toole also has decades of onscreen experience, including a long-running role on Smallville as Clark Kent's mother Martha.
7/17
Benjamin Hollingsworth as Brady
Brady is one of Jack's fellow Marines who is also having trouble readjusting to civilian life. While Jack tries to give him a chance, Brady quickly gets swept up in the darker side of Virgin River—and with Jack's sister, Brie. Hollingsworth previously starred in CBS medical drama Code Black.
8/17
Sarah Dugdale as Lizzie
The niece of local busybody Connie, Lizzie is an L.A. transplant who shows up in Virgin River ready to sow as much chaos as possible—as if the town didn't already have enough on its plate! She and Ricky are involved for much of seasons two and three. Dugdale most recently appeared in Lifetime's made-for-TV take on the "Operation Varsity Blues" college admissions scandal.
9/17
Grayson Gurnsey as Ricky
While working for Jack at his namesake bar, Ricky dreams of following in his boss' footsteps and becoming a Marine. He also plays Lizzie's on-off boyfriend. This is Canadian actor Gurnsey's first major TV role in the U.S.; you can also spot him in The Art of Racing in the Rain.
10/17
Chase Petriw as Christopher Lassiter
Adorable Christopher sure has a lot on his plate: By season three, his mom's on the run from his abusive dad, said dad is looking for him, and Christopher is just trying to adjust to life with Preacher and without his mom. This is Petriw's first major role.
11/17
Zibby Allen as Brie Sheridan
A season three newcomer, hotshot lawyer Brie arrives in Virgin River to look out of her brother Jack after he's shot, and ends up in a tangled relationship with a troubled resident of the small town. Zibby Allen is a TV mainstay, with roles in Grey's Anatomy, the rebooted The Twilight Zone, and Agents of S.H.I.E.L.D.
12/17
Jenny Cooper as Joey Barnes
Joey is a classic older sister to Mel: She's her biggest cheerleader, confidante, and worrier-in-chief, even though she has plenty of issues of her own to worry about. Cooper has had cameos on dozens of TV shows, including Grey's Anatomy, Bones, and Scandal.
13/17
Lynda Boyd as Lilly
One of the most lovable characters among the Virgin River folk who seem to show up everywhere (looking at you, Muriel), Lilly is a beloved longtime resident of the town. But she's hiding her own secrets. A Hollywood veteran, Boyd has held roles in some major films, including She's the Man, Fast and Furious: Tokyo Drift, An Unfinished Life, and Final Destination 2.
14/17
Stacey Farber as Tara
Another season three addition, Tara is Lilly's daughter who faces an unimaginable tragedy during her time in the town. If you don't know her from Degrassi: The Next Generation, you'll know her from Superman and Lois.
15/17
Teryl Rothery as Muriel St. Claire
Up there with Charmaine as a resident of Virgin River you love to hate, Teryl Rothery plays local busybody Muriel St. Claire–who is constantly trying to get closer to Doc, in spite of Doc being very much married—to perfection.
16/17
Lexa Doig as Paige Lassiter
Paige, who was featured heavily in seasons one and two, isn't your average small-town baker—she's also hiding a mysterious past that might include a completely different identity. Doig is no stranger to romantic dramas based on long-running book series: She's played Sally Allison in eight of Hallmark's Aurora Teagarden movies.
17/17
Daniel Gillies as Mark Monroe
Mel's late husband Mark pops up in occasional flashbacks, especially as Mel continues to feel guilty about fighting with Mark in the last minutes before he died in a car accident. Gillies, another Kiwi, is likely most recognizable as Elijah Mikaelson from The Vampire Diaries and its spinoff The Originals.
Andrea Park is a Chicago-based writer and reporter with a near-encyclopedic knowledge of the extended Kardashian-Jenner kingdom, early 2000s rom-coms and celebrity book club selections. She graduated from the Columbia School of Journalism in 2017 and has also written for W, Brides, Glamour, Women's Health, People and more.