What Happened to Hope on 'Virgin River' Season 3?
The beloved mayor has disappeared from the small town.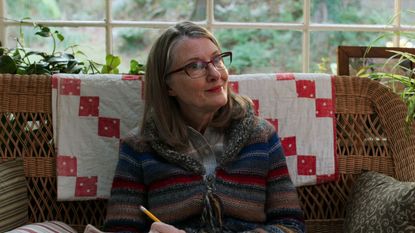 (Image credit: Netflix)
Conspicuously absent from season 3 of Virgin River, (opens in new tab) which dropped on Netflix July 9, is the one and only Hope McCrea, played by Annette O'Toole: the sharp-tongued, fiercely loyal mayor of the town (opens in new tab) and fiancée (and former wife) of Doc Mullins. While we frequently see Hope on video chat and her presence is very much felt in storylines, she isn't shown in person once during Virgin River's third season—unlike Hope's onscreen husband, Doc, (opens in new tab)who is physically present in almost every episode. Worse, by the end of the third season, Hope close to death, having gotten in a car accident and suffered a brain injury. Which has fans wondering: Will Hope die on Virgin River? And is Annette O'Toole leaving the show—hell, has she already left?
Don't worry, Hope McCrea fans: While O'Toole wasn't able to fly to Vancouver for filming of season 3, she's still very much a part of Virgin River, and will remain so going forward. And all signs to Hope being not only in Virgin River season four, but being far more present than she was able to be in the third season.
Why is Hope missing in Virgin River season three?
Unfortunately, O'Toole couldn't film with the rest of the cast in Vancouver due to COVID-19 restrictions. Showrunner Sue Tenney explained to Us Weekly: (opens in new tab) "We were affected by COVID like every other show, and it was impossible for Annette to come and join us up here in Vancouver. Personally, I love Hope. I love the character, so we got busy in the writers' room to see how we can keep her alive in the show, with only having limited access."
Even without O'Toole IRL, Hope is very much a part of season three's storylines. Tenney told TV Line: "Keeping her present on the show, even though she's only actually in a couple of episodes, was paramount." Spoilers for Virgin River season three ahead. First, Hope is caught up in a hurricane while visiting her elderly aunt and Doc, who can't reach her, is terrified. It turns out Hope and her aunt are absolutely fine—but Hope is forced to remain with her aunt for several more episodes in the aftermath of the hurricane. Then, on her way back to Virgin River, Hope gets in a car accident and is rushed to hospital. In the last episode, Doc and Hope's doctors assess her chances of recovery while Hope lies in her hospital bed—although, of course, she's never filmed doing so. These storylines were part of what Tenney described to Digital Spy as a "pandemic pivot." (opens in new tab)
Will Hope die in Virgin River?
No. In an interview with Entertainment Weekly, Tenney confirmed (opens in new tab) that Hope will survive the accident (we'll call it "doing a Jack," where a character ends a season almost dead and pops up in the next one a-OK). Tenney explained of season four: "We do move ahead. To us, it's the recovery and what she's dealing with—a traumatic brain injury. In a hospital and going through recovery, that's not really where our show lives. But we're very committed to what the truth of something is, so we'll go to the edge of what's the best recovery for this."
Will Hope be in season four?
Not only will Hope be back for season four, she'll have intriguing new storylines to contend with. In addition to dealing with the aftermath of her brain injury, Hope will go head-to-head with Muriel—who, you'll remember, spent much of season three trying to get closer to Doc. Tenney told EW: "The more fun relationship is the one between Muriel and Hope. It starts as very antagonistic...In the slow burn category, you'll see moments coming up that are going to open up that relationship. [It's] fun taking enemies and making them friendly."
It's also possible that storylines that were meant to make it into season three will be copy-and-pasted into season four. Said Tenney: "We had a very lovely, two long episodes about [Doc and Hope's wedding]...Two episodes of plot on that. When we get to that point, which is a re-commitment ceremony, we definitely are going to want to see that."
Not only with Hope and Doc be dealing with ramifications from her car crash, they'll be dealing with the unexpected arrival of Doc's grandson. Said Tim Matheson, who plays Doc, (opens in new tab) to Entertainment Weekly: "[Doc] really wasn't ever a father, so now to have a grandchild—that's pretty radical." He added that the accident will only make Doc and Hope closer, even amid the grandson drama: "I think it would only enhance his relationship with her. It might be a little bit of a conflict because if she's not well, then it would maybe split who he could spend time with. Also from her point of view, this grandson is something that doesn't belong to her, doesn't mean anything to her."
In interviews for season three, the cast remained tight-lipped about the possibility of another season—but rumor has it, Netflix has quietly approved a fourth season (opens in new tab)already. This lines up with what happened for season three: According to production listings unveiled by What's On Netflix, the third season of Virgin River was quietly green-lit by Netflix so production could start ASAP. Per What's On Netflix, not only was season four quietly approved, but filming will start as soon as the very end of July. Our guess is that you can expect a fourth season of Virgin River in July 2022.