The 22 Best Horror Movies of 2021
Jordan Peele is back, baby.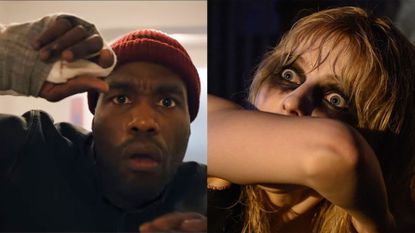 (Image credit: Universal)
After living through the actual horror show that was 2020 and early 2021, you might be thinking, "Hey, thanks universe, but I'm done feeling scared/terrified/even mildly horrified forever." And that would be a totally fair life stance to take. In the last year and change, we've all lived out a bunch of classic horror movie plots—a mysterious global pandemic à la Contagion, Purge-esque riots, it's been a lot! So, like we said, if the real world has fulfilled your fear quotient for the next decade or so, that's understandable. But if you're the kind of person who still wants to feel some occasional, controlled, and most importantly, fictional thrills and scares, that's totally valid, too, and 2021 is here to deliver.
We've done the research so you don't have to and pulled together a handy list of some of the scariest and most chilling and thrilling movies coming out in 2021. Of course, since we're not out of the woods when it comes to the pandemic, how firm these planned release dates are and just how these movies might be available to watch remains to be seen. And, PSA, even if movie theaters in your area are open and showing one or more of these movies in the coming months, remember to follow ongoing guidelines regarding quarantining and social distancing for the safety of yourself and others.
'Wrong Turn'
Premiered: January 26; watch on Hulu
Starring: Charlotte Vega, Adain Bradley, Emma Dumont, Dylan McTee, Daisy Head, Bill Sage and Matthew Modine

The scary story: This movie rebooted the Wrong Turn film franchise and focuses on a group of hikers who take a—you guessed it—wrong turn while hiking the Appalachian Trail and find themselves under attack by the mountain community who lives there.
'The Vigil'
Premiered: February 26; watch on Amazon
Starring: Dave Davis, Menashe Lustig, Malky Goldman, Fred Melamed, and Lynn Cohen
The scary story: A young man spends a scary night fulfilling a ritualistic vigil over a dead body.
'Things Heard & Seen'
Premiered: April 29; watch on Netflix
Starring: Amanda Seyfried and James Norton

The scary story: An art restorer (Seyfried) and her husband (Norton) and daughter move into a new house and begin to suspect that their neighbors are keeping some dark and twisty secrets.
'A Quiet Place Part II'
Premiered: May 28; watch on Amazon
Starring: Emily Blunt, Cillian Murphy, Millicent Simmonds, Noah Jupe, Djimon Hounsou, and John Krasinski
The scary story: The Abbott family continues their fight against the noise-sensitive aliens, and are forced to venture into the unknown beyond the safety of their farm.
'The Conjuring: The Devil Made Me Do It'
Premiered: June 4; watch on Amazon
Starring: Vera Farmiga, Patrick Wilson, Ruairi O'Connor, Sarah Catherine Hook, and Julian Hilliard

The scary story: The third film in the Conjuring franchise focuses on a murder suspect who becomes the first person to claim demonic possession as their defense in court.
'Spiral: From the Book of Saw'
Premiered: May 14; watch on Amazon
Starring: Chris Rock, Samuel L. Jackson, Max Minghella
The scary story: If gore and some more gore is your horror movie vibe, may we present the latest (and, 9th!!) film in the Saw franchise: Spiral. Though the original Jigsaw killer (you know, creepy-voice man with a creepy clown puppet who makes victims solve near-impossible death puzzles to prove their worth) has apparently died, a copycat is on the loose. It's up to Detective Zeke Bank (Chris Rock) to solve the puzzle and save lives.
'Bloodthirsty'
Premiered: April 23; watch on Amazon
Starring: Lauren Beatty, Greg Bryk, Michael Ironside, Katharine King So,
The scary story: For hardcore horror fans, this one's for you. An aspiring musician heads to the secluded home of a producer to get her music career off the ground. Ground for terror, right? But it actually seems that our rising star is the one with a taste for... blood.
'The Forever Purge'
Premiered: July 2; watch in theaters now or on Amazon
Starring: Ana de la Reguera, Josh Lucas, Tenoch Huerta, Leven Rambin, Will Patton, and Cassidy Freeman

The scary story: Following the abolition of the Purge in the last movie in the franchise, a couple finds themselves stranded in Texas and terrorized by a group of strangers determined to keep the Purge going.
'Escape Room 2'
Premiered: July 16; available to rent September 20
Starring: Taylor Russell, Logan Miller, Isabelle Fuhrman, Thomas Cocquerel, Holland Roden, Carlito Olivero, and Indya Moore
The scary story: One of those fun-but-difficult escape rooms that you can do with friends? That, but with seriously deadly consequences if the puzzles aren't solved in time.
'Don't Breathe 2'
Premiered: August 13; watch in theaters now or on Amazon
Starring: Stephen Lang

The scary story: The Blind Man is back and now he's adopted an orphaned girl. Together, they're living in peace in his cabin—until a group of criminals abduct the girl, forcing him to leave his cabin and venture out to find her.
'Candyman'
Premiered: August 27; available to rent on September 17
Starring: Yahya Abdul-Mateen II, Teyonah Parris, Nathan Stewart-Jarrett, and Colman Domingo

The scary story: A ghost story about a supernatural killer with a hook for a hand haunts the housing projects of Chicago's Cabrini Green neighborhood. According to legend, the killer can be summoned by anyone who repeats his name five times into a mirror. This movie is a sequel to 1992's Candyman and Jordan Peele cowrote the screenplay.
'Halloween Kills'
Planned release date: October 15
Starring: Jamie Lee Curtis, Judy Greer, Andi Matichak, Anthony Michael Hall, Kyle Richards, Robert Longstreet, Nancy Stephens, and Charles Cyphers

The scary story: The movie takes place during Halloween 2018 and follows Laurie Strode and her family as they work with, well anyone who they can to rise up against Michael Myers.
'Last Night in Soho'
Planned release date: October 22
Starring: Anya Taylor-Joy, Thomasin Harcourt McKenzie, and Matt Smith
The scary story: A fashion-obsessed girl travels back to the '60s where she meets some of her idol, but realizes that things aren't what they seem (mwahaha...feels like a "mwahaha" moment, no?).
'Resident Evil: Welcome to Raccoon City'
Planned release date: November 24
Starring: Kaya Scodelario, Robbie Amell, Hannah John-Kamen, Avan Jogia, Tom Hopper, Lily Gao, Neal McDonough, and Donal Logue

The scary story: Based on the long-running Resident Evil video game series, this movie will serve as a reboot to the film franchise of the same name. Not much else is known about the plot right now though.
'Terrifier 2'
Planned release date: TBD 2022
Starring: Lauren LaVera, Elliot Fullam, Sarah Voigt, Kailey Hyman, Casey Harnett, David Howard Thornton, and Samantha Scaffidi
The scary story: This nightmare-inducing clown horror movie is a sequel to 2016's Terrifier. It was supposed to come out in 2020, but like so many movies, was pushed to 2021 because of the coronavirus pandemic. In this installment, Art the Clown is resurrected a year after he died by suicide after mutilating Victoria, the lone survivor of the first movie. What is a resurrected, evil clown to do? Hunt down two siblings on Halloween night, obvi.
'False Positive'
Premiered: June 25; watch on Hulu
Starring: Ilana Glazer, Justin Theroux, Pierce Brosnan, Sophie Bush
The scary story: Hulu's latest sinister flick is being hailed a modern take of cult classic Rosemary's Baby. Ilana Glazer's character Lucy was dying to get pregnant... until she fears her baby mightttttt be trying to kill her, instead. Cue screams.
'Fear Street'
Premiered: Fear Street Part One: 1994, July 2; Fear Street Part Two: 1978, July 9; Fear Street Part Three: 1666, July 16; watch on Netflix
Starring: Sadie Sink, Emily Rudd, Benjamin Flores Jr., Kiana Madeira, Gillian Jacobs, Olivia Welch

The scary story: It's three movies for the price of one! Netflix's latest horror installment is a trilogy, to be released over three consecutive weeks. The Fear Street trilogy, based on R.L. Stine's best selling horror series of the same name, follows a group of teens in the small town of Shadyside who discover the town's sinister past might be the reason for current, terrifying events.
'Till Death'
Premiered: July 2; watch on Amazon
Starring: Megan Fox, Callan Mulvey
The scary story: Megan Fox hasn't starred in a horror film since cult classic Jennifer's Body, so the hype is high for Till Death. Fox plays a woman chained to her dead husband's body who must figure out how to escape the killers.
'Old'
Premiered: July 23; only in theaters
Starring: Gael García Bernal, Vicky Krieps, Rufus Sewell, Ken Leung
The scary story: Just the trailer for M. Night Shyamalan's newest spine-chiller is giving us the creeps. A family visits a secret beach for a day of relaxation, but soon discover that the beach has the ability to rapidly age everyone who visits (like, to the point of your death). Realizing they are trapped on the island, the troupe must figure out a way to survive. Man, isn't getting older the worst???
'Malignant'
Premiered: September 10; watch on HBO Max
Starring: Annabelle Wallis, Susanna Thompson, Maddie Hasson, Jake Abel, George Young, Michole Briana White
The scary story: This new film is the latest from Insidious and The Conjuring director James Wan. A pregnant woman begins seeing visions of gory deaths as they're committed in real life, all by a mysterious disfigured man named Gabriel. While investigating the murders, she discovers that Gabriel is a part of her past, and may be coming for her.
'The 8th Night'
Premiered: July 2; watch on Netflix
Starring: Lee Sung-min, Park Hae-joon, Kim You-jung, Nam Da-reum, Kim Dong-young, Lee Eol
The scary story: In this foreboding Korean thriller, a haunted shaman releases a mythical monster, which gains strength with each human it kills. The skeptical detective investigating the murders has to team up with a young, naive monk. Though not as gory as our other picks, this demon-hunting story is plenty creepy.
'The Djinn'
Premiered: May 14; rent on Amazon
Starring: Ezra Dewey, Rob Brownstein, Tevy Poe, Donald Pitts, John Erickson
The scary story: In this bare-bones flick, mute preteen Dylan who discovers a book of magic spells in his new apartment. Once he's home alone, he performs the ritual, wishing for "a voice," and ends up fighting to survive an hour with the titular genie. Though djinns in mythology can be good or evil, this one is squarely on the bad side.
Marie Claire email subscribers get intel on fashion and beauty trends, hot-off-the-press celebrity news, and more. Sign up here.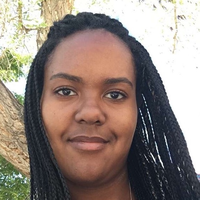 Contributing Culture Editor
Quinci LeGardye is a Contributing Culture Editor who covers TV, movies, Korean entertainment, books, and pop culture. When she isn't writing or checking Twitter, she's probably watching the latest K-drama or giving a concert performance in her car.