The 13 Best Romantic Movies of 2021
Can you feel the love tonight?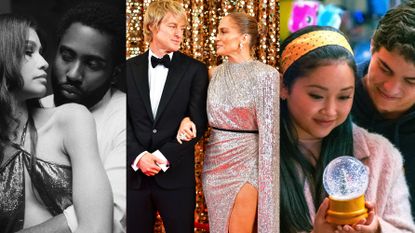 (Image credit: Netflix/Getty)
Marie Claire Newsletter
Celebrity news, beauty, fashion advice, and fascinating features, delivered straight to your inbox!
Thank you for signing up to Marie Claire. You will receive a verification email shortly.
There was a problem. Please refresh the page and try again.
Romance movies aren't just for girls' nights, nor should they only be relegated to the first half of February. Seriously, can you think of a time when rewatching The Notebook for the millionth time isn't appropriate? Didn't think so! No matter the season, the movie night crowd, or your relationship status, there's often nothing more comforting than curling up on the couch with a heartfelt movie about two people falling in love against all odds (or because of them). They're hopeful, dreamy, and usually pretty sexy—what more could you ask for in a film?
Fortunately for us all, 2021's romance movie offerings are nothing short of a lovefest. If there's anything we've learned in the last year, it's the importance of our relationships with our loved ones, and the next year's worth of new releases will definitely reflect that. Expect to see the final installment of a beloved trilogy, new adaptations of tried-and-true love stories, and plenty of original stories that promise to tug on your heartstrings (if not also send you sobbing your way through a Kleenex box). Here are the best romance movies on the schedule for 2021 so far.
'Malcolm & Marie'
Release Date: January 29
Starring: Zendaya, John David Washington
This black and white feature was the first movie to be fully developed and filmed during the COVID pandemic. It takes place over the course of one night, during which, in an effort to keep busy while waiting for the reviews of Malcolm's latest film to start rolling in, the couple decides to busy themselves with dissecting their entire relationship and each other's lives. Naturally.
'The Dig'
Release Date: January 29
Starring: Carey Mulligan, Ralph Fiennes, Lily James, Johnny Flynn
Based on the true story of the 1939 excavation of the Sutton Hoo archeological site in England, The Dig attempts to rewrite a major historical wrong by focusing largely on the efforts of archeologist Basil Brown, who led the project but whose contributions went uncredited for decades. This might not sound like the stuff of romance, but you'll change your mind when you catch wind of not one but two tragic romantic entanglements threaded throughout the film.
'The Right One'
Release Date: February 5
Starring: Cleopatra Coleman, Nick Thune, Iliza Schlesinger
A note to all writers out there: Don't use the mysterious and handsome strangers you meet to get over your writer's block unless you're prepared to lose them. Unfortunately, struggling writer Sara (Coleman) has to learn that lesson the hard way in this rom-com, when she scares Godfrey (Thune) away just as they're starting to fall for one another. You'll have to tune in to see how she writes her way out of this one.
'To All the Boys: Always and Forever'
Release Date: February 12
Starring: Lana Condor, Noah Centineo, Jordan Fisher, John Corbett
All good things must come to an end—yes, even Netflix adaptations of beloved YA trilogies. This time around, the obstacle threatening to keep Lara Jean Covey and Peter Kavinsky apart is their upcoming high school graduation and their potentially differing plans for college. Here's hoping the third time's the charm for this chronically star-crossed couple.
'The Map of Tiny Perfect Things'
elease Date: February 12
Starring: Kathryn Newton, Kyle Allen
The last year has seen the release of plenty of adaptations of the Groundhog Day time-loop concept (wonder why!), but this one might be the sweetest. Two teens discover they're reliving the same day over and over, and decide to take advantage of the glitch to make the titular map of the best things that happen that day—until one of them starts trying to find a way out of the time warp. If the trailer is any indication, this one will go from a laugh-out-loud comedy to a tearjerking romantic drama in about five seconds flat.
'The Last Letter From Your Lover'
Release Date: March 12
Starring: Felicity Jones, Shailene Woodley, Callum Turner, Nabhaan Rizwan, Joe Alwyn
Fans of Me Before You, listen up! The latest adaptation of one of Jojo Moyes' heart-wrenching novels is The Last Letter From Your Lover, which tracks love stories across two timelines: In the 1960s, Jennifer (Woodley) finds herself caught between her cold and unfeeling husband Laurence (Alwyn) and her lover Anthony (Turner). And decades later, in 2003, journalist Ellie (Jones) uncovers Jennifer's love letters while digging through the archives alongside her own love interest, played by Rizwan.
'Romeo & Juliet'
Release Date: April 23
Starring: Josh O'Connor, Jessie Buckley
O'Connor and Buckley were originally supposed to star as the most famous star-crossed lovers of all time in a stage production of Shakespeare's play at London's National Theatre. Due to COVID, however, the powers that be decided to reinvent the performance as a made-for-TV movie and broadcast it to the world via PBS and Sky Arts. Chalk this up as one of the very, very few good things to come out of the pandemic.
'Marry Me'
Release Date: May 14
Starring: Jennifer Lopez, Owen Wilson, Maluma, Sarah Silverman, John Bradley
The J.Lo rom-com renaissance continues, and we are so here for it. In Marry Me, she's a pop star who learns that her on- and offstage partner Bastian (Maluma) has been cheating on her, prompting her to accept the marriage proposal of a fan at one of her concerts. It sounds like something straight out of the world of fan fiction, and you know we'll be first in line to see all the drama go down onscreen.
'Cinderella'
Release Date: July 16
Starring: Camila Cabello, Billy Porter, Idina Menzel, Pierce Brosnan, Minnie Driver
Sure, the classic fairy tale has been adapted for the screen approximately one billion times, but this time around, it's a musical with Cabello in the lead role (her film debut!), Porter as her genderless fairy godparent, and Menzel as her wicked stepmother. Plus, John Mulaney, James Corden, and R0mesh Ranganathan appear as her mice-turned-footmen, and Missy Elliott pops up as the town crier. Maybe remakes aren't so bad after all!
'Resort to Love'
Release Date: July 29
Starring: Christina Milian, Jay Pharoah, Sinqua Walls
If you want a feel-good rom-com, watch Netflix's Resort to Love about a singer who unknowingly takes a job at a resort where her ex-fiancé is getting married. It's produced by Alicia Keys!
'The Kissing Booth 3'
Release Date: August 11
Starring: Joey King, Joel Courtney, Jacob Elordi, Taylor Zakhar Perez, Maisie Richardson-Sellers, Meganne Youngg, Molly Ringwald
If you feel like The Kissing Booth 2 was just released, you're not wrong! The third and final installment of the very cute romantic series finds the characters at Lee and Noah's family beach home, where they get to live up their final summer together before Elle is forced to decide where she wants to go to school.
'He's All That'
Release Date: August 27
Starring: Addison Rae, Tanner Buchanan, Myra Molloy, Madison Pettis, Peyton Meyer, Isabella Crovetti, Rachael Leigh Cook
Yes, you read that cast correctly. TikTok star Addison Rae will be making her acting debut in the remake of the 1999 film, She's All That. There isn't a full trailer released yet, but you can expect similar-ish vibes as the original in all of its 2021 glory.
'West Side Story'
Release Date: Dec. 10
Starring: Ansel Elgort, Rachel Zegler, Rita Moreno, Corey Stoll, Brian d'Arcy James, Maddie Ziegler
Speaking of remakes, this year will also see the release of Steven Spielberg's take on the 1957 musical (which is, coincidentally, yet another take on Romeo & Juliet), with Elgort and Zegler stepping into the very big shoes of Tony and Maria. In a truly delightful twist, Rita Moreno, who played Maria's best friend Anita in the classic 1961 movie adaptation, will appear in the 2021 version as Valentina, loosely based on the original character of Doc, Tony's boss at a drugstore.
Celebrity news, beauty, fashion advice, and fascinating features, delivered straight to your inbox!
Andrea Park is a Chicago-based writer and reporter with a near-encyclopedic knowledge of the extended Kardashian-Jenner kingdom, early 2000s rom-coms and celebrity book club selections. She graduated from the Columbia School of Journalism in 2017 and has also written for W, Brides, Glamour, Women's Health, People and more.