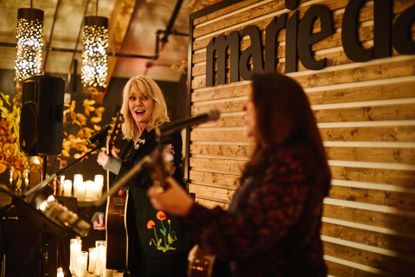 (Image credit: Allie Holloway)
Tucked away in the Berkshires, Marie Claire hosted its sixth annual Power Trip event -- a 36-hour networking event that brings together a collective of smart, creative women. And this year's event, which took place at the Miraval Berkshires Resort & Spa, featured a surprise performer: Nancy Wilson of the legendary rock group Heart.
During the conference, Nancy sat down with Marie Clarie editor-in-chief Sally Holmes and discussed how empowered she felt to be there. "Everybody in this room has kind of been through the mill in a men's only world, learned how to kick its ass and get ahead with it," she said. Surrounded by such a group of inspiring women, Wilson revealed how much of a guiding light her mother, who she called a "steel magnolia," was for her: "She was the nurturing, strong, steel, mother figure."
Wilson, who wrote and recorded her first-ever debut solo album You and Me during the pandemic, could relate closely to the conference's overarching theme "Finding Forward." "What drives me forward is the creative force of trying to make new art and bring that art to the world," she said. "Because art is something that fixes the world."
Following her performance at Power Trip, Wilson reflected on her experience in the Berkshires and revealed what she took away from this year's event.
How would you describe your experience at the Power Trip event?
I was very happy to be there. The event itself is such a great representation of what's right about things in the world right now because women are being seen, and they're becoming more powerful. Usually when you say "power trip," you think "ego trip," but it was anything but. It was a great, forward-thinking, modern message to send to women that have had to fight and kick their way through the glass ceiling and prove to themselves, each other, and the world that they're capable professionals who deserve the position that they earned.
What songs did you perform, and what was your impetus for choosing them?
The dining room itself was called the "Harvest Moon," and so I played "Harvest Moon" by Neil Young, which was appropriate. I played a couple of new songs from my new album, You and Me [including] the title song, which is a conversation with my mom, basically. I played a couple of Heart songs to even it up. I kept it lightweight but emotional at the same time. I played longer than I was asked to, but I kept going anyway.
Did you choose any of the songs based on the empowerment ethos of Power Trip?
Playing the song ["You and Me"] I wrote for my mom [went with the theme]. She was the woman who empowered me the most in my life. Being from a military family in the Marine Corps, I liked to call her a "steel magnolia" because she was strong, capable, well-versed, self-educated -- a wonderful example of a woman to grow up with and be the daughter of. So I think, when we were starting our own careers as young teenagers, we felt like we were already in college, before we even encountered the male-dominated culture that we were about to survive. We just already had the idea that we were empowered, and we had the power to be competent in our career, and in music, in particular, of course. We have music in our DNA, so we were really confident going into it as young kids, that we'd be dogged, determined and get it done.
Which women in the music industry have inspired you the most?
I think people like Joni Mitchell and Chrissie Hynde are really inspiring to be educated by on so many levels. People like Lucinda Williams are great songwriters who affect the world of art and make it better by being great at the craft. You could think of so many great poets that have come through the decades that have inspired me and my sister, Ann, to be confident, continue to learn the craft and always improve at the craft.
What was your big takeaway from the event?
My big takeaway was that I felt proud to be among this new, modern family of women who are coming up through the ranks and proving to all of us that being a woman is not an affliction. There's so much power to be used and to be understood from women. Women get to be better teachers to the world because the world is pretty flawed. With women more at the helm, the world is a better place.
Celebrity news, beauty, fashion advice, and fascinating features, delivered straight to your inbox!