The Ending of 'Kill Boksoon,' Explained
Star Jeon Do-yeon and director Byun Sung-hyun discuss the Netflix assassin flick.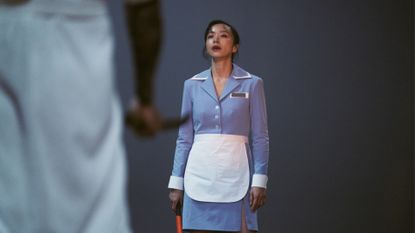 (Image credit: Noh Ju-han/Netflix)
In Netflix's newest action flick Kill Boksoon, the most deadly assassin in South Korea always also has a personal mission: getting home to her teenage daughter. Written and directed by Byun Sung-hyun, the melodrama Korean thriller, which hit the streamer on March 31, stars Korean superstar Jeon Do-yeon (Crash Course in Romance) as Gil Bok-soon, the titular hit woman who balances her successful career with her private life, as mother to 15-year-old Jae-young (Kim Si-a). Just as Bok-soon decides to retire and focus on her relationship with her daughter, her final assignment goes awry, leaving her as a target for her own company and the rest of the hitman industry.
Kill Boksoon is an intricate thrill-ride, one that might leave viewers with a question or two about its fictional world of contract assassins, not to mention questions about Bok-soon's relationships with Jae-young and her boss and maybe ex-lover, Cha Min-kyu (Sul Kyung-gu). Marie Claire took part in a roundtable interview with Byun and Jeon about the film's complex relationships, and the inspiration that the director took from Jeon's real-life. Read on for our breakdown of this must-watch new Korean movie.
What happens in 'Kill Bok-soon'?
Throughout the film, we learn the rules of the regimented world of contract killing agencies. Bok-soon works for the most successful of these companies, MK Entertainment. Her boss, Chairman Cha Min-kyu, is the literal rule maker, who seven years earlier established three standards for the industry: 1. Assassins must not kill minors. 2. They can only participate in hit jobs—dubbed "shows"–sanctioned by their company. 3. They must always attempt shows sanctioned by their company. Bok-soon has followed these rules for the past three decades, rising through MK with a 100 percent success rate—hence her moniker "Kill Boksoon"—and earning respect even though she's considered a woman "past her prime."
For Byun's first-ever action film, the director took inspiration from Jeon's real life; the actress shared at the roundtable that she leads a sort of double life between being a world-renowned actress and being a mom. Byun said he also looked to South Korea's entertainment and film industry while creating the agencies, drawing parallels to the trainee process and the "shows."
Halfway through the film, Bok-soon breaks her first rule, refusing to kill her latest mark: the son of a senator and prime minister candidate who was fraudulently admitted to his university. The hit was put out by the father himself, and it's heavily implied that Bok-soon botches the show based on ethical reasons. It's enough of an offense for her to be fired, or even killed as a disciplinary measure, but Min-kyu decides to let her off easy, even following her request that MK doesn't reassign the job to anyone else. However, Min-kyu's second-in-command and sister, MK Director Cha Min-hee, doesn't agree that the agency should take the hit to their reputation that comes with a failed high-level case, and she's ultimately jealous of Min-kyu's favoritism towards his former protege Bok-soon.
So Min-hee decides to act on her own, assigning the show to Bok-soon's colleague and lover, Han Hee-sung. (She's able to blackmail him because he's been taking out unsanctioned shows to pay for his dad's medical bills.) The director also gives all of Bok-soon's friends the chance to work at MK if they kill Bok-soon, leading to an epic fight sequence where she fights off four assailants with the help of MK "intern" Kim Young-ji. Now, Bok-soon is a target for all of her friends' agencies, who want revenge for her killing their employees.
What was the relationship between Bok-soon and Min-kyu?
Throughout this all, Min-kyu has stood by Bok-soon's side, while also trying to protect his sister and MK's reputation. Through his various moments, the chairman's obvious affection for Bok-soon shines through, most evident when he insists that Bok-soon should renew her contract with MK. The only backstory we get for their history is a flashback to the day they met, when a young Min-kyu (played by Alchemy of Souls' Lee Jae-wook!) has been contracted to kill Bok-soon's abusive father. He's immediately affected by 17-year-old Bok-soon, who shows her natural talent as she kills her father herself before Min-kyu finishes the job. There's also the fact that Hee-sung hasn't been able to rise above his C ranking at MK despite his obvious skills, which likely has to do with the fact that he and Bok-soon have been hooking up for what seems to be a years-long relationship. Viewers are left wondering what the extent of Min-kyu and Bok-soon's romance was, and whether Min-kyu is possibly Jae-young's biological father.
For Jeon, the romantic tension between Bok-soon and Min-kyu was helped by her history with actor Sul Kyung-gu. The pair have previously played romantic partners in two films, 2001's I Wish I Had a Wife and 2019's Birthday. "When I was reading this scenario, I didn't really find much romance in it," Jeon said during the roundtable. "Only when Sul Kyung-gu acted it out, I could feel that there was melodrama in this movie. So I think it's really the power of this actor that made romance possible in Kill Bok-soon."
After the bar fight, Min-kyu offers to protect Bok-soon, as long as she renews her contract with MK. He makes a plan to pin the deaths on Hee-sung and keep both Bok-soon and Min-hee out of trouble with the other agencies. He also makes it clear that if Bok-soon goes after his sister, he'll have to kill her, and Bok-soon knows she can't win a fight against him. The next day, Bok-soon meets with Min-hee to sign the contract. However, thanks to Min-hee's gloating, she learns that Min-kyu killed Young-ji as part of his cover up. With that final line crossed, Bok-soon decides to go against Min-kyu once and for all, stabbing Min-hee in the throat with a pen and leaving him the "bloody knife," a message for him to pick the time and place for their battle.
After dinner with her daughter, Bok-soon returns to MK for a showdown in Min-kyu's office, where she runs through multiple scenarios for the fight. For every scenario she runs through, she ends up dead, with the film showing dozens of visions of Min-kyus killing Bok-soons throughout the sizable room. Eventually, she confronts Min-kyu indirectly, taunting him that she knows that she is his weakness. She distracts him with memories of their meet-kill long enough for her to land a fatal blow, but Min-kyu gets the last word as he reveals that her greatest fear has come true: Jae-young now knows everything about her secret, homicidal life.
What is Jae-young's big secret?
Bok-soon's relationship with her 15-year-old daughter is the heart of the film, as we see how their different world views affect their love for each other. From the beginning, it's clear that the teen cares more about fairness and justice than her mom; when they watch the news story of the senator's scandal early in the film, Jae-young points out that if his son got into college through fraudulent means, then someone who was deserving got rejected. Rather than accepting that the world is unfair, Jae-young convinces her mom to strive for a bit of fairness, which we see both in the opening fight against the yakuza boss and in Bok-soon's decision to not kill the candidate's son.
Of course, the mother and daughter may think differently, but they're still similar in many ways. Later in the film, Bok-soon is surprised when she's called to Jae-young's school for a violent incident: the daughter gets suspended for stabbing a male student in the throat with scissors. If she stabbed any deeper in that spot, it would have killed the kid, and Jae-young tells Bok-soon in the car that killing him was her goal. She also refuses to tell the school why she attacked him, but if she didn't fess up, she would've been expelled.
Eventually Jae-young does tell her mom what happened. That day, the boy Cheol-woo sent her photos that he secretly took of her kissing her best friend, So-ra. The girls aren't out, and Cheol-woo threatened to send the photos to half the school if Jae-young didn't go out with him for a month (after which he planned to break up with her to look cool since she had publicly turned him down several times). As Cheol-woo was blackmailing Jae-young, So-ra came into the classroom and begged him to release the photos, since her mom would "kill her" and "her life would be over" if she was outed. At that point, Jae-young stabbed the unrepentant boy.
Jae-young's confession is also how she comes out to her mom. Bok-soon doesn't react in the best way to the news, and before she can assure Jae-young that she'll love her no matter what, she's pulled away by her work dilemma when Young-ji shows up at her door. Because of the timing, Jae-young believes that her mom ran away because she was disgusted with her, but Bok-soon later assures her daughter that she accepts her.
Byun said during the roundtable discussion that he decided for the film to be driven by both the mother and daughter's secrets. "When you at Bok-soon's secret, it is ethically unacceptable. For Jae-young, especially in the Korean society, and in some of the more conservative countries globally, it's a secret that you don't really have to keep as a secret, right? It is only made a secret because of the society and there is ethically nothing wrong with it." He added, "I wanted to draw that contrast between the two, because at times it's more difficult when you have a secret that in reality you don't really have to keep."
How does Jae-young react to the truth of Bok-soon's job?
Bok-soon's work and home lives collide again when she's attacked by Min-kyu while on the phone with Jae-young. Later Jae-young confesses that she's seen a gun in her mom's bag before, and she had come to the conclusion that her mom works for the National Intelligence Service (South Korea's CIA). Bok-soon lets her believe it at the time, but Min-kyu's final blow to Bok-soon involves showing Jae-young the truth. For a moment, it looks like he will kidnap Jae-young, but instead he delivers an iPad to her house, set up with a livestream of his and Bok-soon's final showdown. After Bok-soon kills Min-kyu, we see that Jae-young has been watching the whole thing, and the revelations bring both the mother and daughter to tears.
However, when Bok-soon returns home, Jae-young's reaction is very calm, as she just asks her mom if she's had a long day and tells her to get some rest. The film ends with Bok-soon walking away from Jae-young's room and looking back, as she smiles while her eyes fill with tears. It leaves the mother and daughter's relationship in an ambiguous place, as they move forward knowing the whole truth about each other.
"When you're a mom, sometimes you tell your daughter that you have to live a moral and ethical life even when you are not living up to those standards yourself," Jeon told Marie Claire. "Sometimes I do that too, and many moms are kind of scared to show their world to their daughters. I think that scene was the moment when Bok-soon learned from her daughter how to live her life. She was enlightened as to how she should stay true to herself."
"Director Byun once said that this is an educational film," she added. "I think he meant it not as the daughter is learning from her mother, but the mother is learning from the daughter and seeing some new answers to the way she should lead her life. So I think that's what he meant by calling this an educational movie."
What happens in the mid-credits scene?
Thanks to a mid-credits scene were get a bit more info on what happened after Bok-soon and Jae-young said goodnight. The scene is set a few days later with a news report revealing that the senator has been found dead inside his car, with police suspecting he committed suicide after suffering depression in the wake of his son's death. Bok-soon is out of focus in the scene, and it cuts away as she looks at the TV; it insinuates that Bok-soon has found a new line of work using her skills to get some form of justice.
As for Jae-young, who is apparently switching schools, the scene shows her visiting her old school to say goodbye to So-ra. Earlier in the film, Jae-young was heartbroken when So-ra broke up with her, saying that their relationship was just a joke to her. As Jae-young says goodbye, she says that she considered whether to kiss or kill So-ra during their final exchange. Instead she caresses her face and leaves, walking out of the school with a threatening smile to Cheol-woo. Both Bok-soon and Jae-young get happy endings to their stories and seems to tease the possibility of a sequel.
Marie Claire email subscribers get intel on fashion and beauty trends, hot-off-the-press celebrity news, and more. Sign up here.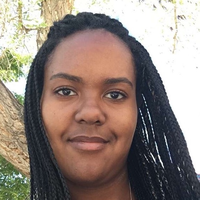 Contributing Culture Editor
Quinci LeGardye is a Contributing Culture Editor who covers TV, movies, Korean entertainment, books, and pop culture. When she isn't writing or checking Twitter, she's probably watching the latest K-drama or giving a concert performance in her car.