The Art Of Being Blake
Yes, she's an accomplished actress and red-carpet catnip for fashion followers. Now Blake Lively is turning the things she loves—philanthropy, the domestic arts—into a world of good.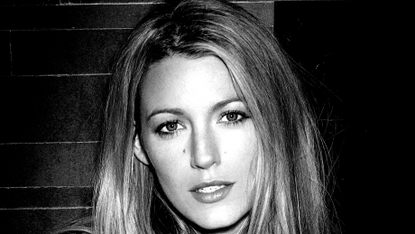 (Image credit: Archives)
Marie Claire Newsletter
Celebrity news, beauty, fashion advice, and fascinating features, delivered straight to your inbox!
Thank you for signing up to Marie Claire. You will receive a verification email shortly.
There was a problem. Please refresh the page and try again.
Of all the things one might have expected Blake Lively to do after playing New York City's hottest rich teenager on Gossip Girl, "make philanthropy cool" wouldn't exactly be high on the list. Marry the Green Lantern (aka Ryan Reynolds) in a top-secret ceremony outside Charleston, South Carolina, complete with a couture Marchesa ballgown and a glitter-dipped bouquet? Sure. Take time off to buy and decorate a country house in Bedford, New York? Absolutely. Make a movie about a chic woman who never grows old (The Age of Adaline, due out in 2015)? You bet. But running off to one of the seedier parts of Boston to make a documentary with Nicholas Kristof and Sheryl WuDunn about teen sex trafficking? Or signing up as the face of Gucci's Première fragrance because she likes the house's philanthropy as much as its fashion? Or launching a lifestyle website that's as focused on charity as it is on e-commerce? Not so much. Lively herself, however, isn't surprised at all. "I always knew I would do something like this," she says.
She's curled up in her suite at New York's Bowery Hotel, dressed in black crepe Rag & Bone overalls and a white cutout top, her famous butterscotch hair tumbling about her shoulders and her diamond engagement ring blinding anyone who dares look directly at it. Melting on the coffee table sit 10 flavors of ice cream from Il Laboratorio del Gelato, which Lively—a passionate foodie—dips into from time to time, occasionally pointing out one I must try ("Whoa. Thai chili chocolate"). At 27, she is just as you remember from Gossip Girl—eyes the color of a moody sea, a smile straight out of a Crest commercial—but more composed and self-aware. In person, Lively has a steady, clear-headed focus that Serena van der Woodsen could only dream of. She does not drink and has never touched drugs. Her MacBook has a huge sticker of Disney's Snow White on the cover, holding the big white Mac apple. Her go-to curse word is "gosh."
She's in town for a bash that Gucci is throwing to celebrate the one-year anniversary of the Sound of Change Live concert, the first major fundraising event of the global initiative Chime for Change, founded by the trifecta of Beyoncé, Salma Hayek Pinault, and Gucci creative director Frida Giannini, which is perhaps best described as a kind of Ladies' Hall of Justice. Basically, anyone who buys select Gucci perfumes can allocate $5 from the purchase price to the charity of his or her choice via the Chime for Change website (Chime has funded almost 300 projects that benefit women and girls in 81 countries) and then see how the donation is being put to work through the website's impact reports.
"I was so excited, because I knew [Gucci] could help me realize some of the desires I had," says Lively. With other charities, she explains, "you can send them your donation, but it's hard to track the progress of what you've given, so it's hard to stay emotionally invested." Also, a lot of organizations have seemed mostly interested in getting a good photo op with Lively … which is kind of a bummer. "It brought a moment of attention to them," she says. "But I don't want my picture taken. I want to do something."
Pick up a copy of our September 2014 issue on stands August 19!
Choice Words:
On her relationship with Ryan Reynolds: "We've never gone a week without seeing each other. There's no major decision that I make without him. The best part is when we turn off our phones and just talk and hang out. He's my best, best friend. What do you do with your best friend? You do nothing."
On her past claims of wanting 30 kids of her own: "I gotta get started. If I could spit out a litter of kids, I would."
On her new venture, Preserve, an immerse lifestyle e-commerce website: "I went straight from high school to Gossip Girl, and both were very structured, scheduled environments, so I never had freedom to explore and carve my own path. When I finished my show, I wanted to take a break from acting and try what I would have tried if I hadn't acted, and that was this."
On her involvement in the PBS documentary miniseries A Path Appears: "I don't pretend to speak for anyone, but my feeling is that the general consensus in the United States is that [sex trafficking] is elective here--that when women are prostituting themselves, it's their choice. But what you realize when you start talking to these young women is that they're in emotional chains."
On Reynolds' favorite meal: "Honestly, all he wants to eat is hot-fudge sundaes."
Celebrity news, beauty, fashion advice, and fascinating features, delivered straight to your inbox!