'Fifty Shades of Grey' Star Eloise Mumford on Playing Anastasia Steele's Best Friend
"She's the friend who's supportive and loving, but also the voice of reason."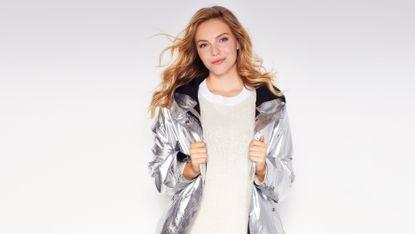 (Image credit: Emman Montalvan)
Her role in this month's Fifty Shades of Grey gives her serious cred, but in her free time, camping fanatic Eloise Mumford stays really down-to-earth.
On her Fifty Shades role: I play Kate Kavanagh, Anastasia Steele's roommate. She's the friend who's supportive and loving, but also the voice of reason.
On her favorite pastime: For as long as I can remember, I've gone camping with my family. Growing up in Washington, it's so easy to get to Mount Rainier and Olympic National Park.
On growing up: My mom was a badass Outward Bound instructor in the '70s. We did five-day wilderness trips when I was 3 and my sister was 6. My parents would just carry us on their backs.
On camping these days: Now that I live in L.A., I try to do a big trip once a year. It's not car camping! You have to plan out every meal and how much you can carry. We even drill holes in our toothbrushes to lighten them.
On the essentials: Camping reminds you that all you really need are the essentials: food, water, people you love, and your healthy body.
One thing to watch out for: Goats! This past summer in Olympic, a herd terrorized our campsite. The ranger was like, "Be really careful; they gored a hiker recently."
On trail mix: I'm a sucker for Peanut M&M's. My mom is the expert on packing surprises, like busting out a tiny vial of wine or a package of gummy bears on the last day.
On the Fifty Shades of Grey trailer: [It] was released while I was in a tent in the middle of nowhere. We hiked out, and as soon as I had cell service, I watched. I was so dirty, it was freezing, and I was on the side of the road. It was awesome.
This article appears in the March 2015 issue of Marie Claire on newsstands February 17.
You should also check out:
I Tried All the Sex From Fifty Shades of Grey in One Weekend
Four New 'Fifty Shades' Parodies That Are Probably Better Than the Real Thing
Even 'Fifty Shades' Can Sound Good When Jamie Dornan Reads It to You in a French Accent