You Now Have the Power to Choose the Woman Who Will Be on the $10 Bill
Any woman you want.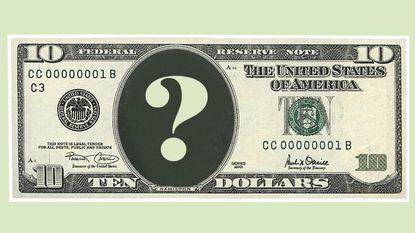 (Image credit: Archives)
Update, 10/9: The power is in our hands. On Thursday, the U.S. Treasury announced that they will be taking your votes into consideration on who they should be putting on the $10 bill. That's right—by tagging any social media post with #TheNew10, your #WCW could be legit currency.
I mean, do we even need to say more?
Update, 7/6: One in three Americans voted that Eleanor Roosevelt–women's rights advocate and former First Lady—should be the first woman to grace the $10 bill following the announcement that a female will grace the newly redesigned currency, according to a McClatchy-Marist poll.
Roosevelt beat out Harriet Tubman, who came in second, as well as Sacagawea, Amelia Earhart, and Susan B. Anthony, who all shared third place.
Treasure Secretary is expected to make a decision later this year, and the redesigned bill will be unveiled in 2020 to celebrate the 100th anniversary of women's right to vote.
Update, 6/25: On last night's Daily Show, Jessica "Meet the Jess" Williams smartly pointed out that, nah, replacing Alexander Hamilton with a TBD woman on the $10 bill ain't all that great. Her arguments: The switch was just a matter of business as usual for the Treasury, ol' Alex is moving to the back anyway to act as a chaperone who makes "sure [the ladies] don't do any impulse buys," and wouldn't it be cooler if they put Olivia Pope on something people actually use, like Bitcoins? But Williams's best point of all is about an issue that affects every woman, including Meryl Streep and JLaw.
"Honestly, Jon, at the end of the day, I don't give a damn who's on the bill. What I do care about is getting an equal share of the bill. I'd rather have 10 full Hamilton dollars than eight dollars and 45 cents of lady bucks. Let's spend our time focusing on that."
👏👏👏👏👏👏👏
The Daily Show
Get More: Daily Show Full Episodes,The Daily Show on Facebook,Daily Show Video Archive
Update, 6/18: In an unexpected turn, it seems the U.S. *is* getting a woman on a bill—just not the one we thought. The Treasury Department has announced that Alexander Hamilton will be replaced with a notable U.S. woman as the face of the $10 bill. Ironically, Hamilton was founder of the U.S. Treasury.
Exciting? To many—yes! The Treasury did not comment on the fact that they'll be replacing Founding Father Alexander Hamilton instead of controversial POTUS Andrew Jackson on the $20 bill, which has caused some grumbles on social media. (There's even a hashtag: #SaveHamilton.)
Senator Jeanne Shaheen, who sponsored a bill to replace Jackson with a woman on the $20 bill, stated that she was still excited for the plan to move forward.
"While it may not be the 20- dollar bill, make no mistake, this is a historic announcement," Shaheen said in a statement. "Young girls across this country will soon be able to see an inspiring woman on the 10-dollar bill."
But Hamilton isn't all the way gone—he'll appear somewhere on the $10 bill, though obviously, not as the main event. Now to the main question—which woman will it be? We'll just have to wait it seems...
Update, 5/13: The people have spoken—and they want Harriet Tubman on the $20 bill. The contest, as part of the Women on 20s campaign, shows that Tubman only narrowly beat out Eleanor Roosevelt, with about 7,000 more votes. (Tubman came in at 118,328, while Roosevelt received 111,227 votes.) More than 600,000 votes were cast over the course of 10 weeks.
The petition has now been sent to President Obama, and the campaign is hoping for an executive action. So, uh, your move, Barack.
Original story, 3/4: Who run the world? Well, if we're being honest: Mostly white men on currency. But a nonprofit is aiming to remove Andrew Jackson from the $20 bill, in favor of a woman who has changed history.
Women on $20s, founded by Barbara Ortiz Howard, hopes to put a female on the $20 bill by 2020, the centennial anniversary of women's suffrage. The current ballot features 15 women who have made their mark in the United States, including Rosa Parks, Shirley Chisholm, and Eleanor Roosevelt.
"Our hope is that through this process we expose as many people as possible of all ages and of all political and socioeconomic persuasions to really look at women's contributions in history," Ades Stone told BuzzFeed.
Currently, the only women on U.S. currency include Sacagawea on the gold dollar coin, and Susan B. Anthony on the dollar coin (which is rare). Jackson has long been a controversial historical figure to include, considering his participation in the Native American genocide.
Susan Ades Stone, the executive director of the project, thinks its a small change that can make a big impact. "It may seem frivolous, but symbols do matter in our culture," she said. "Especially the images that we put on our money."
You should also check out:
Fewer Women Run Large Companies Than Dudes Named John
8 First Ladies Who Should Have Been President
Mika Brzezinski's Foolproof Tips on Getting a Raise—Even If You're a Pushover
Samantha Leal is the Deputy Editor at Well+Good, where she spends most of her day thinking of new ideas across platforms, bringing on new writers, overseeing the day-to-day of the website, and working with the awesome team to produce the best stories and packages. Before W+G, she was the Senior Web Editor for Marie Claire and the Deputy Editor for Latina.com, with bylines all over the internet. Graduating from the Medill School of Journalism at Northwestern University with a minor in African history, she's written everything from travel guides to political op-eds to wine explainers (currently enrolled in the WSET program) to celebrity profiles. Find her online pretty much everywhere @samanthajoleal.