What It's Like to Be an Extra on 'House of Cards'
Oh heyyyyy Kevin Spacey.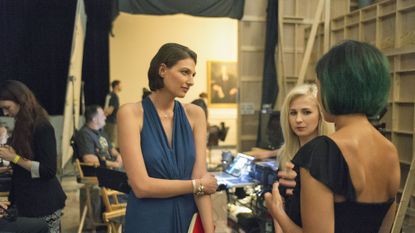 (Image credit: Archives)
What's it like on the set of Netflix's political drama, House of Cards? Let me recount my 15 hours of (not quite) fame. (Spoiler alert: I'm still not best friends with Robin Wright.)
6:15 a.m., Baltimore Marriott Hotel
It's still dark outside— like middle-of-the-night dark, not oh- let's-watch-the-sunrise dark—yet, somehow, I'm awake. I head downstairs to meet Katie, my Netflix keeper, and we board a shuttle bus to set. Among other bleary- eyed passengers, I notice two vaguely familiar girls in the backseat, traveling with an entourage and sporting awesome, punked-out hairstyles. Early-morning hallucination? I point them out to Katie. Turns out, they're today's surprise guest stars: Nadya Tolokonnikova and Masha Alyokhina of radical Russian feminist band Pussy Riot.
8 a.m., backstage, my trailer
"Surprisingly nice," Katie remarks—majorly VIP extra treatment, check. Inside hangs an array of jewel-toned floor-length gowns chosen by costume designer Johanna Argan for my role as guest at a White House state dinner for a Putin-like Russian president's visit in the season's third episode. Argan hands me a pair of braided silver sandals and a nude seamless thong (modesty: not so much a thing on set!), and I model options while she evaluates my White House cred. A fuchsia Theory dress with serious keyhole cleavage is "a little racy." So we settle on a deep-blue BCBG V-neck halter, which both meets Argan's approval and is alarmingly similar to the dress I wore to my senior prom.
9 a.m., backstage, hair & makeup
"Is this a test?!" My greasy bob horrifies Michael Ward, my hair guy. He approaches with an insane amount of dry shampoo, sea salt spray, and a back comb. When it comes to TV, he explains, the key is to weigh 15 to 20 percent less than normal, but have 15 to 20 percent more hair and makeup. As if to prove his point, I watch as Jayne Atkinson (who plays Secretary of State Catherine Durant) gets finishing touches on four or five vertical inches of updo. Next, makeup artist Vasilios Tanis applies a neutral smoky eye, mauve lipstick, and most of the blush available in the state of Maryland. My cheekbones come in a close second to Claire Underwood's.
11 a.m., on set
A production assistant rushes me to my mark, standing in a receiving line to shake hands with President and First Lady Underwood (aka Kevin Spacey and Robin Wright). I begin to get a sense of the Sisyphean process of TV production. The director calls, "Rolling!" and we stride in a stately manner all of two feet toward the Underwoods; the director calls, "Cut!" and we shuffle dejectedly three feet back.
1 p.m., between takes
We break. Masha from Pussy Riot sits next to me, and I ask her if she's a fan of the show. "Yes," she says, explaining in imperfect English that the first season aired in Russia but it's unlikely any others will. Later, when I meet showrunner Beau Willimon, he tells me that he accosted Nadya and Masha at the Pen Literary Gala dinner last spring.
"I told them about season three and asked if they'd be part of our show," he says. "I thought it would be really interesting to have people very vocal against the regime attend. An opportunity for disruption."
5 p.m., back on set
I'm getting the memo that my on-screen face-to-face with Kevin and Robin may not be in the, ahem, cards, so instead I get to know my fellow extras. Behind me, there's Vivian, who works in PR and marketing, and is taking a sick day to be here. She's paired with Travis, a Gold's Gym manager. And in front of me is Lindy, a full-time extra who's already appeared on six previous episodes of House of Cards and does Veep in the off months.
7 p.m., Amtrak station
It's a wrap! I run to catch my train home. When I've settled into my seat, I post a selfie to Instagram. Chances I actually make it onto House of Cards? Slim. But that doesn't mean this bulletproof hair should go unseen.
This article appears in the April issue of Marie Claire, on newsstands March 24.
You should also check out:
'House of Cards' Accidentally Goes Live on Netflix Two Weeks Early
Everything to Watch on Netflix in March
Marie Claire email subscribers get intel on fashion and beauty trends, hot-off-the-press celebrity news, and more. Sign up here.