Soon-to-Be-Major Pop Star Rozzi Crane Talks Touring with Maroon 5
And making her first *official* release.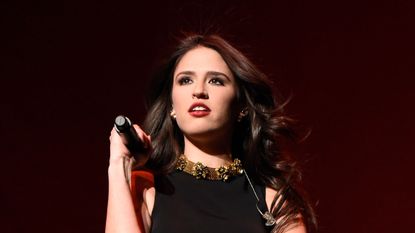 (Image credit: Archive)
Just hours before she'd perform at Madison Square Garden in front of a sold-out, 20,000 person crowd, we spent an afternoon with Rozzi Crane. As Adam Levine's protégé and the first artist to be signed to his record label, 222 Records, she's kind of a big deal—but you'd never know it the way she gushes about Beyoncé (she's just as giddy as the rest of us).
At this very moment the 23-year-old is opening for Maroon 5 on their world tour—and as if opening for one of the world's biggest bands isn't enough of a feather in her cap, she's been featured on the Hunger Games soundtrack, collaborated with Kendrick Lamar, and now, after being signed in 2011, she's made her first official release. And trust us, her EP titled Space is everything you'd want from the R&B-slash-pop star—between the lead single "Psycho," a fiery anthem about striking out on your own to "Painkiller," a groovy duet with Levine, the four tracks pack plenty of punch.
As she continues to croon her way into the hearts of thousands, we chatted with Crane about her new music, her evolution as an artist, and what it's like being on a first-name basis with the guys of Maroon 5.
We've had your EP Space on repeat all day. What was the inspiration behind these tracks?

"Well, this is my first real release of any kind. I wrote and recorded songs in high school and college, but this is the first time I really feel like I've become the artist I always wanted to be. These four songs are about having fun, feeling strong, and being powerful. I just wanted to make people feel like the sh*t when they listen to them. It's amazing to record something I've lived, something I've felt, and have it live forever–I think that's the coolest thing."
Growing up, what artists influenced you and how has that informed your music?

"Really big voices. My mom is a huge music fan so there was always music in the house growing up. There's this one singer named Eva Cassidy who died tragically at a young age. She had recorded all of these amazing cover albums of classic songs. As a kid, I actually heard her versions before I heard a lot of the original versions, and her voice is just beautiful, a crystal clear kind of voice. I don't think I always realized how much she affected me. I also loved Björk as a kid. I think she really inspired me to be adventurous. Fleetwood Mac is one band that I fell in love with in 7th grade and continues to be my absolute favorite.
Stevie is our Queen! You've clocked in countless hours on stage, do you have a pre-show ritual?

"There's one thing that I do before every single show, right before we go on. I'm a big Outkast fan, so with the band, we all stop, put our hands in and I go 'Lemme some sugar' and they go 'I am your neighbor.' [Laughs] We've been doing that since our very first show."
So, really, what's it like touring with Maroon 5?

"I feel really lucky to get to tour with them—not just because they're one of the biggest bands in the world, but because they're such great people. This is my third tour with them. On my very first tour, I wasn't opening—I would just come out and sing a couple duets with Adam every night. So I got to travel and live with them, which really gave me the opportunity to get to know them and become friends. They're just the best, it's a great backstage hang."
Do the guys have any quirks you've gotten to know over the years?

"There's definitely different things we connect on for each of them. Mickey is an avid reader, so we always talk about books. James and I have been working out together recently. PJ and I relate because he's a solo artist as well. And of course, Adam is a million different things to me."
But seriously, what's it like to have Adam Levine as a mentor?

"It continues to be totally surreal, honestly. What's really cool is just getting to watch him and observe him doing his thing. I've seen him play live a gazillion times and he's really inspiring to me as a performer. He's a powerhouse—he's so solid. And again, when I signed with him, I didn't necessarily know how cool he was. I knew how successful he was, but I didn't know how great of a person he is."
How do you think you've evolved since her first discovered you?

"In a million ways. I think my vision of who I was supposed to be as an artist has just continued to get more and more concrete. I always knew I had things to say and a lot I wanted to share, but I've kind of started to figure out how I want to say it, and how I want to share it. That comes not just from his advice and guidance, but also just from being on tour multiple times, meeting all the fans, and trying out new songs. I've had the fortune of having time to really experiment, so I feel that now I'm finally ready to release something. I feel like it's really who I am and I don't think I had that three years ago."
What other artists would you love to work with?

"I mean, I don't even want to say it, but I love Beyoncé so much. But I don't even know if I'd want to work with her. Of course if she asked me to, I'd say yes, but the thought of just being next to her makes me feel very small. [Laughs]. As I said, I love Outkast, so André 3000 would be really cool."
Lastly, this is a question we ask all of the amazing women we meet, how did you make your first dollar?

"I made my first dollar when I was a backup singer for Sérgio Mendes when I was 19. I was a sophomore in college. That's the first dollar I felt like I really earned. It was the coolest thing in the world to me to earn that first check. I couldn't believe someone would pay me to sing. I got to travel around Europe and sing with a legend—I would've paid them to let me do it."
You should also check out:
Adam Levine: "I Dip In and Out of Caring About Fashion"
Listen to Maroon 5 and Gwen Stefani's Mind-Blowing New Ballad
Sorry, Ladies! Adam Levine is Engaged to Supermodel Behati Prinsloo!
Celebrity news, beauty, fashion advice, and fascinating features, delivered straight to your inbox!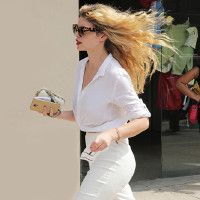 Lauren is the former beauty editor at Marie Claire. She love to while away the hours at coffee shops, hunt for vintage clothes, and bask in the rough-and-tumble beauty of NYC. She firmly believes that solitude can be a luxury if you've got the right soundtrack—that being the Rolling Stones, of course.