Decoding 'RuPaul's Drag Race': 16 Terms You Need to Know
Because "sickening" doesn't mean what you think it means.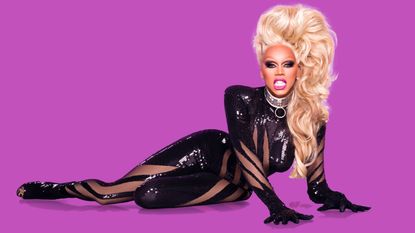 (Image credit: courtesy of Logo)
While Britney Spears may forever hold the bragging rights for catapulting the term "Work, Bitch!" into pop culture back in 2013, there's no denying that RuPaul, mother of all things glam and fab on RuPaul's Drag Race, has successfully launched the world of drag queens into the mainstream. (We still love you, Brit.)
The show—one of TV's most entertaining and well-written shows on today, in my opinion—takes 14 queens (men decked out in eyelashes, wigs, pumps, and plenty of concealer) through rough-and-tumble competitions, which stem from lip-synching Cher anthems to nailing celebrity impersonations. Ultimately, "America's Next Drag Superstar" is crowned.
But as funny as the show may be, even the most devoted fans sometimes raise an eyebrow at the vocab thrown around on the show. I mean, no one's born expecting to know how to serve executive realness and then sashay away.
And though Paris is Burning—a must-see '90s documentary centered around New York City drag balls—offers the most thorough glimpse into this world of queer culture, the lingo has definitely changed over the years. Enter: our handy guide. Learn to slay, open the library, look sickening, and then test your friends. As Ru herself would say, "Start your engines, and may the best woman, win!"
Read
Definition: A no-holds-barred approach to insulting and judging someone. When you've had it with someone, you read her or him.
Used in a sentence: "If she walks in here tonight I'm going to read her for coming at me for my contour."
Shade
Definition: A concealed double meaning, typically meant to critique.
Used in a sentence: "She told me I looked 'healthy,' now that's some shade!"
Sickening
Definition: Amazing, incredible, the best.
Used in a sentence: "Girl, Madonna's new album is sickening!"
She done already done had herses
Definition: To be quite honest, the internet still has no idea what this means. But after much controversy surrounding RuPaul's "She-Mail" (think: Tyra Mail), the producers of the show switched the term to this.
Used in a sentence: "She done already done had herses."
She owns everything
Definition: To be the one true queen; to be the most fabulous.
Used in a sentence: "Girl, you will own everything with that new pair of glitter platforms."
Sashay, away.
Definition: To leave aka to be eliminated from the competition.
Used in a sentence: "Alexis Mateo, you are stunning my dear. But your lip-synch just did not cut it. Now, sashay, away."
Shante, you stay
Definition: Reassurance that you are not going home; Ru calls her girls Shante as a term of endearment.
Used in a sentence: "Jiggly Caliente, Shante, you stay."
Tea/T
Definition: Slang for the word truth or gossip.
Used in a sentence: "Girl, I'm about to spill the tea on everything that happened last night."
Realness
Definition: The ability to embody the truest version of something or someone, usually when referring to the opposite sex.
Used in a sentence: "She walked in and served Valley girl realness with that blonde hair."
Fish
Definition: A very feminine drag queen.
Used in a sentence: "As soon as she puts on that wig, makeup, and dress, she starts to serve fish."
Sissy that walk
Definition: To strut in the most feminine way possible.
Used in a sentence: "Honey, once you get up on that stage you better sissy that walk."
The library
Definition: In reference to reading, or throwing shade, the library is metaphorically a place where drag queens insult each other back and forth in a playful manner.
Used in a sentence: "Girls, the library is open. Now, read her for FILTH!"
Family/House
Definition: As part of drag culture, queens join families or a house and use them as last names; families usually teach their "children" how to do drag.
Used in a sentence: "My name is Monique and I am a member of the House of Eleganza, raised by Mother Darienne Eleganza."
Fierce
Definition: If you're not familiar with this one, then, well, you're just not fierce enough.
Used in a sentence: "That is fiiiiiierce!"
Beat
Definition: To apply makeup well.
Used in a sentence: "She served a sick winged liner and a sickening contour. That face was beat!"
Cooking
Definition: In reference to applying makeup—to let the powder sit on your face for a while so it appears more natural.
Used in a sentence: "Imma let this powder cook so Ru doesn't call me out on my beard."
You should also check out:
Inside the Double-Lives of Pakistan's Cross-Dressing Men
Andrew Garfield Dresses in Drag for Arcade Fire's Moving 'We Exist' Video
Celebrity news, beauty, fashion advice, and fascinating features, delivered straight to your inbox!
As the Senior Editor of OprahMag.com, I'm a jack-of-all-trades, overseeing our entertainment coverage (we cover TV shows like The Politician and Big Brother, movies such as J.Lo's Hustlers and Lena Waithe's Queen and Slim), features, news items, and— as her number one fan—all of Lady Gaga's whereabouts. I proudly edit Coming Out, a series where LGBTQ+ change-makers reflect on self-acceptance. And I edit our Weird or Wellness series, which I highly recommend you read on the weekend. Prior to O, I began my career in the fashion department at Marie Claire, and eventually moved on to InStyle, where I dabbled in social media and covered events such as the Grammys, Toronto International Film Festival, and New York Fashion Week. A native of Miami, I received my journalism degree from the University of Miami. One time, Rosario Dawson complimented my hair and asked to touch it. I let her.