Beauty Secrets from the Real Moulin Rouge
Forget Vegas. One woman finds her inner performer at the famed French cabaret.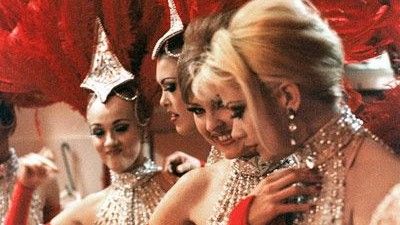 (Image credit: © Dorly Ninio/Sygma/Corbis)
"Do you have to pee pee?" asks Dany Sanz. The founder of Make Up For Ever and I are sitting in the VIP dressing room of Paris' Moulin Rouge theater. Yes, that Moulin Rouge, the 120-year-old cabaret and star of Baz Luhrmann's 2001 film. To my right, a mannequin looms in a jewel-encrusted thong. On every wall, feathered headpieces cast wild shadows. It's hard to focus. "I'm OK," I tell her. "Let's do this."
My objective: to become a showgirl, if not in body, at least in beauty routine. Sanz, a 26-year veteran of stage makeup, will show me the ropes — a service she provides to all rookie dancers at the Moulin Rouge. Her new collection of false eyelashes, appliqué crystals, and the all-important red lipstick pays homage to this work.
I slip into a silk robe, and Sanz sets out on the most important part of a showgirl's ensemble: body makeup. Shoulders bare, I look like The Situation with his wifebeater still on — the result of a bike ride along the Seine the day before. Sanz doesn't flinch. This is a woman whose makeup is often used by embalmers. There isn't much she can't cover up, blend in, or sculpt. My tan lines are quickly erased with a few generous pats of Pan-Cake foundation. Dancers here are responsible for buying and applying their own makeup. But given the large quantities of body cosmetics needed, MUFE's miracle coverall is provided free of charge.
For my face, only High Definition Invisible Coverage Foundation will do. It's Sanz's answer to TV personalities who begged her for a defense against pore-revealing technology. At the Moulin Rouge, "It's for your face and your face," Sanz laughs, pointing to her butt. The coverage is thick like paint but feels surprisingly weightless, as does the blush she uses to sculpt my nose and cheeks.
The heavy lifting is saved for my eyes. "I'm going to open them wide," Sanz says. With a wet brush, she draws large black swaths well above and below my eyelids. It's a look straight out of RuPaul's Drag Race. And that's before the glitter-rimmed falsies go on. Everyday, they're not. But then, neither is the outfit.
Fanny Rabasse, public relations director and doting stage mother at the Moulin Rouge, promises that I won't be topless. Instead, my costume will be that of a traditional French cancan girl. The ones made famous by Toulouse-Lautrec. Naturally, it will be red.
So will my lips, thanks to Sanz's new pigment-packed yet nondrying Rouge Artist lipstick. The final touch? Mist & Fix, a water-like spray that sets and holds makeup, even in extreme conditions like, say, when swimming with snakes--a spectacle in the theater's current show, Féerie.
After 40 minutes prep — it takes the Doriss Girls only 20 — I change and hit the stage. The lights are intense, but I feel great. There's something about red that feels all-powerful. "Can you do a split?" Fanny asks. "I can try!" I say, and slide to the floor. Pain sets in. Suddenly, the ladies' room beckons.