Behind the Scenes with The Preatures as They Embark on a New National Tour
Hanging out with your new favorite band.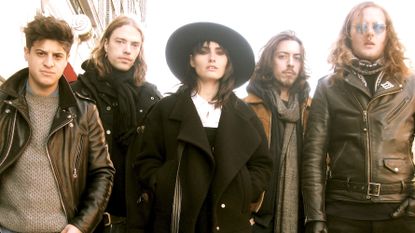 (Image credit: Tina Turnbow)
If you haven't heard The Preatures yet, do this: 1) Open a new tab 2) Search "The Preatures" 3) Click the play icon 4) Enjoy. The Sydney-based band has just kicked off their U.S. tour, and their hit "Is This How You Feel" off debut album Blue Planet Eyes is not only making waves, but will soon have a permanent place on your playlist. We caught up with singer Isabella Manfredi, AKA Izzi, to talk about the best part of touring, the band's style, and why they don't get along all the time—and that's okay.
You've just started your stateside tour. What are the highlights thus far?
"New York was the first show, tonight is Chicago. Both cities have given us a lot of love, which makes the difference for sure. But I also like those shows where we're in a new city and there's 30 people. Sometimes they can be the best. Highlight so far—hotdogs at Portillo's as soon as we arrived in Chicago. Lowlight? The morning after hotdogs at Portillo's."
How did you come to decide on the album title Blue Planet Eyes?
"It's a Mercury Rev lyric in 'You're My Queen.'"
You guys formed the band in 2010. How do you keep the dynamic alive and avoid fallouts?
"Five years is enough time to figure out if you like a person. I think we all like each other at least 70% of the time. Which is pretty good for a band. I'd say it's all about talking and spending time together. It's a gang at the end of the day."
What's the best part about performing live?
"I love being on stage. I love the struggle and how unpredictable it is. Every show is like a chemical reaction with a million variables. You do your best to control the variables, and I guess the more successful you are, the more control you have—but no matter what, stuff goes wrong or right, depending how you look at it. I love that."
Any favorite songs to perform?
"'Is This How You Feel' and 'Business Yeah.' They're the most personal songs on the album and the ones I like performing the most."
You have said you're interested in editing and structure when writing a song. Do you feel your writing process has evolved?
"I'd hope so, yeah. I like pop songs the way Lennon/McCartney or Goffin/King did pop. I guess you'd call it classic songwriting rather than pop. Where there's a few decent hooks, a verse, pre-chorus, and chorus. Things you can hold on to. That's not to say I don't like messing with the form or people who do. But I've been trying to get the craft down as much as I can. That's where we're at with songs right now."
You and the guys have such great style. Who are your favorite Australian designers?
"My favorites are Desert Designs, Benah, Love and Hatred."
What are you hoping to get from this experience?
"Just a bunch of great shows and a whole lot of ideas for the next record."
You should also check out:
6 Tricks to Keep Your Makeup in Place from the 'Dancing with the Stars' Makeup Artist
Scarlett Johansson Is Now in a New Girl Band and This Is Their First Single
Marie Claire email subscribers get intel on fashion and beauty trends, hot-off-the-press celebrity news, and more. Sign up here.
I have been a makeup artist for many years. I began interviewing and photographing some of my celebrity clients for T Magazine and the New York Times online. Interviewing such awesome talent, doing their makeup, and taking photos has become a huge passion of mine since then. I'm interested in grabbing a moment, a photo, that will paint a spontaneous honest portrait of the person I am featuring.