"This Girl Is Willing to Do Anything to Change Our World's Story": How Kayla Mueller Lived and Died Saving Others
ISIS' latest American hostage, Kayla Mueller, led a life of adventure and humanitarian work across the globe before being kidnapped in 2013 and later killed. In exclusive interviews, her family and friends remember the bold young woman behind the headlines.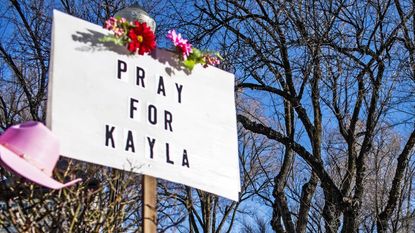 (Image credit: Marie Claire)
A few weeks before she disappeared, Kayla Mueller spent a warm summer day with her friend Molly Hock, swimming in the Mediterranean Sea. The two friends had met up for a visit in southern Turkey, where Mueller was living at the time, working with Syrian refugees who had fled the civil war. "She lived so close to the Syrian border, she could hear the bombs and see the smoke," Hock says. "She said she wanted to do more."
Soon after, in August of 2013, Mueller crossed into Syria to visit a hospital, accompanying a friend on a job for Doctors Without Borders. On their way back home, they were abducted by ISIS militants. Her companion was eventually released, but not Mueller. For a year and a half, her family and friends waited, hoped, and worked with officials, all while keeping her name out of the news in the hopes of bringing her home. This past February, Mueller, 26, was confirmed dead. ISIS claims she was killed by a Jordanian airstrike (opens in new tab).
"I didn't want to believe something could happen to someone so great," says Hock, who first met Mueller at Northern Arizona University, where the two worked at a center that welcomed international students to campus. They became fast friends, moving into an apartment in Flagstaff. Mueller lived simply, Hock recalls. "She was a minimalist. She only had a few outfits. She didn't wear makeup," she says, noting that Mueller didn't even bother to buy a bed, sleeping instead on the floor. The place became a favorite crash pad for visitors from around the world, with Mueller often playing guitar while friends danced.
"Kayla taught me it's okay to be free in your skin," says Hock, 26. "I struggled with body image and food issues. She helped me to seek personal guidance and counseling." When they graduated, they each got a tattoo—an autumn leaf for Hock, to represent change, and an owl feather for Mueller. "The owl was Kayla's spirit animal. She embodied the owl," Hock says. "She had deep inner wisdom and knowledge, seeing what the world doesn't see."
Mueller helped people across the spectrum in college, says Kathleen Day, who runs a campus ministry at Northern Arizona University. Mueller volunteered at a local prison, protested genocide in Africa, and traveled to Guatemala on a mission with the campus ministry. "It was her calling," Day says. "She maximized every opportunity she had."
Christina MacKenzie, who befriended Mueller at a student leadership retreat in Washington, D.C., for the anti-genocide group STAND (opens in new tab), remembers the day they met. Mueller sported a "Free Tibet" patch on her bag and talked about her activism, including a Darfur rally in a snowstorm (opens in new tab). MacKenzie's first impression: "This girl is willing to do anything to change our world's story." The two kept in touch, bonding over their advocacy work and their shared love of British musician Newton Faulkner. "She wanted to help people with her own two hands," says MacKenzie, 27. "She wanted to comfort them with her presence and say, 'I heard your cry and I came.'"
After college, Mueller did humanitarian work across the globe before moving to Turkey, where she worked with aid groups including Support to Life (opens in new tab). Her Facebook posts from over the years detailed her adventures, from India to Israel. "Freedom is an ever-evolving bird with ever-expanding wings," she wrote in a 2010 post from Tel Aviv. "Let's do it." In her final post, (opens in new tab) two months before she disappeared, she shared a snapshot of half a dozen kids, giving the peace sign. Along with the picture, she wrote one word: "Joy."
Mueller's aunt Lori Lyon says her niece was an explorer since childhood. "She would shop at thrift stores to find a treasure that someone gave away. Kayla was 'vintage' before vintage was cool," she says. "She was a free spirit who liked to wear two different earrings because…why not wear two different earrings?"
Lyon says her niece traveled light. She recalls a time when Mueller arrived home in Arizona after a trip to Europe. Lyon met her at the airport, expecting to collect her luggage from the baggage claim. But Mueller carried only a backpack. "For Kayla, all she needed was her books, her notebooks, and her camera," says Lyon. "Through her writing and her photographs, she told a story of what was good and beautiful in the world mixed with heartbreak and suffering. I always thought that Kayla would write a book one day, and I guess in a way she is telling her story to the world, just not in the way that we expected."
The family was in "a state of shock and disbelief" when Mueller was taken, says Lyon. "When you hear stories like this, your heart breaks for those families going through it, but you never in a million years think it will ever happen to someone in your family. When it does, there are no real words to adequately describe how you feel. We couldn't tell anyone, so we had to rely on each other," she says. "Our family is very strong. We care for each other deeply." The family has started a nonprofit foundation, Kayla's Hands (opens in new tab), to help support the humanitarian groups that were important to Mueller.
Mueller managed to send letters home from captivity, with the help of hostages who were set free. Lyon describes the notes as "her last selfless act: a wonderful, unexpected, special gift sent to her mom, her dad, and her brother." The letters were "a little piece of Kayla, something she physically touched and had written in her own words (opens in new tab) and in her own handwriting," says Lyon. "She sent these letters to basically say, 'Don't worry, Mom and Dad. I'm okay. And I am thinking about you every hour of every day, even in my dreams.' She was trying to ease their fears and their pain. These letters were the ultimate love letters. For one brief moment, she didn't want them to think of her in a prison going through this unimaginable ordeal. Kayla wanted them to reread the letters over and over again so they could find some peace."
You should also check out:
These Remarkable Women Are Fighting ISIS. It's Time You Know Who They Are (opens in new tab)
What It's Like Being a Woman On the Front Lines (opens in new tab)
#BringBackOurGirls: What You Need to Know About the Nigerian Kidnappings (opens in new tab)
Abigail Pesta is an award-winning investigative journalist who writes for major publications around the world. She is the author of The Girls: An All-American Town, a Predatory Doctor, and the Untold Story of the Gymnasts Who Brought Him Down.