New Harvard Study Finds That an Astounding 36% of Women Have Been Affected by Sexual Violence
The Institute of Politics poll takes a hard look at the state of rape.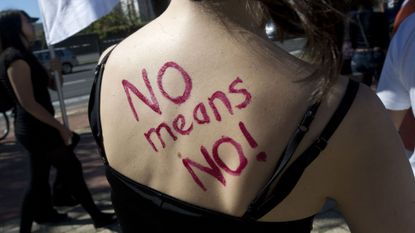 (Image credit: Getty Images)
Awareness of the everyday violence against women seems to be at an all-time high. This year, a South Carolina newspaper won a Pulitzer Prize for its domestic abuse coverage. We watched groundbreaking anti-violencePSAs during the Super Bowl. Celebrities have made a stand.
But that doesn't mean the violence itself is stopping. In fact, a new study shows that young women may have more to fear than ever before.
Harvard University's Institute of Politics has just released the latest in its 12-year series of Millennial surveys, and this time it turned a sharp eye to the state of sexual violence in America.
Researchers polled more than 2,000 18-29 year olds and found that 36% of women have had a personal experience with sexual assault, either directly or through a close friend or family member. Of the women polled, 11% had been victimized themselves. If you extrapolate the data to our country's entire population, says student poll chair Ellen Robo, "that's roughly four million women who have been victimized by sexual assault."
The study also uncovered a major gap between assaults and reportage rates, which were stratified across racial lines: 38% of white victims, 36% of black victims, and a stunning 55% of Hispanic victims never reported their assault.
Despite the perception that the most common place for young women to be raped is on campus, researchers actually found that in 91% of surveyed cases, women were attacked off campus. But of the 9% who were assaulted on campus, 29% didn't share the assault with anyone—including police, administrators, and even friends.
These stats were gathered between March 18 and April 1 of this year—the same year that football legends cried on camera when they talked about women being abused, the same year that even more women came forward about being attacked by a legendary "family" comedian, and the same year that launched #NoMore and #Speechless. Based on the awareness building around violence and sexual assault, fewer women should be victims. But the data tells a different story—and that's the one that actually matters.
To see the poll's full swath of findings, from how Millennials feel about everything from vaccinations to Presidential candidates to racial bias, head to Harvard's study here.
You should also check out:
President Obama Is Getting Serious About Ending Rape on College Campuses
Big Shame on Campus: How Colleges Are Complicit in the Rape Crisis
Amy Schumer Brilliantly Takes Down Rape Culture with a 'Friday Night Lights' Parody
Marie Claire email subscribers get intel on fashion and beauty trends, hot-off-the-press celebrity news, and more. Sign up here.
Elizabeth Kiefer is a features editor at Cosmopolitan, where she focuses on enterprise stories, narrative reporting, and cultural coverage for the magazine's print and digital platforms.