'Legally Blonde' Used to Have a Different Ending
Elle Woods is *much* better this way.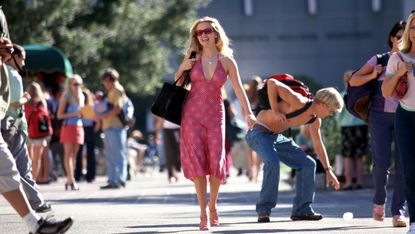 (Image credit: Getty Images)
The initial ending for Legally Blonde was weak sauce, says the hit movie's screenwriter—and the audience saw right through it.
"It kind of ended right at the courthouse after she won the case," says the beloved film's lead scribe, Karen McCullah, during a roundtable at the 2015 Vulture Festival (opens in new tab). "She was on the courthouse steps and everyone was coming up and congratulating her and she had this big kiss with Luke Wilson."
McCullah says the movie then cut to a future Elle Woods (Reese Witherspoon) and a blonde Vivian Kensington (Selma Blair) starting their own Blonde Legal Defense Club in law school.
"It was just kind of a weak ending," she says. "The kiss didn't feel right because it's not a rom-com—it wasn't about their relationship. So test audiences were saying, 'We want to see what happens—we want to see her succeed.' So that's why we rewrote for graduation."
See the memorable real ending below, which reigns supreme for bend-and-snap fans everywhere.
McCullah's full explanation begins around the 36-minute mark here (opens in new tab), where she shares a few additional snippets and secrets from the Witherspoon classic.