5 Ways to Manipulate Anyone: Dirty Tricks from a Reality Dating-Show Producer
'UnREAL' star Shiri Appleby's character makes a living playing puppet master. Here, her most sadistic tips.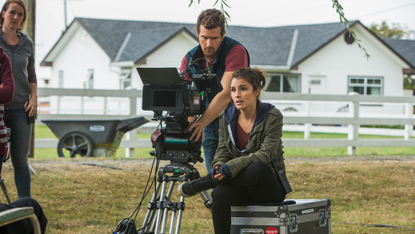 (Image credit: James Dittiger)
As anyone who owns a TV knows, The Bachelor is the gift that keeps on giving. The show is infamous for its fabricated drama (also, rampant shirtlessness), and now new Lifetime show UnREAL is giving viewers a behind-the-scenes look at what it's like to put it—or a fictionalized version of it, anyway—together.
According to the candlelit world of UnREAL, reality television hinges on contestants being manipulated into baring all on camera–which brings us to star Shiri Appleby, who's the one pulling all those invisible strings.
Appleby plays Rachel Goldberg, a self-identifying feminist who makes her living conning contestants into humiliating themselves in the name of great TV. She's become an expert in the subtle art of manipulation thanks to working on the show, and she's sharing her best secrets below.
FYI, while Rachel is a master-manipulator, Appleby plays by the rules in her own life: "I'm not really much of a manipulating person. I wish I had known a lot of this stuff earlier in my life. When we finished the season I was like 'Wow, I can't believe people behave this way, I can't believe I've been so naive.'"
Want to see what she means? Here are the tools of her character's trade. Use them wisely.
There's nothing like a skillfully placed white lie to promote a little drama. Case in point: Rachel fabricating the truth on Everlasting, UnREAL's show-within-a-show. "Rachel tells one girl that another girl is talking shit about her, and she then goes over to the other girl and says the same thing." The purpose? "To create drama between the two of them that actually never existed before."
"Use the information they give you either against them, or to come back to them with what they actually want." In other words, you can manipulate in the name of good or evil (preferably good, perhaps?).
"Be incredibly straight-forward. I think people are shocked by honesty. Sometimes when you come off so honest and blunt, people aren't sure if you're telling them the truth or not."
"You can play to someone's weaknesses, but Rachel would do it both ways. If she knows someone's really confident, she would build them up to get them to behave a certain way. You'd want to build their ego up even more to get them to act sort of out of control and confident in front of the camera."
Or in the words of Shiri, "flirt or fuck." Sexuality has been used as a manipulative tool since the dawn of eyelash-batting, and Rachel "flirts a lot" in her professional life. The good news? While UnREAL certainly intimates that sexual—as well as emotional—manipulation are commonplace in the industry, it's not something Appleby's experienced in her own career. Phew—no casting couch here.
Watch UnREAL Monday nights at 10 pm ET on Lifetime.
Mehera Bonner is a celebrity and entertainment news writer who enjoys Bravo and Antiques Roadshow with equal enthusiasm. She was previously entertainment editor at Marie Claire and has covered pop culture for over a decade.