007 Minutes with New Bond Girl Stephanie Sigman
In which we discuss how she takes her martinis, how she feels about her costars, and how she's bringing diversity to a legendary role.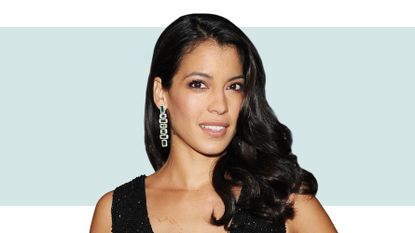 (Image credit: Getty)
Marie Claire Newsletter
Celebrity news, beauty, fashion advice, and fascinating features, delivered straight to your inbox!
Thank you for signing up to Marie Claire. You will receive a verification email shortly.
There was a problem. Please refresh the page and try again.
In the latest incarnation of the 007 series Spectre, James Bond has not one but three drop-dead gorgeous women starring alongside him.
While the two big-name ladies, Léa Seydoux and Monica Bellucci, are remarkable in their own right—at 50, Bellucci is the middle-aged spy's oldest love interest in the history of the franchise—it's newcomer Sigman who's really piqued our interest.
Mexico's first Bond girl, the details surrounding Sigman's character Estrella have yet to be revealed, but considering her latest role is that of infamous drug lord Pablo Escobar's mistress in the new Netflix drama Narcos, we know she'll be bringing the heat in more ways than one.
And in a stroke of luck that rivals those of Bond himself, we were fortunate enough to have been invited by Belvedere to chat with Sigman about her Bond girl adventures over martinis. FYI: She takes hers shaken, straight up with a twist.
Marie Claire: So, what does it feel like to be a Bond girl?
Stephanie Sigman: "It feels great. It's definitely something new for me, all the attention. But I appreciate it a lot because more people get to see my work. I'm really grateful to be part of such a great movie. And not only a big and legendary production, but one that's also quality. That's what made it really special."
MC: And your character, Estrella, how would you describe her?
SS: "Estrella sounds like Estella, which is my mom's name. [Laughs] I would say that she's fun. She enjoys life and I like that about her. I think that's what we have in common. As you can see in the trailer, Estrella is with James Bond in Mexico City. There's a celebration, this massive parade. It's about the Day of the Dead, which is a big tradition for Mexicans. It's super beautiful, so I'm really proud of showing that to the world as a Mexican."
MC: How does it feel to be bring a new heritage to the Bond girl storyline?
SS: "I'm a very proud Latina and a very proud Mexican, so it feels great. That's who I am. The fact that I get to show them my country, and that the whole world is going to see it and it looks absolutely beautiful feels amazing. There's no other way I could have done it."
MC: Do you feel your role is helping to expand what people picture in their minds when think of a Bond girl?
SS: "Definitely. I think in general, and in the film industry, that idea of having only one type of girl is changing. There's more variety because it's the world we live and we want to portray that. Léa Seydoux is French. Monica Bellucci is Italian. I'm Mexican. It's more real."
MC: What former Bond girl do you admire most?
SS: I admire all of them. But if you want to know my favorite, it's Halle Berry. But I need to say Spectre. I can't pick my favorite!
MC: What was it like acting alongside these big names? Particularly Mr. Bond himself, Daniel Craig?
SS: "I don't know Monica yet! We didn't see each other on set, but when I see her I'm going to ask for a selfie because I'm a huge fan. She's gorgeous! Léa, I really admire her as an artist. She's sort of a chameleon—and as an actress, I love that about her.When I met Christophe Waltz, I was so shy! I was like, 'Oh, hi! Um, I'm Stephanie!' He's one of my favorite actors. And when I met Daniel…you know, he's Daniel Craig. But then they're human and they're actors and they're working with you on set. It becomes a team—more about doing this thing together. They made me feel good on set."
MC: What was the vibe on set? Were you guys hanging a lot?
SS: "You have a lot of time in between takes, so we're having conversations about life, family, and where we're from, which is always interesting because we come from totally different places. I would say that the energy on set is always the energy of the director because he's the boss. And in this case, it was a super beautiful energy because Sam Mendes is always smiling—at least it seems like he's always in a good mood. It helps a lot because there are a lot of people on set. They're stressed. There's a lot of work to be done. So that always helps."
MC: Were there martinis on set?
SS: "No, we were working! The martinis come after."
MC: Speaking of, how do you take yours?
SS: "Mine is shaken, straight up with a twist."
MC: We like your style. And because we're dying to know, what is it like playing Pablo Escobar's mistress?
SS: "I love Valeria Velez. She's quite a bitch. It was very interesting to play that role. It was a long process trying to understand how she behaved, how she moved, and why she fell in love with Pablo Escobar, but it was fascinating for me. I was in Colombia for five months."
MC: What Netflix shows do you love bingeing on?
SS: "Bloodline, Sense8, and House of Cards are amazing."
MC: We saw you on Instagram multimasking trend while watching Narcos. Do you have any favorite masks?
SS: "I don't have a favorite yet—I'm just trying things. I think it's really funny because onscreen I'm all classy and glamorous, but behind the scenes.... [Laughs]."
Follow Marie Claire on Instagram for the latest celeb news, pretty pics, funny stuff, and an insider POV.
Celebrity news, beauty, fashion advice, and fascinating features, delivered straight to your inbox!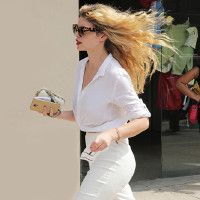 Lauren is the former beauty editor at Marie Claire. She love to while away the hours at coffee shops, hunt for vintage clothes, and bask in the rough-and-tumble beauty of NYC. She firmly believes that solitude can be a luxury if you've got the right soundtrack—that being the Rolling Stones, of course.