How Do You (Gracefully) Transition from Teen Icon to Pop Star? Becky G Demonstrates
A candid chat about her new music, Ronda Rousey, and her guest role on Empire.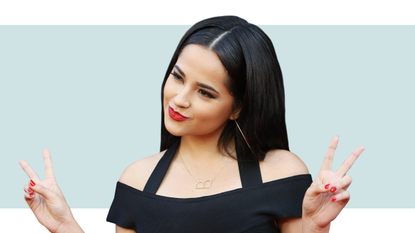 (Image credit: Design by Katja Cho)
If don't know Becky G by name, you know her by song. The Latina singer-songwriter and rapper's latest track, "Break A Sweat," is single-handedly soundtracking our Indian summer—and reminding us that our Stan Smiths aren't just for show.
As the 18-year-old continues to transition ever-so-gracefully from teen idol to full-blown pop star, we caught with her about her workout routine (she made us a kick-ass playlist!), first acting role ever on Empire, bringing her Mexican-American roots to the masses, and her Instagram tips—as she's currently taking over our account (opens in new tab) with a slew of behind-the-scenes snaps and selfies.
Marie Claire: Your "Break a Sweat" lyric video is giving us serious Ronda Rousey vibes. Are you a fan?
BG: "I am. I totally am. Being a woman, there are so many things that you're told you can't do. To be able to look at somebody like her who's so awe-inspiring and beautiful, is really amazing. She doesn't care that she's in territory where men are usually the most successful. She stands on her own."
MC: Soon you will be launching your "Break a Sweat" bootcamp campaign. What's your daily exercise routine?
BG: "I personally hated working out when I first started, but then I noticed it was the one thing I did for myself. It gave me more energy and made me feel more confident. I started rolling with it. I love going for jogs and walks in the morning with my cousin. Sometimes we do sunrise walks where we'll be up before the sun comes up and by the time it does we're up and going. It's really nice. I also started training MMA, mixed martial arts to keep it fun. It's stress relieving."
MC: What kind of music do you like to listen to when you work out?
BG: "I like really urban music when I'm working out because it gets me in the zone, then there are times when I'm listening to J. Lo."
MC: You're a part of CoverGirl's "Girls Can" campaign. Can you talk more about that partnership?
BG: "I'm honored to be a part of it, especially being so young and knowing there are a lot of young women in my fan base. Growing up, you're told there are things you're not capable of doing because you're a girl. That perception's starting to change and it's amazing. It's important that we continue to share the message with other young women. If they grow up in a household or go to a school where they're told that they can't do certain things, it's important that they hear from someone that it is possible to do whatever they want with their lives."
MC: And of course we're wondering about your beauty routine. Tell us everything!
BG: "I love makeup. I always have. I started wearing makeup at a very young age, because I loved it. It was another form of expressing myself. I've studied it so much, especially being an artist and getting my makeup done all the time. I'm always asking questions about what I can do to be better at doing my own glam. When I go on tour, I do my own hair and makeup. So over time I've gotten better. It's part of my daily routine. I love getting up in the morning, having my cup of coffee, and then I always start with my makeup and then I do my hair. Moisturizing my face is a must, then I always do my eye makeup first. It's so easy to mess up your foundation when you do your eye makeup last. If you do your eye makeup first, clean up your skin and then apply your foundation, it's a lot easier. So that's the order that I do it in. Eye makeup first, I do my brows, and then I do my foundation, and then I set it with a nice setting powder or setting spray, and then I'm done for the day. And it lasts me all day."
MC: We're massive Empire fans. We're so excited you're going to be on it. Can you talk about your role?
BG: "I can't say much, but I can say that I play Valentina, who is feisty. She's a singer. On set they were calling me 'Baby Cookie.' That goes to show you how feisty my character is. I'm really, really excited. It's my first real acting gig. There were a lot of times when I was offered an opportunity to be a part of something and the timing either wasn't right or I wasn't excited about the project. When Empire came along, I wasn't offered the role at all. I had to audition for the role. So there were callbacks with producers and the directors before choosing me to be a part of the cast. The cast is a huge family and that can be kind of scary going into because you don't know if you're going to be accepted into the family. But they had wide-open arms and were very accepting and taught me a lot. I learned a lot from everybody I had scenes with. It was a really great first acting experience."
MC: So is Cookie your favorite Empire character? What's it like hanging with Taraji in real life?
BG: "Taraji is so fun. There wasn't one moment when we were doing our scenes that I wasn't trying not to laugh. In between scenes she's busting jokes. She's very professional but at the same time a pleasure to be around. And learning her technique, it's hard because you have to separate who you are as a person and do justice to the character that playing. Taraji does that so well. When she talks about Cookie, she talks about her as if she's a whole other person. It's like a different pair of shoes you have to put on."
MC: The upcoming James Bond movie will have its first-ever Mexican Bond girl, Stephanie Sigman. We spoke to her (opens in new tab) about what it feels like to bring that heritage to the masses. How does it feel for you?
BG: "Showing off my Latin roots is natural because growing up it was part of my everyday life—in the music that we listened to at home, the food that we cooked, the novelas that I watched with my mom and grandma. So when it comes to my music, it's natural and genuine. But it's really cool to see how people react to it and how they get introduced to it, and then see similarities within their culture. As far as bringing that to the screen, I think it's going to be really cool to see how the Latin vibe comes on Empire. I think Jennifer Lopez is a really good example of bringing that feistiness to her roles."
MC: You've given us a taste of your upcoming album, what can we expect from it as a whole?
BG: "Sonically the way it sounds is more pop-leaning, but it has that urban element. There's a Latin side to some of those tracks as well. As far as the writing goes, there are more bangers in there, but club-y type songs that make you want to dance. That's me as a person. I'm always super happy, so there's going to be lots of energy. There are also some songs that are a little bit more heartfelt. I took a lot of time recording the vocals and really giving the songs what they deserve. Lyrically, it's either something that I went through personally or that somebody I know went through, so there's a lot of storytelling."
MC: Since you're taking over our Instagram (opens in new tab) and we love following you (opens in new tab), do you have any Instagram tips?
BG: "There are some days when I post ten pictures and I'm posting away, and then there are days when I just post one selfie. The goal for the perfect selfie is taking a bunch of them. If I go through my camera roll, there are thousands. Pick out whichever one is the closest to what you want it to be. You have to have good editing apps. One of my favorite editing apps is called Camouflage. If the picture is too dark, the app will help make it better. That's another good Instagram tip: good filters."
Follow Marie Claire on Instagram (opens in new tab) for Becky G's takeover today—and every day for the latest celeb news, pretty pics, funny stuff, and an insider POV.
Lauren is the former beauty editor at Marie Claire. She love to while away the hours at coffee shops, hunt for vintage clothes, and bask in the rough-and-tumble beauty of NYC. She firmly believes that solitude can be a luxury if you've got the right soundtrack—that being the Rolling Stones, of course.