One Day Is Not Enough: Melinda Gates Reflects on International Day of the Girl
Why today is important—but tomorrow's even more so.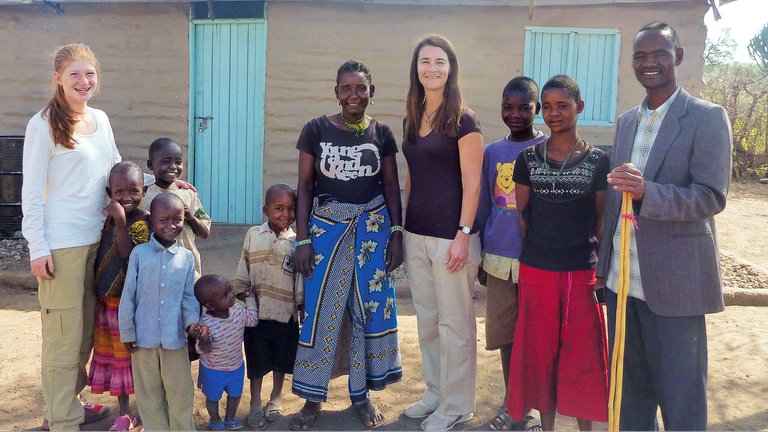 (Image credit: Courtesy of the Bill and Melinda Gates Foundation)
Today is International Day of the Girl, which is one of my favorite days on the internet. There will be speeches and tweets, Facebook statuses and fundraising campaigns—all centered on the world's young women.
Social media will be filled with opportunities for you to learn more about the realities of girls' lives both here in the U.S. and around the world. Some of these stories will be inspiring. Others will be frustrating.
You'll confront urgent reminders about continuing inequalities in areas like education, child marriage, nutrition, healthcare, vaccines, economic opportunity, and sexual violence. Almost every girl faces at least one of these challenges. Many girls face all of them.
But Day of the Girl isn't only about highlighting the inequities girls face. It's also a chance to remind the world of the enormous potential girls hold to drive progress for everyone.
When girls are empowered enough to have a say in their own lives and futures, the ripple effect is endless. They make their communities healthier and more prosperous. They contribute to humanity with the discoveries they make, the ideas they share, the countries and companies they grow up to run, and the lives they touch. If we activate their potential, incredible things will happen.
That's why I think International Day of the Girl is so important. And it's also why I think setting aside only one day for the world's girls isn't nearly enough.
We can't tear down the barriers holding girls back in a single day or with a single solution. We need a shared, long-term vision that includes all of us.
Here, the stories of three girls around the world who inspire me, motivate me, and remind me why girls—and the young women they grow up to be—deserve so much more.
Angel Herenj, India
For Angel Herenj's parents, every day is a chance to give their daughter opportunities they never had. They both know the brutal realities of extreme poverty, and they're determined that their daughter's life will be different. Even before Angel was walking or talking, they had already picked out the school she'll attend when she's older and had come up with a plan to pay her school fees. We celebrate Day of the Girl because every girl deserves a family who dreams big dreams for her.
Grace Kivuyo, Tanzania
Grace Kivuyo is determined to get an education, even if it means working twice as hard as her twin brother. Like many adolescent girls in developing countries, Grace is expected to help her mother with time-consuming housekeeping chores like gathering water. Her brother is free to start his homework as soon as he gets home, but it's often dark before Grace can start hers, which, in a house without electricity, makes studying even harder. We celebrate Day of the Girl because every girl deserves the same chances as her brothers to succeed in school and beyond.
Deborah Chadza, Malawi
Since Deborah Chadza was a girl, she dreamed of using her career to serve her community. Now, as a young woman, she's made it a reality by working as a midwife's assistant, bringing lifesaving care to women and newborns in villages where she is often the only healthcare worker for miles. One of Deborah's favorite parts of the job is that young girls in her village now look up to her. She tells them that if they want to grow up to be like her, they have to study hard and stay in school. We celebrate Day of the Girl so every girl can grow into a role model for the ones who come after her.
When Angel, Grace, and Deborah—and the millions of girls like them—wake up tomorrow, it won't be Day of the Girl anymore. But their hopes and struggles and challenges and aspirations will still be the same.
That's why one day isn't enough. Let's keep the spirit behind Day of the Girl going—tomorrow, the next day, and for however long it takes to create a world where every girl, everywhere, can rise to meet her full promise.
As co-chair of the foundation, Melinda Gates shapes and approves strategies, reviews results, and sets the overall direction of the organization. Over the last 15 years, her work has led her to increasingly focus on empowering women and girls as a way to bring transformational improvements in the health and prosperity of families, communities and societies. Melinda received a bachelor's degree from Duke and an MBA from Duke's Fuqua School. After joining Microsoft Corp. in 1987, she helped develop many of the company's multimedia products. In 1996, Melinda left Microsoft to focus on her philanthropic work and family.