5 Thanksgiving Hacks That Will Seriously Impress Your Family
No cooking required.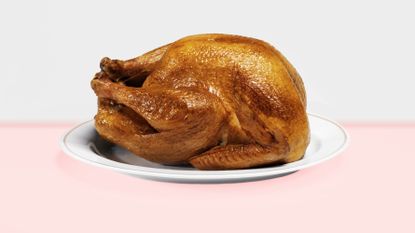 (Image credit: Design by Katja Cho)
While some of us are good humans who have figured out every second of our Thanksgiving break, others of us haven't even booked our travel arrangements (oops)—when that's the case, who's even got the time to think of what to bring to Thanksgiving? (No, really, tell me...) And let's be real—when it comes to cooking your Turkey Day meal, sometimes it's best to avoid the guilt of being a 20something who still can't do anything in the kitchen besides make a PB&J (oops again) or the side-eye of your Aunt Carol who claims your Pinterest recipe is an affront to grandma's far superior version.
So f@%! the food, let's talk hacks.
In the spirit of this holiday, we're giving you A+ ideas for quick buys and DIYs that are bound to make you look like a good human/score you those much needed brownie points with your friends and fam. Oh, and did we mention? No baking involved. *slow clap*
Cards Against Humanity
Break the ice for the inevitable post-meal slump with the NSFW "party game for horrible people." It's fun, easy to play, and most importantly: available for free download.
Though, be warned, there are definite risks when playing with relatives.
Thanksgiving Time Capsule
Make the memories last 4ever. Take pics and videos with something like a GoPro to document that day, so you can later compile it all and share. Want to make it social? Have everyone use the same hashtag for their Insta's and Tweets so you can collect them all later. It's the perfect excuse to make your contribution after the holiday madness, while blowing everyone else's out of the water. #sorrynotsorry
Record the Little Ones Saying "Thanks"
Kids are cute. Kids giving thanks for their Lego set? Even cuter. Before din, quickly ask what all the littles are thankful for—and record. You know, for future embarrassment purposes. Best part? It can totally take the place of Uncle Steve saying grace with odd examples that takes 20 minutes.
Pocket Projector
AKA a home theater in your purse. Score a *major* touchdown with any sports fans with this pocket projector. Plug it into your device, and provide the magic of the big screen—no one is going to be talking about that pumpkin pie more than just how much better the game looked via your ingenious hack!
Set the Tune
No party—yes, even a family party—is complete without some tunes. Make a playlist filled with holiday jams and newly released hits (cough cough, Biebs), all to keep the fun vibes flowing. Use Spotify so you can collab with other people, or go old school and make a CD (because we all know mom is still using that stereo she got back in 2005).
Follow Marie Claire on Instagram for the latest celeb news, pretty pics, funny stuff, and an insider POV.
Celebrity news, beauty, fashion advice, and fascinating features, delivered straight to your inbox!
Who knew that alt-RnB was even a thing... this girl.