9 Things No One Ever Tells You About Sundance
You'll get whiplash from all the celebrity sightings, but you may not even recognize them at first TBH.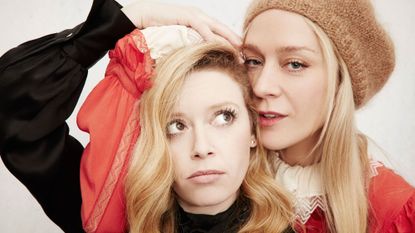 (Image credit: Getty)
When I got invited to head to Sundance this year with Canada Goose, I 1) clapped my hands in giddy excitement because I am a cartoon character come to life and 2) started planning out the outfits in my head. Little did I know, there was *so* much I didn't factor into the equation. Like the fact that you will 100% bump into celebrities just chillin' on your hotel's lobby couch and you will need to will yourself to keep from bugging them. Or that you will *need* to download the Uber app because it's easy and you will need it after the party at TAO. Or that you will probably eat more than your body weight in (sometimes free) food.
Sundance, for those unfamiliar, is like a mashup of L.A., New York, Vegas, and your living room. It's got celebrities a plenty, parties galore, you watch a ton of movies, and everyone's wearing flannel and snowboots 24/7. In essence, it's a dream come true. This was my Mecca.
Here, your guide to navigating Sundance should you decide to go next year. And believe you me, you'll want to.
1.) Did I mention the celebrities? Yeah they're everywhere.
Look, I've been an editor for quite some time, and in that time, I've met many a celebrity. I also live in New York City, so you know, the random street spotting does occur. But Sundance is a whole other ballgame. It's so relaxed. And while there's an occasional selfie request, it's very few and far between. Translation? Everyone's just here to have a good time and watch some films and drink some drinks.
On the plane from New York, I sat behind Zosia Mamet (she sat in the middle seat) and on the way back I sat behind Adrian Grenier (also in the middle seat. What's up with middle seats?). While staying at the Waldorf, I sat next to Sting in the lobby on one day and Gabrielle Union the next. I saw movies with Jon Hamm and Casey Affleck. At parties, I danced next to Aubrey Plaza and Chloë Sevigny. I bumped into Nick Jonas at a nightclub and had breakfast with DVF. (Well, next to her.) I ran into Judd Apatow and raced Jesse Metcalfe because he was walking too slow. If I named more people, it'd just be a list. Honestly, it's a sightseeing dream and everyone's wearing very little makeup and sporting beanies. 🙏
2.) You can wear all the layers and fluffy stuff your heart desires.
I may be biased because I was gifted a Canada Goose parka, but it gets cold outside and nothing keeps you warm like that sucker. (I'm from Indiana and went to school in Chicago near the lake. I know the cold.) Plus, a ton of celebrities are wearing it, which makes you look like one, too, right? RIGHT? (Don't tell me otherwise.)
But in all seriousness, Canada Goose is one of the top sponsors of the film festival—and for many film festivals—and for good reason. It's the perfect fit, since the coat company has such a longstanding relationship with movies: They've been working with the film industry for more than 30 years, on- and off-screen, and are featured in 200+ films and counting—including one which I saw: Manchester by the Sea. (BTW, it is so good and soul-wrenching. Make sure you see it.)
In fact, your main wardrobe staple is your coat, since you'll be wearing it all the time. So pick a good one. FYI, I got the Kensington, but I also like this Trillium, sported by my girl Maya Rudolph.
(And you should get a hat to boot, like this fuzzy one from Canada Goose I have. Don't be scared if a 17-year-old student comments "savage selfie". They do that, apparently.)
3.) Don't even bother packing anything other than your parka, sweaters, and jeans.
It's just not necessary. I'm not kidding. Besides your coat, all everyone wears are sweaters and flannel. Celebrities *may* wear something fancy-ish like a black top (whoaaaa) and jeans to their premiere party, but seriously everyone is just vibin' in that buffalo plaid. It is amazing. It is everything. And it will save you serious time and money—carry-on, y'all.
4.) It's the best time to go skiing, snowboarding, or whatever you sporty people do on mountains.
No one is on the slopes because they're in theaters and nursing their hangovers with bloody marys. If you can get a room around the lifts, make the most of it.
5.) People party like it's going out of style—but there are lists.
If you can't get into a party because you're not media or crew/cast, there are other ways to 1) get drinks and 2) party on, Wayne. Many brands have lounges—some exclusive/with a list, some not—where you can hangout, eat, charge your phone, get a drink or coffee, and perhaps even mingle with celebs. Kickstarter, Airbnb, Stella Artois, Eddie Bauer, Canada Goose, Samsung, Veuve Clicquot, Acura, and Chase Sapphire all had various lounges to frequent—and most had parties later in the night (but you need to be on a separate list). There *are* ways to get on those lists—i.e. Chase Sapphire members got into some of Chase lounge parties—but they change and are not for every party. Do some snooping, and get rewarded for your curiosity next year by having a certain celebrity grind on your friend while you watch with your jaw dropped. (Not that this happened or anything.) (Ahem.)
6.) You get to see world premieres and hear from the actors and filmmakers themselves.
If it's the first showing of the film at the festival, oftentimes the writer, producer, or director will speak about it. And I'm not talking names you haven't heard of—I'm talking Spike Lee, Matt Damon, you get the gist. Usually following, there's a Q&A with the cast and/or director and/or writer. And yes, anyone attending can ask anything—so don't be afraid. But do know that it's better to ask questions that can actually be answered in a short amount of time/aren't the most convoluted things, ever, like "This film deals with anti-semitism, how do you feel looking back on that now and the resurgence of anti-semitism in today's world?" or "How did war change you?"—two real questions that were actually asked. (Don't ask these.) If you don't see a world premiere, that's totally fine—make sure you check out the panels that many outlets host with the stars' of the films you are seeing. It's basically the same thing.
7.) The first weekend is pretty much *the* weekend.
Technically, the festival goes through two weekends, but the commotion and many of the premieres happen mostly within the first weekend through Monday/Tuesday. So if Sundance is your #1 goal, go for the first weekend. If you want to enjoy your time and walk around Park City and don't get our celebrity-worshipping culture, go for the second. You're welcome.
8.) The town is *very* small.
Speaking of Park City, everything happens mostly on one street—aptly named Main Street. There are a couple of off-shoots, and it's worth visiting the resort that the festival was named for (if only for their amazing brunch that includes everything your heart could desire like prime rib and coconut french toast), but for the most part everything is concentrated in one small area. In fact, one of the main theaters—the Eccles Theater—is the theater of a high school. Yes, really.
9.) Important people don't act important, and those with less credo can act like brats.
All the celebrities you encounter in Sundance are some of the chillest. They'll take selfies if you ask them (though you probably won't, it's not really that type of place), and they'll chat with you when you ask about movies, and they'll sit in the middle seats of airplanes. (See above.) The nobodies who think they're somebodies will complain that they got coach even when they were on an upgrade list for business class and will complain about not getting reserved seating at Sundance (which is generally only a thing for sponsors and those who worked on the film) and will complain about—well, everything. They'll talk about how they have connections to parties they don't have and explain how much of a Sundance pro they are even if they've been there one time. Avoid these people—they won't get you anywhere.
Uber is a huge thing in Park City, mostly because Uber has an activation which means a tent where you can request your ride easily. On the way to the Canada Goose Basecamp, our driver told us the story of an ad exec who, flying first class on the way to Park City, was approached by a scruffy-looking guy, requesting that she might change seats with him (presumably to be by a friend). Anxious about flying, she denied him and deemed him "rude." After takeoff, the same woman went to the bar to get a drink and spotted said scruffy man. He apologized for flustering her, and asked what she did. She, for some reason taking the abrasive approach (see #9), said something like "I'm such and such in advertising. Do you know anything about advertising?" to which the man laughed and said, "well, yeah, kind of."
The man was Jon Hamm AKA Mad Men's Don Draper.
Follow Marie Claire on Instagram for the latest celeb news, pretty pics, funny stuff, and an insider POV.
Marie Claire email subscribers get intel on fashion and beauty trends, hot-off-the-press celebrity news, and more. Sign up here.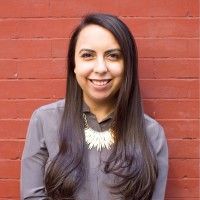 Samantha Leal is the Deputy Editor at Well+Good, where she spends most of her day thinking of new ideas across platforms, bringing on new writers, overseeing the day-to-day of the website, and working with the awesome team to produce the best stories and packages. Before W+G, she was the Senior Web Editor for Marie Claire and the Deputy Editor for Latina.com, with bylines all over the internet. Graduating from the Medill School of Journalism at Northwestern University with a minor in African history, she's written everything from travel guides to political op-eds to wine explainers (currently enrolled in the WSET program) to celebrity profiles. Find her online pretty much everywhere @samanthajoleal.