I Spent 72 Hours Living Like Drake in Toronto
And we crossed paths TWICE.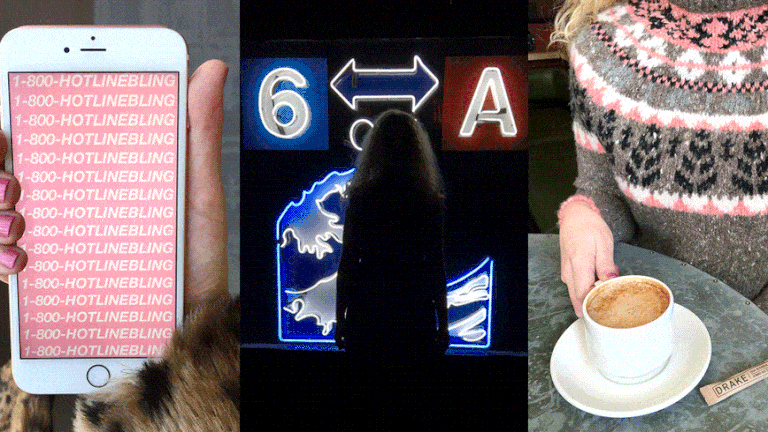 (Image credit: Lauren Valenti)
Marie Claire Newsletter
Celebrity news, beauty, fashion advice, and fascinating features, delivered straight to your inbox!
Thank you for signing up to Marie Claire. You will receive a verification email shortly.
There was a problem. Please refresh the page and try again.
Good things happen to those who Drake...
I discovered as much this weekend when I extended a work trip in Toronto and decided that Champagne Papi, the might-as-well-be-official mayor of The 6, would be my tour guide.
However, since he's a little busy putting the finishing (midas) touches on Views From the 6, I decided I'd create my own itinerary armed with an iPhone, a dedicated hastag (#the6likeDrake), and a fellow woe who, of course, is also "working on excellence." Here, a timeline of how I channeled my inner 6 goddess:
Thursday Night, 11 P.M., The Four Seasons Toronto
After a work dinner, I finally settled into my room at the Four Seasons Toronto where, NBD or anything, Drake's bodyguard was spotted in the lobby by a fellow super fan. It made perfect sense as the hotel is often his makeshift YOLO Estate when he's in town. What's more is that Drake's latest Meek Mill diss track "Summer Sixteen," has many theorizing that he stayed there the night he dropped "Back to Back," so that he could blast it on loop in the room right above the one that belonged to Mill and Nicki Minaj who were in town for the Pinkprint Tour. Pretty savage, ay?
Needless to say, the Four Seasons Toronto is one of his go-to spots and thus I enjoyed every minute in the lap of luxury. I ran myself a bubble bath (sans hookah), ordered in room service, had Drake on loop, and even popped by the spa for a Hotline-Bling-pink manicure.
I can't say for sure, but context clues have lead me to believe that he was there at the same time as me, breathing the same five-star air.
Friday Night, 7:30 P.M., Toronto Raptors vs. Portland Trail Blazers at Air Canada Centre
Drake is as synonymous with the Toronto Raptors as he is with catching feelings, so going to one of their games was at the top of my list. I know very little about basketball, but my diehard fan dad clued me into the fact that the Raptors' Friday night home game against the Portland Trail Blazers was kind of a big deal. It wasn't technically one of the team's Drake Nights—where fans get exclusive Drake merch and a guaranteed appearance from the man himself—but my fingers were crossed that as a Toronto Raptors executive/official global ambassador, he would be there.
And so he was, decked out in Gucci no less 🙏
From what I could tell, he was also lint free. And as the Internet knows, HD TV spares no one and visible lint courtside at a game is just not how Drake rolls (press play on the video above for context). This unspoken rule, married with the fact that I was repping my city in all black, meant that I too had to keep myself flossy, lint roller in tow.
I didn't have one of the official Raptors' lint rollers that went for $55,100 on eBay, but I did buy one before the game at a Shoppers Drug Mart—you know, the Canadian chain he used to work at and the setting for his 2013 "Started From the Bottom" video.
Needless to say, watching Drake in the wild at a close game, was pure, meme-worthy bliss.
Late Friday Night, 11:00 P.M., The Real Jerk
Since RiRi and Drake dropped their "Work" music videos, I've watched them 4,883,234 times. So when I learned that the spot where they filmed the first, dancehall-themed video, The Real Jerk, was practically an institution in Toronto, I knew it had to be our post-game spot.
The thing is, while the "Work" video will lead you to believe it's a dance club, apart from its popular karaoke Thursdays, it's a dining-first restaurant that's all about authentic Caribbean food and drinks. So the vibe there was super chill with locals grabbing late dinners and hanging by the bar. While we were washing coconut shrimp and jerk chicken down with Red Stripes, "Work" actually played in the restaurant and all was right in the world 🙌 .
Saturday Morning, 11:00 A.M., The Drake Hotel
By Saturday, we'd switched from the Four Seasons Toronto to The Drake Hotel, which as their website has to clarify for people, is not officially affiliated with Drake himself and launched in 2004 when he was still Aubrey Graham.
This said, 1) The irony is too real, 2) Drake has totally partied there, and 3) Anyone who stays there is technically sleeping with Drake. So can you really blame a young, red-blooded woman? No, no you cannot.
A 19-room boutique hotel nestled in Queen Street West (which is kind of like the Brooklyn of Toronto), The Drake is a contemporary-art-adorned, nightlife spot in and of itself, boasting its own underground club/music venue as well as a slew of other cultural spaces.
A major draw for Drizzy fans? The "Drake" branding is everywhere, so no matter what you do, be it grabbing a cappuccino at the Drake café or snacking on the Drake + Bake appetizer in the restaurant lounge, Drake is there.
And simply put: if you're in the market for a nonstop party, The Drake is your place—whether you're on a 24-hour champagne diet or drinking like there's a message in a bottle.
Saturday Afternoon, 2:00 P.M., OVO Toronto Flagship Store
Drake's clothing line OVO, which stands for "October's Very Own," launched in 2011 and has gone from collaborating with other brands, like the Toronto Raptors and Canada Goose, to making its own wares including varsity jackets, T-shirts, hats, and keychains. Because #merch, a visit to OVO's flagship store was in order and so we headed to the Little Italy of Toronto where it first opened up two years ago.
A tiny minimalist space, it wasn't crazy crowded for a Saturday afternoon. The staff (which I find can be a toss up at these kind of spots) was also super chill and not at all pretentious. The selection was limited and there were no fitting rooms, but from The 6-inscribed snapbacks to the sleek AF tracksuits, they definitely had a winning formula. I ended up scoring a super-soft OVO T-shirt and a gold owl pin I knew I could style with anything.
Saturday Evening, 5:00 P.M., Getting Ready at The Drake Hotel
We had scored a Saturday night reservation at Drake's restaurant Fring's, so that really upped the ante as far as getting ready goes.
I threw on Drake and Future's What A Time To Be Alive mixtape (this was fitting for a multitude of reasons) and I proceeded to get ready lady-in-Drake's-life style. Per his song "Fancy," that means having the essentials "orgasm blush, lipstick, and concealer." Technically, that's a Swizz Beats line, but it's Drake song so...
I brushed Nars' cult-favorite Orgasm blush on my cheeks, painted on Tom Ford's Drake lipstick, and swiped on concealer where I needed i.e. especially my under-eyes because the Champagne Papi lifestyle can really wear a girl down.
Saturday Night, 7:00 P.M., Fring's
Yes, if you didn't know, Drizzy is on the culinary scene—having collaborated with famed Toronto chef Susur Lee on downtown restaurant Fring's. It was Drake who came up with name, which according to The New York Times is an ode to the city's Jamaican patois and was rumored to be his nickname for ex-flame Rihanna. When I spoke to Toronto locals who had been there it was pretty unanimous: You go because it's Drake restaurant, but you stay because it's damn good. From their fancy toasts (we tried the heavenly homemade ricotta with jalapeño plum jam and pomegranate) to the comfort food entrees like Southern Spicy Maple Fried Chicken, the food was sinful and the fresh-flowed topped cocktails were decidedly double-tap worthy.
For an unabashed Drake fan, the other great thing about Fring's is the downstairs area where the bathrooms are labeled "6gods" and "6goddesses" and there's a neon sign that reads "6 ON A WAVE." It's all Instagram catnip. And real talk, that's where things got a little crazy.
In the midst of perfecting a Boomerang in front the wavy sign (no shame here—it's all about the 'gram), a security guard and a member of Drake's crew I recognized walked past and opened up an unsuspecting door. As it swung open, I spotted the man of the hour of the trip himself sitting right there. We were a mere 15 feet from the man, the myth, the meme legend that it literally hurt. In a perfect world, Drake would see us through the door, invite us in, and be all like, "Let's celebrate with a toast and get lost in the tonight."
Sunday Morning, 3:00 A.M., Feeling All the Feels at The Drake Hotel
In reality—and in the interest of not having zero chill by breaching security —we left Fring's without a face-to-face (err, back-to-back) moment with Drake and instead ended up bar hopping in Little Portugal, then eating Pizza Pizza with sweatpants, hair tied, and chillin' with no makeup on back at The Drake. Alas, not with the Drake. Next time?
Being so close, yet so far to him throughout the weekend = the epitome of Heartbreak Drake, buuuut if my 72 hours channeling Drizzy taught me anything, it's that if you're in Toronto, he is too, and you're playing your cards right, you will be living your best life whether you pop champagne with him or not.
Follow Marie Claire on Instagram for the latest celeb news, pretty pics, funny stuff, and an insider POV.
Celebrity news, beauty, fashion advice, and fascinating features, delivered straight to your inbox!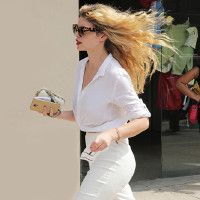 Lauren is the former beauty editor at Marie Claire. She love to while away the hours at coffee shops, hunt for vintage clothes, and bask in the rough-and-tumble beauty of NYC. She firmly believes that solitude can be a luxury if you've got the right soundtrack—that being the Rolling Stones, of course.