One Work Day, All the Deliveries: Everything You Could Possibly Have Brought to the Office on Demand
Hurry up with my damn croissants.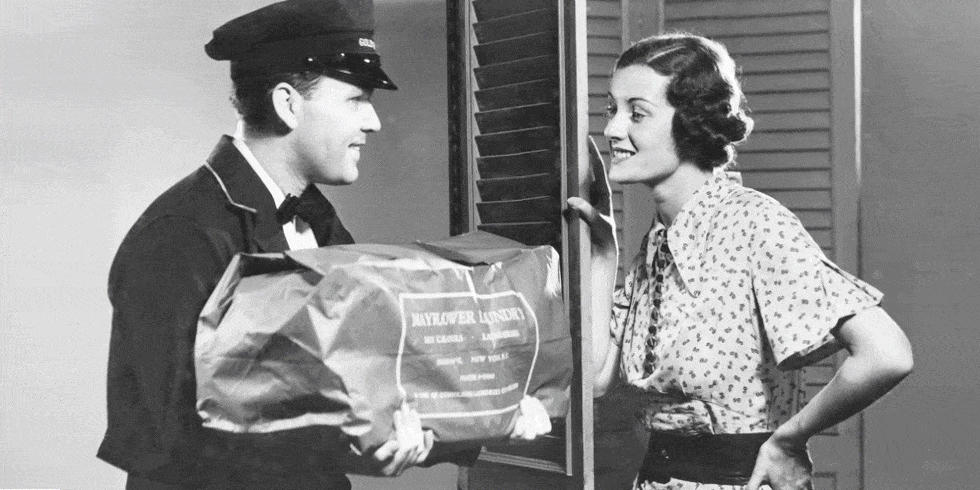 (Image credit: Getty, design by American Artist)
It is a truth universally acknowledged that on days you order in lunch, work gets 253.7 percent better. (Reasons: Food! Not having to cook the food! Having someone bring the food to you!) Now imagine a workday in which you have Veuve Clicquot rosé and facials and a tailor and shoes you bought online hours before and a personal trainer delivered to your office like you're a caricature of the "I want it NOW, but I'm too lazy to get it myself or even pour cereal (opens in new tab)" millennial.
With so many on-demand apps crowding the market and because I don't feel alive unless I'm conducting (opens in new tab) an experiment (opens in new tab) in excess (opens in new tab), I tested all the conveniences modern life has to offer in one day. But not just any day—an extraordinary day, thanks to a miraculous invitation from Belvedere (opens in new tab) to attend the Frick Collection's Young Fellows Ball (my first proper black-tie event—no pressure) and the very generous loan of one show-stopping Christian Siriano gown (opens in new tab).
Now that we've established the plot (getting ready for a Big Night Out) and the premise (testing out the different goods and services one might be inclined to use in preparation for a special occasion), the rules: If you can buy it, book it, or order it, it counts. Both websites and apps count. Same-day delivery counts.
So what was it like? Here, a recap of the most glorious eight hours in MarieClaire.com history.
I'm already three stories deep when Kylie from GlamSquad (opens in new tab) arrives to give me a manicure. We look at the dress, decide on cornflower blue Essie to complement the yellow, then she files and polishes while I attempt to write about Cara Delevingne's Time essay (opens in new tab) with one hand at a time. As briskly as she arrived and set up, she's applying quick-drying drops, and I regain full use of my fingers. I could get used to this, except I can't because having Kylie over every morning would put me in more debt than Kanye (opens in new tab).
Next up, an UrbanStems (opens in new tab) bouquet (for me, from me) arrives via bike messenger in a tall container reminiscent of those that house Chicken Fries. They smell way better than any Burger King product, which is just as well, because why put Wilson from ZTailors (opens in new tab) through that? He's here on behalf of the competitively priced alteration service to take in associate editor Lauren Valenti's too-big Nasty Gal top. A few pins, and he'll be back in the office next week with the reworked shirt to make sure the fit's perfect.
I would like to emphasize here that, at times, I felt like a monster for having more fun than is appropriate for the workplace, usually a place of quiet suffering made bearable only by the prospect of happy hour. The same cannot be said for some of my colleagues, who enjoyed 20-minute chair massages, complete with calming spa music, courtesy of Zeel (opens in new tab) and the magical Penny. This is probably the most serene experience you could possibly have in an office without being heavily medicated or dead.
Let me tell you: It is an experience being semi-nude getting a facial in semi-full view of your boss' boss' boss' desk. People will walk by you having your décolleté kneaded like "I should not be seeing this," and you will feel them staring at you even though you have rosewater-soaked pads covering your eyes. My aesthetician Edelyn from The Ritualist (opens in new tab) was lovely and super attentive and put all kinds of cookie-smelling oils on me, but I just could not relax. I blame the American corporate culture.
At least that meant I was wide awake for Net-a-Porter (opens in new tab) (same-day delivery in select areas (opens in new tab)), which epitomizes white-glove service, basically. Say, for instance, you ordered a pair of rose gold rhinestone-heel Sophia Webster sandals (opens in new tab) because, for once in your life, you wanted to be wearing nice shoes. They would be brought to your door from a cute branded van so meticulously wrapped and beribboned and lovingly swaddled in tissue paper that you'd be all "TAKE MY MONEY" based on the packaging alone.
This is not something you do on a regular basis (unless you can—lucky), but a) *every* Net-a-Porter order, no matter how small, arrives looking like a sleek grosgrain dream, and b) you're worth it.
Postmates (opens in new tab) and Caviar (opens in new tab) also have great branding, as do By Chloe (opens in new tab) and Jack's Wife's Freda (opens in new tab), the highly Instagrammable restaurants from which our first and second lunches came. (IT WAS FOR COMPARISON, GUYS.) Both were reliable as always and the vegan burgers and quinoa bowls were still warm, but TBH, we should have tried to Postmates a llama or something,* even though food seems to be what Chrissy Teigen and John Legend use the delivery service for most often (opens in new tab).
*Postmates does not stock llamas. That I know of.
At this point, I really needed a drink, because doing your job and answering all your phone calls instead of screening them like normal is no joke. Enter Minibar (opens in new tab), which promises—and delivers on har har—wine, beer, and liquor in under an hour. Even just the *presence* of Champagne calms me down, you know? (I swear I don't have a problem.)
Josephine from the luxury hair and makeup service Vênsette (opens in new tab) arrives soon after for my 5 p.m. appointment, and we trade ideas before settling on a high textured pony and highlighted, Hung Vanngo-esque skin with a gold eye using Pat McGrath's Phantom 002 kit (opens in new tab). The 24-karat shadow was mine, but the products in Josephine's kit (Armani, Tom Ford) were just as quality, as were her skillz in face-painting, ponytail-arranging, keeping me entertained, and making sure *I* liked what she was doing.
Meanwhile, my colleague Lauren Bernstein, senior editor of branded content, was off having a private Beach Body Bootcamp training session arranged through Priv (opens in new tab), which also offers beauty and wellness services from spray tans to haircuts. She's still sore, FYI, so it must have been good.
Thoroughly at peace and, at this point, totally sold on the idea of deserved self-indulgence, judgment be damned, there was nothing left to do but put on some Mating Ritual (opens in new tab), pop the Veuve, and marvel at what a weird, wonderful day it had been. Then I got into a cab (hailed on Way2ride (opens in new tab)) and sped off into the night.
Because you made it to the end (thank god *someone* did), here's a gift for you: $25 off your first Zeel massage using the code "MARIECLAIRE25," $10 off the delivery fee of a Postmates purchase using "MARIECLAIRE," $10 off a Minibar order with "MarieClaire10," $10 off a ZTailors appointment with "FIT10," and $10 off your first UrbanStems order with "MC10." You're welcome.
Follow Marie Claire on Instagram (opens in new tab) for the latest celeb news, pretty pics, funny stuff, and an insider POV.
Chelsea Peng is a writer and editor who was formerly the assistant editor at MarieClaire.com. She's also worked for The Strategist and Refinery29, and is a graduate of Northwestern University. On her tombstone, she would like a GIF of herself that's better than the one that already exists on the Internet and a free fro-yo machine. Besides frozen dairy products, she's into pirates, carbs, Balzac, and snacking so hard she has to go lie down.