These 3 Women Defied the Odds to Make Bold Business Moves—and Now They're Killing It
Not taking "no" for an answer = your new mantra.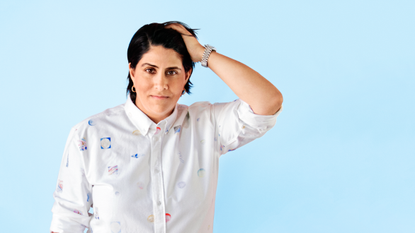 (Image credit: Beautycon Media)
The Ultimate Fangirl: Beautycon founder Moj Mahdara
At 4 p.m. on any given day, you're likely to find Moj Mahdara glued to her iPhone watching DJ Khaled's elliptical Snapchat, in which the record producer drops some life wisdom during his cardio sessions. "I'm obsessed," says Mahdara. "I watch him three or four times a day." Then she checks the snaps of a few other social media supernovas like Bethany Mota and Gigi Gorgeous, stars who are at the heart of Beautycon, Mahdara's empire devoted to all things Millennial and girly. There are articles, newsletters, a recently launched subscription beauty box, and, of course, the festivals where fans shell out upwards of $350 for access to their favorite YouTube stars. Last year, Beautycon sold 30,000 tickets to four festivals. "If I said, 'Hey, these people are going to be in a mall in 24 hours,' 12,000 people would show up," Mahdara crows. Raised in Erie, Pennsylvania, Mahara enrolled at the University of California, Irvine, with dreams of a career in the music industry.
"While [my parents] did the best they could and we're super-close now, they didn't know how to embrace their gay Persian daughter," she says. Mahdara landed an internship with Lollapalooza, just as disruptive upstarts like Napster were forcing the industry to wrestle with file-sharing. Soon after, she coaxed an executive from the surf brand Quiksilver to hire her—then, just 24—as a lifestyle consultant to help secure partnerships with indie musicians. Her name quickly got around. Within five years, Mahdara had her own shop, Exopolis, and by 2010, she was overseeing 100 employees and blue-chip clients like Xbox, Jaguar, even Gwen Stefani, whom she helped with the launch of her Harajuku Lovers and L.A.M.B. lines. "You have to work really hard and wait for the right opportunity, and when it arrives, you have to step into it," she says.
Which is exactly what happened in 2013 when Mahdara was approached to run Beautycon, then a struggling trade group for social media stars. She had a hunch that these online juggernauts would end up competing with traditional celebrities for fans and marketing deals. What made them especially compelling to teens, she says, was their authenticity and diversity, both of which were overlooked by main- stream media. Her first step: opening Beautycon up to the fans, letting them get up close with their favorite YouTubers via how-to seminars, panel discussions ("Hi Haters, Bye Haters"), and lots and lots of selfies. Beautycon quickly became a hit.
When she relaunched Beautycon in May 2014—the same day as Kim Kardashian and Kanye West's wedding—8,000 fans showed up, and #Beautycon trended on Twitter, alongside the Kimye wedding. "In that moment, I knew Beautycon had gone from a singular event to a media function," says Mahdara, who's locked up partnerships with CoverGirl. "I wish I was coming up in this time," she adds, wistfully. "I love that the biggest online stars are Asian, Latina, black, and gay, and it's not a thing at all...We are changing the face of beauty." —Jihan Thompson
---
The Comeback Queen: 'Empire' producer Ilene Chaiken
Chaiken gave up her glam career as a TV exec to try her hand at writing and producing. Now, as executive producer of Fox's mega-hit series Empire, she's still confounding expectations.
Though it's hard to believe now, there was a time when Ilene Chaiken, the in-demand showrunner of Fox's epic breakout hit Empire, was virtually unhirable in Hollywood. "There came a moment where I thought, I don't know if this is going to work," she says. Hard to believe, indeed.
Born and raised in Elkins Park, Pennsylvania, a middle-class suburb of Philadelphia, Chaiken attended Rhode Island School of Design with aspirations of becoming a great filmmaker. But her focus on storytelling and commercial appeal were "somewhat disdained" in the school's ultra-arty film milieu. After graduation, she moved to Los Angeles and was hired as a reader for the head of the literary department at legendary talent agency CAA at the time. When she tried to move into the agency's training program, she was told, "We don't take girls—girls can't carry typewriters." Eventually, the agency relented, and Chaiken was promoted to trainee. She quickly made a name for herself by suggesting an in-house development department where underlings could pitch their own concepts. The CAA partners loved the idea.
Her entrepreneurial reputation got her noticed by CAA chief Mike Ovitz, who helped Chaiken land her next job, as an assistant to producers with a deal at Warner Bros. She moved on to become director of film development for Aaron Spelling, who created TV hits Beverly Hills, 90210, and Melrose Place. Impressed, Spelling invited her to join the TV unit, where Chaiken learned all about how to craft unabashedly addictive TV—what Spelling called "mind candy." "He gave me a glimpse into the unbelievably extravagant, absurd, fabulous lifestyle I love to tell stories about," she says.
At 31, she was poached by Quincy Jones to head creative for film and television at his new company, where she coproduced The Fresh Prince of Bel-Air and helped launch the music-culture magazine Vibe. But by then, Chaiken had had enough. In December 1989, over a 10-day vacation in Telluride, Colorado, she locked herself in a room and wrote a script for Esme's Posse, an "anger-fueled, futuristic girl action movie." Though the script didn't make it to the big screen, Chaiken never looked back. Over the next 10 years, she wrote films; one, Barb Wire (starring Pamela Anderson), got made. Those early years were tough: She had two young children with her then-partner, British ex-pat Miggi Hood, and didn't have another feature film made for years. "I was always employed and supporting my family, but it was definitely a struggle," she recalls. "As a freelancer, you're only as good as your last project."
Sure enough, Chaiken found she could no longer afford her rental home in the Hollywood Hills, so she relocated her family to the U.K. Right before they left, she was hired to write a movie for Showtime; that became Dirty Pictures, which went on to win a Golden Globe. Inspired, she returned to an essay she'd written for Los Angeles Magazine about the so-called gayby boom, the city's baby boom among gay couples, and pitched the cable execs on a lesbian-focused drama. The L Word ran on Showtime from 2004 to 2009, was nominated for an Emmy, and won a GLAAD Media Award for Outstanding Drama Series. "It was a story that was powerfully important to me," says Chaiken. "Having had that as my first experience...now I'm only motivated when I feel like we are doing something with our storytelling that changes the culture in a meaningful way."
When Chaiken was approached to produce Empire in early 2014, she demurred; she wanted to return to writing and producing her own show. But her agent pressed her to at least read the script, by Lee Daniels and Danny Strong. It was good, she remembers. But when she saw the pilot, she immediately called her manager and pleaded, "What do I have to do to get this job?" "It's a cliché and I'm embarrassed I said it," she notes, "but I remember saying, 'This is going to be a game changer.'"
When it debuted on Fox, Empire garnered an unprecedented 22 million viewers. As the second half of season two premieres this month, the show remains one of Fox's top-rated. "I hope that Empire will stay on the air for years to come, but I'm already thinking about other stories I want to tell," Chaiken says, glancing at her watch to make sure she isn't late for a meeting with an editor. Like what? She answers simply, "Nothing interests me unless I'm changing the world." —Laurie Sandell
---
The CEO of Sparkle: jewelry designer Kendra Scott
After her first business went bust, Kendra Scott risked it all again to arm everyone with jewels that wouldn't break the bank.
Growing up in Kenosha, Wisconsin, Kendra Scott learned about the value of a steely work ethic from her country lawyer father and coal miner uncles. "They'd literally work all day," she says of her uncles, who shuttled between the fields and mines every day with only dinner to split up the jobs. "Being raised in that environment, you understand that in life, things don't come easy."
It was a lesson she learned firsthand when, at 19, she opened a hat store in Austin, Texas, with dreams of transforming it into a nation- wide chain. But the business flopped. "If I would have had the courage to [shut down] sooner, it would have been smarter," she says. "It was one of the darkest periods in my life because I just failed."
Dusting herself off, she started selling ads for a wedding magazine and soon found herself in some of the world's most romantic places, where she picked up semiprecious stones like jade, citrine, and amethyst to make her own jewelry. Scott was startled to see the markup on similar pieces at department stores back home. So in 2001, pregnant and with her husband in between jobs, she with- drew $500 from her savings and started making her own designs out of her personal stash. "Our mortgage was $1,100, so that was a lot of money for us," she says. Then she made the rounds of local stores, where her affordable samples were quickly snapped up. Scott knew she was onto something.
After a few years using precut stones and reinvesting her profits into the company, Scott finally had enough capital to design her first uniquely cut stone that nobody else could use. That became the Danielle earring, a "big slab of fabulousness" whose oblong shape (and roughly $60 price tag) has become a Kendra Scott hallmark.
Life changed dramatically when Scott gave birth to a second child and then got divorced. "For years, I'd wake up in a cold sweat worrying that they might come for my house," she says of her anxiety about being a new mom with this fledgling business. "But I knew in my heart that failure was not an option. If anything, it made me more determined."
After booking her first big retail order, for $75,000, Scott eventually scored mentorships with Cynthia Harriss, the former president
of Gap North America (once a Kendra Scott advisory board member) and even Oscar de la Renta. "He gave his time to a nobody little designer from Texas," she says, laughing.
Not so little anymore. Today, her name graces 38 stores across the country (with 17 more on the way), and she boasts an enviable list of celebrity acolytes, including Sofia Vergara and Selena Gomez. "Ralph Lauren started in men's ties, and Coco started in women's hats," she says. "We're trying to build a legacy brand that will stand the test of time."
That legacy includes a decidedly family-friendly culture. A new 45,000-square-foot headquarters, opening in May, is tricked out with perks like a nail bar (free manis and pedis), a smoothie station, a pumping and nursing room replete with cashmere throws and reclining chairs, and even a playroom where older kids can do homework or play Xbox while their parents finish up work. "Family, fashion, philanthropy are our core pillars," says Scott. "I think if more employees got that, the more they'd give, because the more they'd get back."—Rebecca Soffer
This article appears in the April issue of Marie Claire, on newsstands now.