12 People Who Got a Longer Sentence Than Brock Turner
For things like incorrectly importing lobster tails. Because this world makes sense.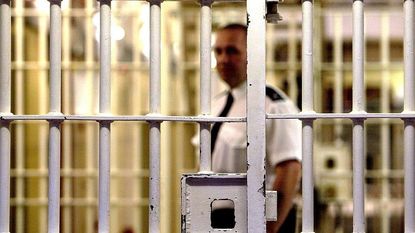 (Image credit: Getty)
Marie Claire Newsletter
Celebrity news, beauty, fashion advice, and fascinating features, delivered straight to your inbox!
Thank you for signing up to Marie Claire. You will receive a verification email shortly.
There was a problem. Please refresh the page and try again.
Stanford rapist Brock Turner's jail sentencing—six months, for an act that faced a maximum of 14 years—has sparked outrage, fueled, in part, by the survivor's brave and powerful letter she read aloud to Turner in court, which has now been shared widely online. Santa Clara County Judge Aaron Persky decided on a lighter sentence to avoid having a "severe impact" on Turner.
To further highlight the absurdity of Turner's light sentence, here are 12 people—men and women—who spent more time behind bars than Turner is expected to serve.
Abner Schoenwetter
Schoenwetter was sentenced to eight years in a U.S. federal prison for incorrectly importing lobster tails in a way that violated Honduran laws and regulations, which, according to The Hill, was a crime in the United States. Schoenwetter served nearly six years in prison and was released in 2010 at the age of 64.
Tim Allen
Long before Allen rose to fame on Home Improvement, he was arrested at a Michigan airport in possession of more than 650 grams of cocaine. Allen could have received life in prison, but eventually served just over two years in federal prison, according to CBS News. To receive the lighter sentence, he turned over the names of other drug dealers.
Leroy Fields
Fields was arrested in New Orleans in October 1999 after borrowing a car from a friend that he didn't know was stolen, according to The Huffington Post. He was sentenced to life in prison because it was his third strike, after being previously arrested for possession of crack cocaine and simple robbery.
Stephanie Nodd
Nodd was sentenced to 30 years in prison for her involvement in a crack cocaine conspiracy, after just one month of involvement, according to CNN. She was released after serving 21 years of her sentence, when sentencing guidelines regarding crack cocaine cases were reformed in 2011.
Jeff Mizanskey
Mizanskey was sentenced to life in prison without parole on a non-violent, marijuana-related offense in 1996. Mizanskey was finally released in 2015 after nearly 20 years in prison because the law under which Mizanskey was originally sentenced had changed, according to The Associated Press.
Wesley Snipes
Snipes, the actor and martial arts master, served a three-year prison sentence after being convicted on federal tax charges. He willfully failed to file tax returns for 1999, 2000, and 2001, according to CNN. Snipes tried to appeal his sentence to the Supreme Court by arguing that it was too harsh for a misdemeanor charge, but the court denied it.
Jenifer Lockwood
Lockwood was charged with prescription drug trafficking after purchasing a one-month prescription of a pain reliever in Florida. Lockwood took a 15-year plea bargain to avoid even more time behind bars, according to Rolling Stone. The state of Florida eventually passed a law to raise the weight limits for opioid cases, but she remains in prison.
Teresa Giudice
The star of Real Housewives of New Jersey was sentenced to 15 months in prison for a number of fraud charges, including multiple counts of bankruptcy fraud and conspiracy to commit mail and wire fraud, according to NJ.com. After serving 11 months, she was released and her husband, Joe, began his 41 months of jail time shortly after.
Weldon Angelos
Angelos, a music producer from Utah, was sentenced to 55 years behind bars for possessing a firearm while selling marijuana in 2004, according to The Associated Press. He was released just last week after serving 12 years of his sentence.
Krister Evertson
Evertson was an environmental researcher who sold sodium on eBay from his home in Alaska. He nearly went to prison in 2004 for neglecting to put the federally mandated safety sticker on the box, but was ultimately acquitted. Two years later, however, he faced a new criminal charge for abandoning fuel-cell materials. He had, according to Fox News, safely secured them when he moved back to Alaska from Idaho to care for his mother. He spent almost two years in prison for the charge.
JeDonna Young
Young was sentenced to life in prison with no parole for heroin possession when cops found her boyfriend's drugs in her car, according to The Los Angeles Times. She was one of the first people imprisoned after Michigan imposed mandatory life sentences for drug charges. When the law changed, she was released in 1998 after 20 years behind bars.
DeJarion Echols
Echols was sentenced to two 10-year prison sentences back to back after police found at least 50 grams of crack cocaine and an assault rifle at his home, according to Time magazine. Echols was a promising college football player and father who was selling crack to pay for school. His stiff sentence is often criticized because of the federal sentencing structure that is harsher on crack cocaine than powder cocaine. He is still in prison and is scheduled for release in 2023.
Follow Marie Claire on Facebook for the latest celeb news, beauty tips, fascinating reads, livestream video, and more.
Celebrity news, beauty, fashion advice, and fascinating features, delivered straight to your inbox!
Maggie Maloney is the associate editor at Town & Country and ELLE Decor, where she covers style, beauty, jewelry, and the many members of the royal family. She also manages social media and content strategy for both brands.