Why Are Women Still Not Allowed to Race in the Tour de France?
It's been 113 years since the men-only bike race was created. So why hasn't it changed?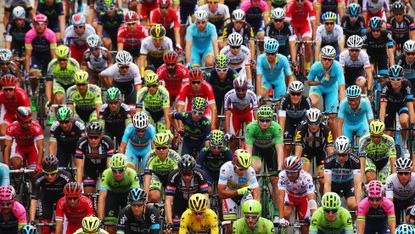 (Image credit: Getty Images)
The Tour de France, the most prestigious bike race in the world, ends on July 24. One thing we can't help but notice: Women are not crossing the finish line with the men.
The event is in its 113 year, and the organizers are proud of its tradition. But if that tradition excludes women, isn't it time for a change?
In the 1980s, they made an attempt: The Tour de France launched the Tour Cycliste Féminin (a sort of equivalent women's race) and held it intermittently between 1984 and 2009. The 1984 Tour Fémnin was 18 stages compared to the men's 23 stages, covered only a fourth of the distance, and the winner took home a tiny fraction of the men's prize money. It ended in 2009 because of lack of funding, a bad cycle (pun intended) women's sporting events often find themselves in—limited coverage leads to no sponsors which leads to no event.
Women are currently allowed to compete in a one-day race called "La Course by Le Tour de France" (doesn't that just roll off the tongue?) which started two years ago. This one-day race is just 90 kilometers, and is a response to a petition asking that women be allowed to compete in the men's race. The classic sexist arguments against women athletes are the same in cycling: that one, they aren't as strong as men, and that two, they don't bring in the same revenue. These arguments are, in many ways, holding women back.
The perfect example (well, perfect-ish, if you ignore the blatant pay disparity) of a sport finally paving the way for an equivalent women's event is in the realm of soccer, when in 1991, the Women's World Cup was founded 61 years after the first Men's World Cup. If you look at the pushback surrounding that first Women's World Cup, the same topics are brewing around having a women's Tour de France. FIFA suggested women use a smaller ball, even though they had always played with the same size ball as men, and shortened matches from 90 minutes to 80 minutes for women. April Heinreichs, captain of the U.S. 1991 world cup team, said, "They were afraid our ovaries were going to fall out if we played 90 [minutes]!" Come on, we know women can handle the same size soccer ball and game length as men. And, in fact, we've proven it: Women's soccer has become a commercially successful event.
There are two routes the Tour de France can take from here: They can either create a separate race of completely equal difficulty and prestige for women, or incorporate women into the existing race. Put women in different colored jerseys, let them race on the same course, get a bigger support system for the race, and whoop-de-doo, you don't need to logistically change anything. They could even start the women's race on a delay after the men's race (see any marathon for precedence).
As Alison Tetrick, an American pro cyclist, told bicycling.com last year, "We're all bike racers. It doesn't matter if you're male or female." We can only hope the organizers of the Tour de France comes to see it that way.
Follow Marie Claire on Facebook for the latest celeb news, beauty tips, fascinating reads, livestream video, and more.
Marie Claire email subscribers get intel on fashion and beauty trends, hot-off-the-press celebrity news, and more. Sign up here.