Dangerous Liaisons
Wealthy American businessmen in Hong Kong are getting robbed, blackmailed, even killed - by girls who spike their drinks with the date-rape drug. Even worse, the ladies are getting away with it.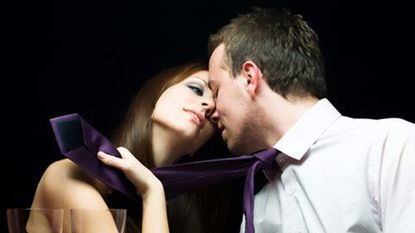 (Image credit: Sladjana Lukic)
Marie Claire Newsletter
Celebrity news, beauty, fashion advice, and fascinating features, delivered straight to your inbox!
Thank you for signing up to Marie Claire. You will receive a verification email shortly.
There was a problem. Please refresh the page and try again.
"I don't mean to be rude," says Simon Garcia, 36, as he declines my offer to buy him a coffee in an Asian imitation of Starbucks. "It's just that my forehead gets clammy if anyone goes near my food or drink." The chic California businessman buys his own coffee, then recalls the last time he let a woman he didn't know get too near his drink.
It was in Hong Kong, in the pulsating red-light district of Wan Chai. Garcia, a Singapore-based executive for a luxury sports brand, had gone out for Friday-night cocktails with colleagues. "The next thing I knew, it was 2 a.m. on Sunday, and I was lying on my bed, butt-naked," he recalls. "My cell phone, wallet, and $3000 Omega watch were gone." So was all memory of the previous 24 hours.
Piecing together the events of that night in January 2008, Garcia believes a glamorous woman at the bar spiked his drink with the date-rape drug Rohypnol, and then accompanied him back to his hotel and robbed him when he fell unconscious. He's not the first. Police on the island metropolis say 44 Western businessmen have reported similar date-rape druggings by prostitutes in Wan Chai in the past four years. The real number of victims is higher, they believe, because few men report the crime if they were cheating on their wives or girlfriends at the time. An advisory committee for the U.S. State Department deemed the trend serious enough to issue a warning about it in its 2008 Hong Kong travel report.
With good reason: The crime is potentially lethal. One of the first recorded cases was that of Finland's top police chief, who suffered a fatal heart attack in Hong Kong in 2003 after he was dosed with Rohypnol and robbed by a Chinese prostitute he'd picked up. In October 2007, two American businessmen, Paul Cherry, 45, and Michael Richard Victore, 51, were found dead in the city's $600-a-night Grand Hyatt Hotel after returning to their room with sex workers. An inquest ruled that the friends died from accidental overdoses of heroin and cocaine, and police released a 20-year-old hooker who'd been with them. But the victims' families back in Florida suspected foul play, saying that, among other suspicious details, $1300 in cash had gone missing from the businessmen's room.
Wan Chai is a riot of neon-lit sleaze minutes away from the famous glittering towers of Hong Kong's international business district. It's the after-hours playground for scores of Western bankers, lawyers, and corporate bigwigs who visit or live in the world's third-largest financial capital. Unlike in New York or London, controlled prostitution is legal here, and Wan Chai heaves with easily available female flesh. Skimpily dressed sex workers known as "bar girls," mostly from Southeast Asia and mainland China, are allowed to operate openly inside bars and clubs in exchange for getting men to buy them drinks at hiked-up prices.
"There's a free-for-all party atmosphere. It's kind of orgiastic," explains Garcia. "Guys who would never pick up hookers back in the States go out in Wan Chai to drink, dance, and buy sex, and think they can get away with it because no one knows them." Moreover, he adds, there's a silent pact between businessmen that whatever goes on inside Wan Chai stays there.
At Neptune II, the nightclub where Garcia believes he was drugged, an unspoken sexual apartheid is in full force. The cavernous, seductively lit basement is packed with Western businessmen and Asian bar girls. Except for the bartenders and bouncers, there are no Asian men (rich Hong Kongers have their own red-light area) and not a single Western woman. Most of the men are pasty-skinned and paunchy, in early middle age, with discarded neckties balled up in their suit pockets. They lumber on the dance floor to canned techno music as women half their age with long glossy hair and fake Louis Vuitton purses gyrate around them. "You've got guts bringing your girlfriend in here," one businessman sneers at the guy I've come with, a Marie Claire photographer, as he and I hover by the bar, pretending to be customers. My colleague says nothing, and the man shoots him a disgusted look as though he has violated a sacred male code.
It's a revealing dynamic: Throw rich men and poor women together in an anonymous whirlpool like Hong Kong, and you get supply-and-demand sexual economics in its rawest form. No wonder Western expat couples who relocate here for work call it a marital graveyard. According to local bar owner Juras Kuzma, 34, a Croatian, Wan Chai's temptations have led many Western marriages, including his own, to fail within the first year of the couple's arrival in Hong Kong.
Garcia insists he had no intention of hiring a prostitute on the night he was drugged - he was newly wed to a "stunning" fashion stylist and very much in love. "I wouldn't talk about this if I'd been trying to cheat," he says. "My only crime was having a drink in the wrong place." As his work colleagues hit the dance floor, a lithe Chinese beauty in a sparkling halter top latched on to Garcia at the bar, and he wound up chatting with her mainly "out of boredom," he says. "The dumb thing was I felt sorry for her having to sell herself to loud, sweaty white guys every night," he laughs ruefully.
Garcia remembers feeling overcome with dizziness at the bar and his friends hooting with approval as he appeared to leave arm in arm with the sexy bar girl. "Everything else is blank until I woke up in the hotel," he says. "I'd been stripped naked, and there was a condom wrapper and empty mini-bar liquor bottles on the floor. She'd tried to make it look like I'd had sex with her and then passed out blind drunk, probably to make me too embarrassed to go to the police. She was a real pro."
Garcia knew instantly he'd been drugged - he's a gym junkie who never touches more than two low-alcohol drinks a night. But the nature of date-rape drugs such as the pill Rohypnol (flunitrazepam, as it is known generically) and its liquid cousin GHB (gamma-hydroxybutryate) means that hard-core partygoers might not even realize they've been targeted. The drugs diffuse quickly and are tasteless, odorless, and colorless. They induce memory blackouts similar to those experienced by heavy drinkers, and can become undetectable in the bloodstream in as little as 24 hours.
Rohypnol was originally produced to treat sleep disorders. Makers started adding a blue dye to render it visible in drinks after its use in date-rape cases made global headlines in the late 1990s. In freewheeling places such as Hong Kong, however, counterfeit versions minus the dye are available under-the-counter for less than $2 a tablet, and GHB is sold openly in sex shops for less than $10 a bottle. Wan Chai veterans say bar girls who succeed in drugging and robbing male customers often commit "the near-perfect crime," as victims simply can't remember what happened and blame their fate on their own debauchery and depravity - which they then try to conceal from loved ones.
Not Garcia. He immediately called his wife, Annabel, on the hotel landline. "She yelled at me for getting robbed, but mainly she was relieved I hadn't been killed," he says. It was Annabel who persuaded Garcia to report the crime to the Hong Kong police and get a drug test. A tiny amount of Rohypnol was still detectable in Garcia's urine. "That made the police take me a bit more seriously, but they didn't react much. There was an air of routine as they took my statement," he shrugs.
The prostitute in the halter top melted back into Wan Chai's shadowy streets and has never been caught. It's not surprising. Hong Kong has over three times the population density of New York City, and most nights it feels like all of the territory's 7 million people are crammed into Wan Chai's gaudy sidewalks and high-wattage nightclubs. In addition, ever since the easing of border controls after the 1997 handover from British to Chinese rule, the bar-girl population has become highly transient. Prostitutes from mainland China come and go in droves, and Filipinas, Thais, Indonesians, and Vietnamese arrive on tourist visas in the hope of quick cash.
Wan Chai insiders like Sophia Lim say most of the date-rape druggings are carried out by these "freelancers," particularly the Chinese mainlanders who are often controlled by gangs back home. Lim is the bespectacled mama-san, or manager, of a traditional topless go-go bar on the main drag, Lockhart Road. "I watch my girls like a hawk to make sure they don't cheat customers. That kind of greed is very bad for business," says Lim, a retired hooker in her late 30s who still has a girlish face behind her dark-rimmed glasses.
As strange as it sounds, Lim misses the days when prostitution was tightly controlled by organized crime within Hong Kong. Local gangsters ran Wan Chai when it was the exotic red-light setting for the 1950s novel The World of Suzie Wong, with its tragic indentured heroine in a demure cheongsam, and later when it was a booming R&R center for American soldiers during the Vietnam War. But the controlling power of the gangsters declined in the 1990s as more women flooded in from the outside, leaving room for other profiteers to move in.
Today, Hong Kong's sex trade is operated by an impossibly complex web of competing human traffickers, brokers, small-time gangs, and independent outfits from across Asia and beyond. "In the past, everyone played by the rules and men knew it was safe to come here," says Lim. "Now girls are committing crimes, and it's very hard to trace who's responsible. It's ruining our reputation."
Across the street in one of the throbbing modern nightclubs populated by bar girls, a freelancer who calls herself Juli has no time to be nostalgic for Wan Chai's good old days. Juli's been coming here from Thailand regularly for the past four years, with the sole aim of making as much cash for herself as she can. "You can't spill tears for male customers or mama-sans because Wan Chai has changed," she says in a steely, high-pitched voice. "Sex work is tough. You do what you can to survive."
In Juli's case, this means wearing a skintight white dress and clutching a new Nokia camera phone, her latest weapon of mass seduction. "I show potential clients photos of myself performing sex acts," she says, her flawless face bathed in an eerie blue light from the phone's screen. "And I have some live video clips, too." Juli, who is in her mid-30s but looks 25, says she gets enough business from these high-tech tactics without having to resort to theft or deception. She charges from HK$4500 ($600) per hour at the start of the evening to HK$2000 ($260) near dawn, and averages three clients a night.
Like Lim, she says that the sex workers involved in using date-rape drugs to rob clients are mostly Chinese mainlanders controlled by gangs based in cities such as Shenzhen and Guangzhou. "Usually the most beautiful girls are chosen to carry it out, because they attract the richest clients who have more expensive gear to steal," says Juli. "If they score big, they disappear back home and lie low for a while."
Nevertheless, she adds that some Southeast Asian bar girls are increasingly tempted to carry out copycat drugging crimes, especially if they owe large debts to traffickers or brokers. "Things catch on, you know? You can get the drugs anywhere, and once you've worked up the courage to spike a client's drink for the first time, it's easy to make a habit of it."
Juli also lists a host of other scams and ploys that she says are routine among Wan Chai bar girls. These include escorting clients to the ATM and "shoulder surfing" to see their PIN before stealing the card, and using a client's cell phone to call themselves so the man's number flashes on their caller ID. Once they have his number, they phone him to extort money. "This works best with married men, so bar girls always check first to see if he's wearing a wedding ring - most men don't bother to take them off," Juli explains. "If he has a wife, he'll often pay the girl to stop calling him."
At one of Wan Chai's upmarket watering holes where bar girls are banned, U.S. businessman Brook McConnell swigs a beer and confirms that men need to watch their backs in Wan Chai. "It's a deceptive place," says the fund manager from New York who has lived in Hong Kong since 1992. "Compared to red-light areas in large American cities, it's very safe. There's no violent menace here - you can walk down the street without getting mugged or stabbed. But the fun atmosphere often lures guys into a false sense of security." Two of McConnell's associates have fallen prey to date-rape druggings and robbery, he says, and others have succumbed to petty bar-girl scams. "When I bring out-of-towners here, they are amazed at how open it is. But I don't take my eyes off them for a second."
Whatever dangers lurk beneath the surface, Wan Chai shows no sign of losing its high-flying corporate clientele. In fact, it's likely to become even more popular, since Western companies and banks are increasingly relocating to Hong Kong. "Wan Chai is an addictive place," says McConnell. "This is a big-money town where guys work and play hard. Hanging out in girly bars relieves stress and is part of the business culture - it's where the real deals get done."
Meanwhile, down at the Wan Chai police station, a chief officer admits that rescuing businessmen from dishonest hookers is not a top priority. "Of course we take suspected murders and robberies seriously, but overall, men have to accept there's always risk in red-light areas," says the officer, speaking anonymously. "We have to strike a balance between law enforcement and the freedom Wan Chai is famous for."
Oddly, prostitute and policeman agree on this: Men can't have it both ways. As another night falls and the neon explodes into kaleidoscopic color over Wan Chai's nightclubs and massage parlors, bar girl Juli says she'd never report one of her fellow hookers to the police if she found out they were using date-rape drugs to rob customers. "I don't have any pity," she states flatly. "Of course it's bad news if a guy dies or loses his marriage because his wife finds out, but nobody forces them to come to Wan Chai."
She snaps open her Nokia and checks for calls from clients before having her last uncompromising word: "We've always had to protect ourselves from men. Maybe now it's their turn to start protecting themselves from us."
Above: The nightly Wan Chai meat market. Below: Sisters Cynthia Nielsen (left) and Carol Cherry (right) attend the inquest of their brother, Paul Cherry, after he was found dead in a Grand Hyatt hotel room; closing the deal.
Celebrity news, beauty, fashion advice, and fascinating features, delivered straight to your inbox!