This Is *Such* a Bad Way to Try to Recruit More Female Hunters
Really guys?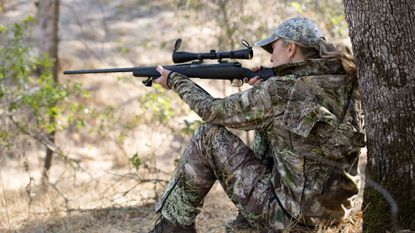 (Image credit: Getty Images)
Only 11 percent of hunters in the U.S. are female. How to recruit more women into the sport? Let them wear pink! At least that's what lawmakers in four states think.
In February, Wisconsin legalized "blaze pink" clothing for hunting (in addition to the hunter-orange dress code normally adopted). Since then, Colorado, Louisiana, and New York have passed similar laws.
The only problem? The pink laws have female hunters red-faced with anger. "Saying more women will hunt because of the option to wear pink clothes is demeaning," says Sarah Ingle, president of Wisconsin's Women's Hunting and Sporting Association. "Women don't choose to start something, especially something as huge as harvesting your own game for your family's meals, because of a color."
Carrie Zylka, the voice behind the first woman-hosted hunting podcast, HuntFishTravel, agrees. "It's all from the guy's standpoint," she tells MC. "I wish they would have had more input from women." She calls the measure "worthless" as a recruiting tool and suggests that lawmakers could instead create mentorship programs for young women in the sport. If anything, Ingle says, the laws may make women feel less welcome. "I wear makeup when I hunt, I paint my nails," she explains. "Men already bash us for that. We don't need pink to make us stand out more." In other words, she says, in passing the new laws, legislators have misfired.
This article appears in the December issue of Marie Claire, on newsstands now.
Celebrity news, beauty, fashion advice, and fascinating features, delivered straight to your inbox!