This Woman Dives 16 Stories Beneath the Surface of Frozen Water with No Equipment
What did you do today?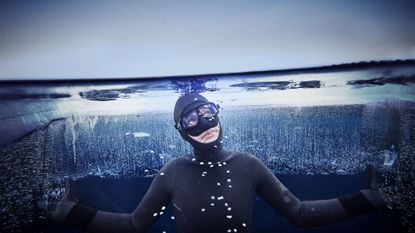 (Image credit: Ian Derry/Chilli Media/CPI Syndication)
You've seen people taking polar bear plunges, but what Johanna Nordblad does is far more challenging, more graceful, more...brisk. This is no quick winter dip, but a descent into the depths below the frozen surface—and just another day for the world-record holder in free diving under ice (that is, with nothing but a swimsuit and a deep breath).
"In the very first seconds when I go under, the feeling changes dramatically from 'I'm freezing' to total relaxation," says Nordblad, 41, a graphic designer who lives in Helsinki with her teenage son. "I'm in a totally different world. The light through the ice is something I could watch endlessly. It's so peaceful and quiet and beautiful.
She might never have taken up the sport had it not been for an accident in another. In 2010, she was downhill biking on a muddy track when she fell, breaking her left leg so severely that doctors thought they might have to amputate. It took a year and a half of rehab for her to be able to walk without crutches, but the pain continued, so she tried cold-water therapy in 2013. Nordblad learned to love the frigid temperatures, and her free-diving hobby turned into free diving under ice, practicing in the Baltic Sea as well as her choice of 200,000 Finnish lakes. (She still free dives in warmer waters and would like to go down Dean's Blue Hole, one of the world's deepest water-filled sinkholes, in the Bahamas.)
This month, she's looking to break her 50-meter world record—when she held her breath for more than two and a half minutes swimming from one ice hole to another (in warm water, she can hold her breath for more than six and a half minutes)—at an event she's helping organize, and one day, the men's record of 76.2 meters.
Despite the physical shock of getting into the water, sometimes that's the least of it. "The weather might be –30 degrees [–22°F], so the water at 4 degrees [40°F] feels quite warm!" Nordblad says. "The worst part is if I have to take the suit off outside of the water." And when she's back on land, her favorite way to warm up? How else—it's Finland: land of the sauna.
This article appears in the March issue of Marie Claire, on newsstands now.
Riza Cruz is an editor and writer based in New York.