How 'Full Frontal with Samantha Bee' Came into Its Own
Thanks to these precarious times and two hilarious women.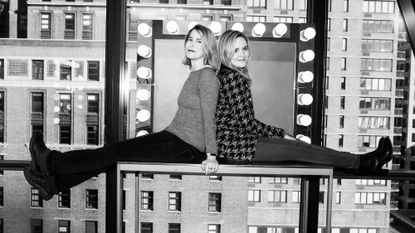 (Image credit: Marcelo Krasilcic)
Last fall, as the results of the 2016 U.S. presidential election rolled in, there was a lot of crying in the Full Frontal writers' room. The TBS show, led by host Samantha Bee and showrunner Jo Miller, has one of the most diverse talent pools in late night—of its eight writers, four are female and three are people of color—and the results felt personal. "Not because we thought that Hillary [Clinton] was going to solve all of the nation's problems," explains Bee. "But just because there was a predictability or stability, and we knew we had lost it all."
The new uncertainty transformed into dread, says Bee. By 10 p.m. on election night, champagne the Full Frontal staff had put on ice hours earlier was no longer appealing—and their collective dread has formed the show's tone during the past few months. While some comedians jokingly celebrated the election's conclusion ("Donald Trump got elected president, and my job just got easier for the next four years," quipped Conan O'Brien in November), Bee and Miller pushed the Full Frontal team to channel their pain and anger into a steady stream of episodes centered on the Trump administration's shortcomings, to put it mildly, and subsequently enjoyed the show's best-ever ratings. This February, viewership was up 167 percent compared with the same time period in 2016; Full Frontal with Samantha Bee ranked as late-night television's number-one show with adults ages 18 to 34 at press time, outperforming Last Week Tonight with John Oliver, The Daily Show, The Late Show with Stephen Colbert, and The Tonight Show Starring Jimmy Fallon.
Though Bee is the public face of Full Frontal, the show wouldn't go on without Miller. As executive producer and showrunner, she oversees all in-studio content. The majority of words coming out of Bee's mouth every Wednesday night, when the show airs, are filtered through Miller, and the entire on-screen experience—the graphics, the sound, the flow—has her stamp. Those elements often give the show its extra bite: When Morning Joe host Joe Scarborough lectured candidate Hillary Clinton that she needed to "smile" more in March 2016, Miller worked with Full Frontal's art team to Photoshop behavioral reminders onto a photograph of Clinton standing at a lectern. "Don't be c*nty," read one arm; the other said, "Shrill = Bad." The photo was displayed on-air during Bee's opening monologue. Full Frontal fans recognize those visual elements from Miller's days at The Daily Show. Former host Jon Stewart, on more than one occasion, cracked up at Miller's Photoshopped gags.
A typical day for Bee and Miller involves meeting with writers and other producers at Full Frontal's New York City offices in Hell's Kitchen about the upcoming show. Bee hits the streets to tape field pieces—those done out of studio— while Miller works with the writers, supervises the graphics team, and monitors dozens of news sites. She and Bee stay in constant contact via text message. "When you take Jo's biting satire and combine it with Sam's passion, talent, and likability, somehow it creates a superhuman," says Full Frontal producer Alison Camillo.
What makes Bee and Miller's relationship unique is their gender (something they would hate for me to point out). Bee isn't the first female late-night host: Joan Rivers and then Chelsea Handler helped break that glass ceiling. And Miller isn't late night's first female executive producer; Colbert, Jay Leno, and Jimmy Kimmel have employed women in that role. But they are the first all-female host/showrunner combination to run a late-night show, an area of television long known as a boys' club.
Bee and Miller first met in 2009, while working on The Daily Show. Miller had just joined as a writer, and Bee had been a field reporter there for six years. The two departments were relatively separate, both physically—their NYC office spaces were in different wings—and in terms of their staffs' day-to-day tasks. But Miller often attended field meetings, speaking up to share her opinions, and she caught Bee's attention. "I could certainly see that she was a powerhouse talent," recalls Bee. The two began collaborating on field pieces for the show, like a segment on the 2012 Republican National Convention in Tampa, Florida: Miller wrote the script, which involved Bee getting abducted by one of Tampa's terrifyingly giant palmetto bugs. "Sam was the one who plucked me out and put trust in me," says Miller. "Everything I've done since then has been an attempt to justify that trust and not disappoint her."
Their relationship has become somewhat symbiotic. When TBS offered Bee the opportunity to host her own show in 2015, she first told her family—then Miller. "I called her at her desk, and it's like [in a child's voice], 'Can you come to my office? I have a question for you,'" says Bee. "I didn't really want to do it without Jo. It was such a no-brainer." Miller says they're always on the same page, whether discussing a narrative structure or the degree of emotion to put into a piece: "It's such a wonderful tandem that is so productive and so playful. If I dreamed of a boss and collaborator, it would be Sam."
Yet comedy wasn't always an obvious future for either woman. Growing up in Toronto, Bee wanted to be a ballerina— until she went to see an actual ballet performance and watched a dancer invert in a lift. "I hate, hate, hate being upside down," she says. She told her parents, "Absolutely not. Cancel these lessons. I can't go upside down. I will fall off the Earth and be sucked into orbit. This makes no sense for me." She considered two other career options—attorney and journalist—before taking a theater class "as a complete lark" when she was a junior at the University of Ottawa. Bee thought it would be an easy A. "It changed my entire life. I mean, I thought that I would be a very serious dramatic actress; that's what I really wanted to do," she says. "But I now see the folly. I just don't have a face that people take seriously." So comedy it was. After college, Bee joined an improv troupe in Toronto. She took on several mediocre projects, including a live-action Sailor Moon play (where she met her future husband and fellow Daily Show correspondent, Jason Jones), until her agent told her about The Daily Show auditions. Not many Canadians watch The Daily Show, but Bee and Jones did so religiously. She knew the show's tone, nailed her audition, and was hired as a field reporter.
Miller's path to comedy was equally labyrinthine. She studied history at Yale University, despite hating the subject as a child. "Dry-as-dust textbooks and quizzes on dates. Of course, growing up in Georgia, we were fairly pickled in Confederate history. Though," Miller adds, with her own dry-as-dust wit, "it somehow omitted the details of Jim Crow. I'm sure the teachers just ran out of time." But document- based questions (DBQs), tests where students rely on a pile of primary and secondary sources to write an analytical narrative, changed her tune in high school. "I realized, Hello, this is cool," she says. "They should start giving DBQs in second grade. If they did, we wouldn't have Pizzagate." After college, Miller studied history at England's Cambridge University on a Fulbright scholarship for a year, after which she began to pursue a history Ph.D. at Cornell University.
Between stints at the library, Miller watched The Daily Show with friends, and she often mentioned that her dream job was to work for Lizz Winstead, the show's creator. She left Cornell before finishing her dissertation to move to New York City, where she took on a slew of odd jobs (in real estate and construction management) before two big breaks: In 2007, she helped Winstead produce an off-Broadway comedy show, Wake Up World; two years later, The Daily Show's executive producer, Steve Bodow, whom Miller had gone to college with, reached out to ask her to apply for an opening in the writers' room.
Now that Bee and Miller have made it in comedy, they take their roles seriously. On Full Frontal, Bee is forthright about her anger—particularly when it comes to hypocrisy (from both sides) in politics—a trait she shares with Miller. "As a privileged white citizen, I don't have much to fear personally yet, but I do fear for my country and the millions of people who are no longer a priority to the Department of Justice," says Miller. "Sam and I both suffer from baroque anxiety dreams and insomnia, but that's what bourbon and Benadryl are for." Bee is also unapologetic about supporting Clinton. In April, she introduced the former U.S. presidential candidate at the Women in the World Summit: "I'm only going to say this once, though you deserve to hear it a hundred times: It should have been you," she said. "Now I'm saddled with that pint of flat orange Fanta, who gives me more material than I would ever want."
Bee and Miller remain committed to finding slivers of hilarity amid the chaos. That's what sparked the creation of the "Not the White House Correspondents' Dinner," an alternative event Bee and her team hosted at Constitution Hall in D.C. on April 29 (the same night as the White House Correspondents' Dinner, known fondly as Washington's nerd prom). "We wanted to find something that makes us happy, that seems fun," Bee said before the event. "We're going to celebrate the people we want to celebrate. We want to give people some food, hope we have a good time, be super-bratty, and do other things that really tickle our fancy." She was also hoping to set off fireworks that spelled out messages to President Trump, but decided it wasn't such a good idea to send up colorful explosions so close to the White House. "Can I just imagine for a minute how delicious that would be?" Bee says, laughing.
Their jobs require them to constantly process and filter the "[news] stream of toxic garbage, like a kidney," says Miller, but she and Bee have found ways to stay sane. They have a "nonstop giggly" text thread with producer Camillo. "The conversation ricochets from [Trump adviser] Steve Bannon to our periods—and bombarding each other with eggplant and hot-dog emojis and florid profanity," Miller explains. Bee watches Call the Midwife, the BBC series about Anglican nuns and nurses in the 1950s who help provide maternal support to a poor London neighborhood. "It cleanses my soul. A baby will be born, something great will happen, and I'll be OK. I'm really a sucker for happy nuns," she says. And Miller is planning to implement morale-building activities for Full Frontal's writers so they avoid burnout. "I ask an awful lot of them, at all hours. I know it takes a spiritual toll to stare into the abyss and not look away," says Miller, who is planning an all-staff retreat and a quiet room with masseuses.
RELATED STORIES
Bee is equally focused on spreading good vibes around the office. "She'll go out and buy me biscuits and muffins because she thinks I'm not eating enough," says Miller. And she's an amazing gift giver: Bee knew Miller was a huge fan of anti- poaching nonprofit Air Shepherd and gave the organization a large donation in return for a drone that monitors nighttime poaching. "There is a drone flying over South Africa named Sky Cunt that Sam bought for my birthday. She had our graphic designer do a beautiful drawing of me and Sammy [Miller's big marmalade cat] riding on Sky Cunt," says Miller. "That is the kind of thoughtfulness that [Bee] puts into any- thing. Personal. Hilarious. Kind. She spreads love and goodness."
This article appears in the June 2017 issue of Marie Claire, on newsstands May 16.