The 50 Best Love Songs of All Time
The best, most romantic love songs ever written, spanning every genre.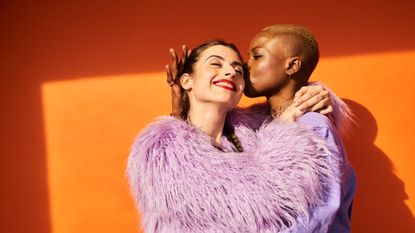 (Image credit: Future)
Marie Claire Newsletter
Celebrity news, beauty, fashion advice, and fascinating features, delivered straight to your inbox!
Thank you for signing up to Marie Claire. You will receive a verification email shortly.
There was a problem. Please refresh the page and try again.
Picture this: You've orchestrated the perfect at-home date for your significant other featuring candles, wine, and a lovingly home-cooked (or lovingly ordered via app) dinner. But just as your person texts you that they're on their way, you realize that you have no idea what sort of music to play to retain the romantic ambience. After all, you can't have your early 2000s guilty pleasure songs come up on shuffle while you're trying to stare lovingly into your partner's eyes (nothing ruins the mood like the distinctive "youuuuuu" at the beginning of "Soulja Boy." And yes, that example is based on a true story). For that reason, I've compiled this list of the best love songs of all time, spanning every genre.
There's something in here for everyone, whether you're a fan of hip hop, classic rock, country, or pop. Queue this playlist up on your next date night, or satiate your inner romantic next time you're in your feelings. Whatever the context, I promise you won't be disappointed. (P.S. If you're looking for the best love songs of 2022 specifically, or songs for Valentine's Day, we've got those too.)
"ROS" - Mac Miller
Most romantic lyrics: "I'm in your heart, I'm in your dream/ So fuck the world it's you and me"
Rationale: When the outside world becomes brutal, many couples turn inward and develop that us-against-the-world mindset. In "ROS," Mac Miller captures what it's like to feel close to someone, spending much of this song describing the little things he loves about his partner, like her "stained glass" eyes, butterscotch-scented skin, and kiwi-flavored lips. The lyrics are intimate in every way, and Mac delivers them with characteristic rawness.
"These Arms of Mine" - Otis Redding
Most romantic lyrics: "These arms of mine, they are lonely/ Lonely and feeling blue/ These arms of mine, they are yearning/ Yearning from wanting you"
Rationale: This song hits me right in the chest. It's impossible not to feel your arms and chest aching like Reddings' when he sings about wanting to hold his beloved. The music crescendos around his smooth voice as he begs, "And if you would let them hold you/ Oh, how grateful I would be." It's such a sweet, earnest plea for love, and its focus on physicality is pretty sexy, too.
"Ex Factor" - Lauryn Hill
Most romantic lyrics: "See, no one loves you more than me/ and no one ever will"
Rationale: No one knows how to obliterate me emotionally quite like Lauryn Hill does. In "Ex Factor" (and on this whole album), she's incredibly vulnerable, baring all in her devotion to her beau. In this song, we recognize straightaway that her relationship is toxic, but Hill's honesty is so beautiful that we humble listeners have no choice but to sit, transfixed, and listen.
"Skinny Love" - Bon Iver
Most romantic lyrics: "Told my love to wreck it all/ Cut out all the ropes and let me fall"
Rationale: When this song came out in 2007, I was in middle school, and 12-year-old me incessantly crooned along about "the sink of blood and crushed veneer," as though my childhood had been rife with tragic love affairs.
I've distanced myself from many of my middle school interests, but this song still holds up. Bon Iver is a master at depicting what it's like to fully surrender yourself to someone while aware that they may hurt you in the end. I still sing this song while I lounge around my studio apartment, drawing on real-life experiences this time, though I assure you that none of them involved blood-filled sinks or crushed veneers.
"Leather and Lace" - Stevie Nicks & Don Henley
Most romantic lyrics: "Lovers forever, face to face/ My city, your mountains/ Stay with me, stay/ I need you to love me/ I need you today/ Give me to me your leather, take from me my lace"
Rationale: This is Stevie Nicks' lyricism at its most poignant. She wrote "Leather and Lace" herself and then performed it with Don Henley (of The Eagles) while they were dating. This duet is beautiful in and of itself, but their chemistry and passion for each other makes it all the more impactful. An ex played this for me once, unprompted, and I remember thinking, My God, dude. Why would you do this to me?
Wrecked.
The Way You Look Tonight" - Frank Sinatra
Most romantic lyrics: "Lovely, never, never change/ keep that breathless charm/ won't you please arrange it?/ 'Cause I love you/ Just the way you look tonight"
Rationale: Ah, yes. The song that plays at every wedding on earth. Popular songs are popular for a reason, though, and this one endures because of the unconditional love that it depicts. In addition to Sinatra's version, I also love Fred Astaire's rendition in the 1936 film Swing Time and the sweet yet funny visuals go along with it.
"Everlasting Light" - The Black Keys
Most romantic lyrics: "Let me be your everlasting light/ Your train going away from pain/ Love is the coal that makes this train roll/ Let me be your everlasting light"
Rationale: If you read the lyrics without the music, this song feels like a late nineteenth century poem. The love it describes is so pure and hopeful, and you'll definitely gain cool-points by playing The Black Keys on a first date.
"To Know Him Is To Love Him" - Amy Winehouse
Most romantic lyrics: "To know, know, know him/ Is to love, love, love him/ Just to see that smile/ Makes my life worthwhile"
Rationale: No one does unbridled love like Amy Winehouse. Her soulful voice takes center stage in this Phil Spector cover, and if you're not already in love, it will make you want to be.
"Like Real People Do" - Hozier
Most romantic lyrics: "I will not ask you where you came from/ I will not ask you, neither should you/ Honey, just put your sweet lips on my lips/ We should just kiss like real people do"
Rationale: Here, Hozier is trying to convince his love interest to forget that they both have pasts (who doesn't?) and to focus on loving in the present. There's a sense that both people in the song consider themselves odd in some way (again, who doesn't?), and that they've been searching for partners like each other for ages. "Like Real People Do" reminds us of how miraculous it feels to love and be loved back.
"Can't Take My Eyes Off You" - Franki Valli & The Four Seasons
Most romantic lyrics: "You're just too good to be true/ Can't take my eyes off of you/ You'd be like heaven to touch/ I wanna hold you so much"
Rationale: To quote every Boomer from my home state of New Jersey: They just don't make 'em like this anymore. And it's true―this song manages to balance emotional and sexual yearning without being crude.
"Forrest Gump" - Frank Ocean
Most romantic lyrics: "My fingertips and my lips/ They burn from the cigarettes/ Forrest Gump, you run my mind, boy/ Running on my mind, boy"
Rationale: This is Frank Ocean's most criminally underrated song and I will fight anyone who says otherwise. In fact, I once made a very loud, spirited defense of this song when I was in high school, right after Ocean's ill-received performance of it at the 2013 Grammys.
The song is told from the perspective of Jenny in the 1994 film Forrest Gump. It's about a broken, tired person coming back to their pure, enduring love after a great deal of time has passed. It's especially meaningful, in my opinion, because Ocean penned the song in the wake of his very public coming-out.
"Take Me The Way I Am" - Ingrid Michaelson
Most romantic lyrics: "'Cause I love you more than I could ever promise/ And you take me the way I am"
Rationale: What a throwback! Ingrid Michaelson was responsible for some of the sweetest manic-pixie-dream-girl love songs of the early 2000s, and this one was her most popular. Michaelson rejoices in having found a partner who loves her, flaws and all, and she responds in kind, promising to repair what her partner breaks and to buy him Rogaine when his hair starts falling out.
"Hannah Hunt" - Vampire Weekend
Most romantic lyrics: "A man of faith said hidden eyes could see what I was thinkin'/ I just smiled and told him/ That was only true of Hannah"
Rationale: Oh, Ezra Koenig, how you wound me with your beautiful words! In this song, our narrator seems to be moving around the U.S. with his beloved Hannah until she grows homesick for the east coast. Having lived in New England for around seven years, I'm partial to this song for its "freezing beaches" references, but it's also a gentle tribute to the way time glides away when you're with someone you love.
"A Song For You" - Donny Hathaway
Most romantic lyrics: "I love you in a place/ Where there's no space or time/ I love you for my life/ You're a friend of mine/ And when my life is over/ Remember when we were together"
Rationale: There have been many versions of this song, but this one's my favorite (it was also Amy Winehouse's favorite). Donny Hathaway sings with such feeling that one can't help but feel he's reciting a memoir when he sings his apology to a woman he neglected to settle down with because he was too busy performing around the world.
"Maps" - Yeah Yeah Yeahs
Most romantic lyrics: "Don't stray/ My kind's your kind/ I'll stay the same."
Rationale: Yes, this song is 90 percent just Karen O singing "Wait, they don't love you like I love you," but it's so powerful! If you say something the right way, and the accompanying music is good enough, there's no need to embellish much more. Proof: Beyoncé clearly nods to this song in her 2016 single "Hold Up." "Maps" endures, over a decade later, across genres.
"If I Ain't Got You" - Alicia Keys
Most romantic lyrics: "Some people want diamond rings/ Some just want everything/ But everything means nothing/ If I ain't got you"
Rationale: This song is all the more touching when you recall that Keys wrote it just as she was beginning to get famous. She promises that her renown―the fruit of all her labor―along with promises of riches, jewelry, or endless life would all mean nothing if she didn't have her man.
"Pine Tree Lines" - Told Slant
Most romantic lines: "I am the girl my parents made/ Why don't you love me anyway/ 'Cause I love the way you take up space"
Rationale: Devastating genius. Lead singer Felix Walworth delivers this song so earnestly that his voice literally cracks during that last line. I've never heard a simpler or more startlingly accurate depiction of adoration than loving the way someone takes up space.
"Inevitable" - Shakira
Most romantic lyrics: "To be even more honest/ No one thinks about you/ The way I do" (Translated from Spanish)
Rationale: Shakira spends most of this song laying out all her imperfections―that she doesn't know how to make coffee, that she doesn't understand soccer, that she oversleeps, etc.―and then proceeds to ask her man to love her anyway.
"I Found You" - Alabama Shakes
Most romantic lyrics: "I remember all them lonely days/ I traveled out on my own/ Then you brought me everything/ You made my house a home"
Rationale: This is a celebration of finally finding your person. Whereas most love songs are sad and defeated, this one is filled with celebration.
"Rag Doll" - Franki Valli & The Four Seasons
Most romantic lines: "I'd change her sad rags/ Into glad rags if I could/ My folks won't let me/ 'Cause they say that she's no good."
Rationale: Another Four Seasons song, yes. I'm from Jersey. Sue me.
Franki Valli declares his unconditional love for a girl much poorer than he is, fantasizing about replacing her tattered clothes with lace and finery. In spite of her poverty, he ends the song by crying, "I love you just the way you are."
He wants to give everything to someone who can offer him nothing, in terms of material goods. This song reminds us that money isn't everything, but love just might be.
"Since I've Been Loving You" - Led Zeppelin
Most romantic lyrics: "But baby, since I've been loving you, yeah/ I'm about to lose my worried mind/ Oh, yeah"
Rationale: Man, these lyrics look tragically underwhelming when written down sans musical accompaniment.
What makes this song so romantic, to me, is the organ and bass work by John Paul Jones paired with Robert Plant's searing vocals. If desperate desire were a sound, this power blues track would be it.
"You Got Me" - Erykah Badu and The Roots
Most romantic lines: "If you don't worry 'bout where/ I been or who I saw or/ What club I went to with my homies/ Baby, don't worry, you know that you got me"
Rationale: I cried when I saw The Roots perform this live. Erykah reassures her boyfriend during the chorus that she'll always be loyal to him, while Black Thought (lead MC of The Roots) uses his verses to tell the story of a lifelong romance. It's the best love song in hip hop, hands down.
"(You Make Me Feel Like) A Natural Woman - Aretha Franklin
Most romantic lyrics: "When my soul was in the lost and found/ You came along to claim it/ I didn't know just what was wrong with me/ 'Til your kiss helped me name it"
Rationale: We should heal ourselves rather than wait around for someone to heal us, but that doesn't mean that love can't be a healing experience. It's very romantic to thank someone for making you feel good, and that's precisely what this song (written by the flawless Carole King) is about.
"Jade" - Edward Sharpe and the Magnetic Zeros
Most romantic lyrics: "We can't help but follow, she's Buddha, just watch her/ She moves like an old gypsy woman but swears she's a girl/ And all that she asks we'll allow her/ For Jade is the girl of the hour"
Rationale: Alex Ebert wrote this song for Jade Castrinos when they were both still dating and still the frontpeople of Edward Sharpe and the Magnetic Zeros. It's a quiet love letter to Castrinos―you could imagine Ebert singing it to her at night by the campfire while the rest of the band is asleep (that's this band's vibe, really). And while it's a shame that we no longer get to watch the sweet relationship between these talented musicians, we'll always have this gentle hippie love song.
"Wild Horses" - The Rolling Stones
Most romantic lyrics: "Graceless lady/ You know who I am/ You know I can't let you/ Slide through my hands/ Wild horses/ Couldn't drag me away"
Rationale: One of the wildest bands of the '60s and '70s also happened to write one of the most poignant love songs of all time. This is about a long, deep intimacy between two people, and of being physically unable to resist the object of your devotion.
"Jim Bogart" - The Front Bottoms
Most romantic lyrics: "I would sleep better on your floor/ Than I would ever in my bed/ And if your carpet makes my face itch/ It'd still be heaven in my head"
Rationale: "Jim Bogart" opens with the above lyrics, sung with lead singer Brian Sella's signature raw vocals. He abandons all pride in his love for this girl, promising to practice his guitar every night, to sleep on her floor without complaint, and to ignore his doctor's advice―all to win her love. We shouldn't have to debase ourselves for love (*rolls eyes* yeah, yeah yeah), but this is art. And if we're being honest, this sentiment is relatable for anyone who's prayed for their love to be reciprocated.
"Loving You" - Elvis Presley
Most romantic lyrics: "If I'm seen with someone new/ Don't be blue, don't you be blue/ I'll be faithful, I'll be true/ Always true, true to you"
Rationale: Elvis tells his love not to get jealous or to believe the rumors about him being with women, reassuring her that she's the one for him. Although multiple sources have claimed that Elvis did, indeed, cheat on his wife, Priscilla, this holds up as one of his sweetest love songs.
"Melissa" - The Allman Brothers Band
Most romantic lyrics: "Knowing many, loving none/ Bearin' sorrow, havin' fun/ But back home he'll always run/ To sweet Melissa"
Rationale: Here, the Allman Brothers sing about a traveling musician who can't get over his sweetheart no matter how many other women he meets. She always ends up resurfacing in his mind, and eventually, he always returns to her.
"My Old Man" - Joni Mitchell
Most romantic lyrics: "He's my sunshine in the morning/ He's my fireworks at the end of the day/ He's the warmest chord I ever head/ Play that warm chord, play and stay, baby"
Rationale: Mitchell's soaring mezzo-soprano meanders through a portrait of her relationship in this song, insisting throughout that, "We don't need no piece of paper from the city hall." She's saying that she doesn't need external validation of the relationship to feel secure in their bond―her partner already gives her all the faith she needs.
"Devil In a New Dress" - Kanye West, Rick Ross
Most romantic lyrics: "Put your hands to the constellations/ The way you look should be a sin, you my sensation"
Rationale: Kanye West is a pretty polarizing figure, but this is still one of my all-time favorite albums. It's a nuanced tribute to his infamous relationship with Amber Rose, and this song encapsulates the often-sexy, always-complicated connection between two people who aren't good for each other, yet can't stay away from one another.
"Love of My Life (An Ode to Hip Hop)" - Erykah Badu, Common
Most romantic lyrics: "But that is all behind me/ 'Cause now there is no other/ My love is his and his is mine/ A friend became the/ Love of my life"
Rationale: Conventional advice tells us to fall in love with someone who can be our best friend, and this song is about two lifelong best friends who find their way back to one another after time spent apart. With her famously beguiling voice, Erykah Badu captures the joy of being truly known by a partner.
"A Sunday Kind of Love" - Etta James
Most romantic lyrics: "I want a Sunday kind of love/ A love to last past Saturday night/ I want to know it's more than love at first sight"
Rationale: We've all been at this point before. If Etta James were to write this song today, she would be explaining that she's sick of one-night-stands and Tinder/Bumble/Hinge dates that go nowhere. Instead, she want something substantial. Someone to relax and binge Bridgerton with on the weekends.
May we all find that Sunday kind love.
RELATED STORY
"Baby I'm Yours" - Arctic Monkeys
Most romantic lyrics: "Baby, I'm yours/ And I'll be yours until the stars fall from the sky/ Yours until the rivers all run dry/ In other words, until I die"
Rationale: This song sounds like it was written in the '50s or '60s. It's your run-of-the-mill slow song, but there's something charming about the Arctic Monkeys being the ones to perform this retro pledge of devotion.
"She Will Be Loved" - Maroon 5
Most romantic lyrics: "I don't mind spendin' everyday / Out on your corner in the pourin' rain"
Rationale: I remember listening to this song in middle school, wishing that the boy I had a crush on would love me enough to stand outside my window in the rain. In retrospect, that would have been awkward and inconvenient to explain to my mother, and these days I would probably find such behavior creepy (when I'm in my pajamas in my apartment, peacefully eating Takis and watching reruns of The Sopranos, the last thing I need is a man standing outside, watching me from the street like something out of The Exorcist), but the sentiment of this song still stands.
"Because the Night" - Patti Smith
Most romantic lyrics: "Come on, now, try and understand/ The way I feel when I'm in your hands/ Take my hand, come undercover/ They can't hurt you now"
Rationale: In this song, which was originally written by lyrical legend Bruce Springsteen, Smith promises her lover that he's safe with her. If you've read Smith's book Just Kids, you'll probably listen to this song and think of her and Robert Mapplethorpe singing and dancing to it down the streets of lower Manhattan.
RELATED STORY
"La Vie En Rose" - Edith Piaf
Most romantic lyrics: "When he holds me in his arms/ And he speaks to me softly/ I see the world through rose-colored glasses" (Translated from French)
Rationale: You definitely know this song. It's the go-to for every romantic scene in every American movie about France. And, granted, it's a great choice for a dinner date, especially if you want to get a little slow dancing started.
"Someday" - The Growlers
Most romantic lyrics: "Just stay for one more night/ One day you're gonna be my wife/ You'll never have to worry again/ I'm gonna be your man"
Rationale: It sounds lead singer Brooks Nielsen's now-wife was getting really sick of his bullshit, and that he wrote this song as a plea to get her to stay. It's poetic, energetic, and hopeful, and it would have worked on me, too, tbh.
"Wouldn't It Be Nice" - The Beach Boys
Most romantic lyrics: "Wouldn't it be nice if we were older?/ Then we wouldn't have to wait so long"
Rationale: This is sung from the perspective of someone who's already certain about who he wants to spend the rest of his life with. And he's wishing that the rest of his life could start right now.
"Stay" - Rihanna, Mikky Ekko
Most romantic lyrics: "Not really sure how to feel about it/ Somethin' in the way you move/ Makes me feel like I can't live without you"
Rationale: Love isn't a formula. There's no real logic to why we fall in love with some people but not others, and Rihanna hits the nail on the head when she says it's just "something in the way [he] move[s]." It's reminiscent of The Beatles' song "Something." Speaking of which...
"Something" - The Beatles
Most romantic lyrics: "Something in the way she moves / Attracts me like no other lover / Something in the way she woos me / I don't want to leave her now"
Rationale: This is a slow, dreamy track on an otherwise bluesy album. George Harrison was the Beatle who penned it, writing that he wasn't sure what exactly triggered his love or whether it would grow. All he knew was that the love was there, and that that should be enough.
RELATED STORY
"Androgynous" - The Replacements
Most romantic lyrics: "And they love each other so/ Androgynous/ Closer than we know, love each other so/ Androgynous"
Rationale: This song is about two non-binary people falling in love, which is pretty cool for a song from 1984. Our main characters, archetypically named Dick and Jane, love each other regardless of gender. The Replacements make a compelling argument about why traditional gender roles and clothing should make no difference, and how love ultimately transcends all.
"I'll Be Seeing You" - Billie Holiday
Most romantic lyrics: "I'll find you in the morning sun/ In every lovely summer's day/ In everything that's right and gay/ I'll always think of you"
Rationale: You know when you're freshly in love (or heartbroken), and everything reminds you of that person? That's what this song is about. Everything around Holiday―the natural world, a park, a cafe, a carousel―is a fond reminder of her beloved.
"Sunday Candy" - Donnie Trumpet & The Social Experiment
Most romantic lyrics: "You've got to move it slowly/ Take it in my body like it's holy/ I've been waiting for you for the whole week/ I've been praying for you, you're my Sunday candy"
Rationale: The Social Experiment is the hip hop collective that boasts members such as Chance the Rapper and Vic Mensa (the former of which is featured heavily on this song). Jamila Woods performs the chorus to this song so sweetly that it's easy to forget the sexual implications, and she and Chance tell the story of a couple that spends a week at a time missing each other, absorbed in thoughts of one another until they're finally reunited.
"Come As You Are" - Nirvana
Most romantic lyrics: "Come as you are/ As you were/ As I want you to be"
Rationale: There are many interpretations of what this song means, ranging from mental health to friendship to commentary on inauthenticity. But, to me, "Come As You Are" works as the ultimate grunge love song; as a promise to love and appreciate someone just the way they are.
"Please, Please, Please" - James Brown
Most romantic lyrics: "Baby please, baby please, please me/ Baby please, baby please don't go/ Don't go, I said baby, don't baby/ I love you so"
Rationale: This song is almost entirely comprised of James Brown repeating "please," and, supposedly, he got a lot of flack from his producers about that before its release. But, like the Yeah Yeah Yeahs' "Maps," this track's magic lies in the passion with which it's delivered–and James Brown is nothing if not passionate.
"I Will Always Love You" - Dolly Parton
Most romantic lyrics: "And I hope life will treat you kind/ And I hope that you have all/ That you ever dreamed of/ Oh, I do wish you joy/ And I wish you happiness/ But above all this/ I wish you love"
Rationale: Without a doubt, you're familiar with Whitney Houston's rendition of "I Will Always Love You," but I love Dolly Parton's soft-spoken, country version as well. Where Houston belts, Parton croons, making this a great alternative for when you want to hear this song on a quiet evening in.
"Songbird" - Fleetwood Mac
Most romantic lyrics: "And I wish you all the love in the world/ But most of all, I wish it from myself/ And the songbirds keep singing/ Like they know the score"
Rationale: Fleetwood Mac's members were notorious for hooking up within their ranks, and Christine McVie (writer and primary vocalist on this song) was no exception. This is a unique love song, because it does unconditional love unlike any other: It illustrates how it's entirely possible to love someone and want the best for them while accepting, albeit sadly, that you might not be that best thing.
"First Day of My Life" - Bright Eyes
Most romantic lyrics: "But I realized I need you/ And I wondered if I could come home"
Rationale: This Bright Eyes track makes me wish I was better at playing guitar. Frontman Conor Oberst makes a frank plea for his beloved, telling her, "I'm glad I didn't die before I met you," and asking for permission to approach. It's an exercise in startling honesty, and the result, like the whole album, is profound.
"Sea of Love" - Cat Power
Most romantic lyrics: "Come with me, my love/ To the sea, the sea of love/ I wanna tell you/ How much I love you "
Rationale: Originally, the last song on this list was going to be T.I.'s "Whatever You Like" because I'm determined that it will play at my wedding one day (I'm not kidding), but "Sea of Love" is too romantic to pass up. With minimal instrumentation, Cat Power delivers a brief but heartfelt love letter whose genius lies in its profound simplicity. 10/10.
For more stories like this, including celebrity news, beauty and fashion advice, savvy political commentary, and fascinating features, sign up for the Marie Claire newsletter.
RELATED STORIES
Celebrity news, beauty, fashion advice, and fascinating features, delivered straight to your inbox!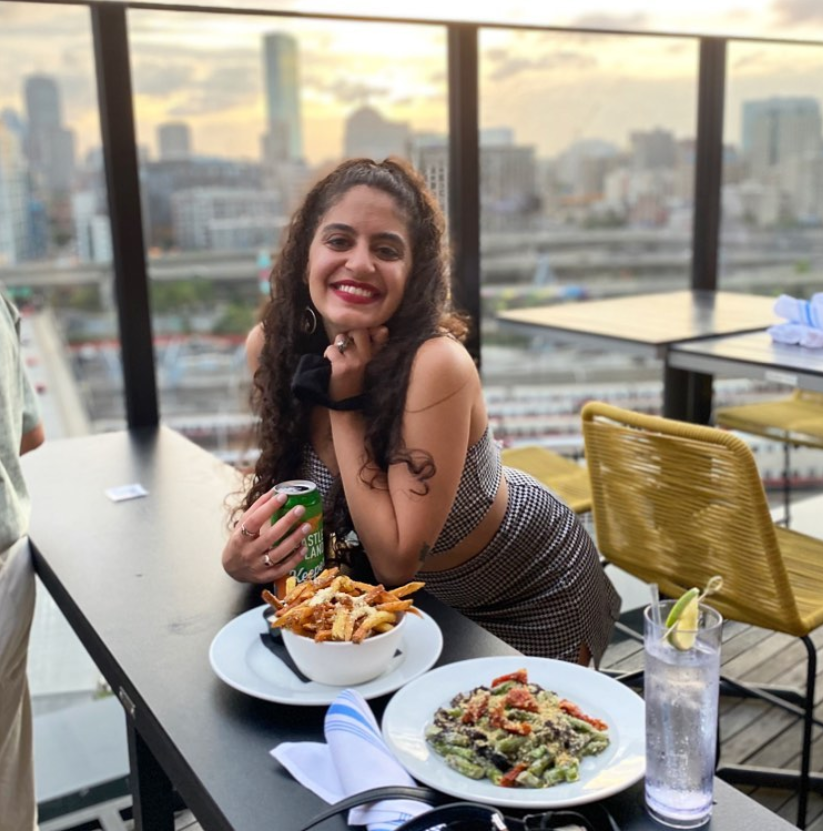 Gabrielle Ulubay is an E-Commerce Writer at Marie Claire and writes about all things beauty, sexual wellness, and fashion. She's also written about sex, gender, and politics for publications like The New York Times, Bustle, and HuffPost Personal since 2018. She has worked extensively in the e-commerce and sales spaces since 2020, including two years at Drizly, where she developed an expertise in finding the best, highest quality goods and experiences money can buy. As a film school graduate, she loves all things media and can be found making art when she's not busy writing.