The Actress Who Plays Brienne on 'Game of Thrones' Says Tormund Is Just as Obsessed with Her Off-Screen
Oh, to be a fly on the wall on set.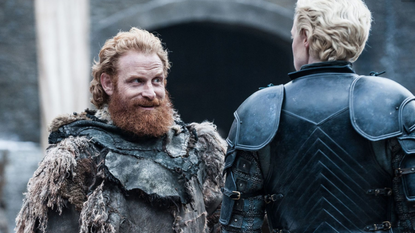 (Image credit: Photo courtesy of HBO)
Warning: This post contains spoilers for Game of Thrones Season 7.
Game of Thrones Season 7 was a whirlwind of emotions for Jon and Daenerys shippers, not to mention the love scene between Grey Worm and Missandei. But some fans were even more excited when one long-anticipated romance finally got some air time: Brienne and Tormund. In an interview Late Night with Seth Meyers on Tuesday, Thrones star Gwendoline Christie, AKA Brienne of Tarth, revealed that Tormund's sensual looks don't stop between takes.
"It's absolutely terrifying, I think," Christie said when Meyers pulled out a photo of Tormund leering at Brienne. While some of the relationships in the show might be more questionable—think Cersei and Jaime's well-known brother-sister love affair—Brienne and Tormund's budding romance adds an element of lightheartedness to an otherwise intense series. (Even if Brienne really isn't that into him just yet.)
It's not difficult to pick up on Tormund's attraction to Brienne in the show, so imagining it off-screen is almost too easy. "[Tormund] is into me, and [Kristofer] likes to continue being in character, even off-set," Christie said of her co-star Kristofer Hivju. "So, we'll be in an easy up—which is of a course a dark tent with a sort of gas heater burning away—and he will start, you know, chewing a sandwich wildly at me, start masticating wildly at me, really kind of making love to that sandwich as he eyeballs me." It sounds like Hivju might ship Brienne and Tormund just as much as his on-screen character does.
"I'm a classically trained actress; however, this is probably the one time that I dissolve [into laughter]," Christie admitted of these moments shared with Hivju. It's difficult to blame her for giggling, though, while having a member of the Free Folk passionately eat a sandwich while making eyes at you.
"In the script it simply says, 'Tormund gives Brienne a look,'" Christie explained. "I was not expecting the power, the magnitude, of intense sexual intention to pour out of a man's eyes and cover me."
In the last episode of Season 7, it was uncertain whether Tormund and his fellow Free Folk survived the Night King's white walker dragon's blue flames and crumbling snow raining down on them. Here's to hoping he did make it out alive, because fans of the couple desperately need to see more of Tormund's amorous looks in Season 8.
Follow Marie Claire on Facebook for the latest celeb news, beauty tips, fascinating reads, livestream video, and more.
Celebrity news, beauty, fashion advice, and fascinating features, delivered straight to your inbox!