Plan of Attack: Sexual Assault in the Military
Women in Congress go to battle over rampant sexual assault in the military.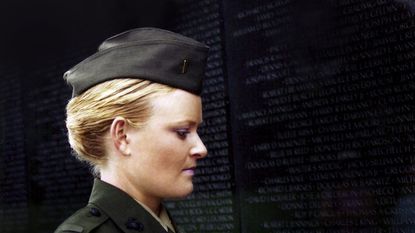 (Image credit: The Invisible)
Picture this: You are raped by a colleague, then your boss gets to decide if the case moves forward — assuming you report the crime and risk your career. That's how it works in the military, and it's a system that a fiery team of women in Congress has vowed to change.
An estimated 26,000 people were sexually assaulted in the service last year, up from about 19,300 in 2010, according to a Pentagon survey. Yet only 3,374 cases were reported last year — and fewer than 10 percent of those went to trial.
Senator Kirsten Gillibrand (D-NY) says the system is in desperate need of a fix. "Victims feel they can't get justice," she says. "They fear retaliation." This spring, she and 27 bipartisan senators and representatives proposed a bill that would reform the military legal system by appointing trained prosecutors — not officers in the victim's chain of command — to decide whether serious crimes go to trial.
Military brass objected, claiming that the current system promotes "order and discipline." At press time, the future of Gillibrand's plan was in doubt, but she vowed to continue battling for justice in the military ranks.
Other women on the Hill have been in on the fight, too: Senators Claire McCaskill (D-MO) and Susan Collins (R-ME) have pushed to strip generals of power to overturn assault convictions. Two female war veterans in the House, Tammy Duckworth (D-IL) and Tulsi Gabbard (D-HI), also have spoken out for reform, as has Jackie Speier (D-CA), who has proposed three House bills aimed at curbing assault.
"Women have taken on this issue with passion," Gillibrand says. "And they will drive us across the finish line." It won't be easy. Says Speier: "Dwight Eisenhower warned about going up against the military industrial complex. We need to stay very firm and very committed to this task."
Marie Claire email subscribers get intel on fashion and beauty trends, hot-off-the-press celebrity news, and more. Sign up here.
Abigail Pesta is an award-winning investigative journalist who writes for major publications around the world. She is the author of The Girls: An All-American Town, a Predatory Doctor, and the Untold Story of the Gymnasts Who Brought Him Down.