"Riding in Style" Turns Literal with Zac Posen and Thom Browne
Check out Zac Posen and Thom Browne's Infiniti Q50 designs for Gilt.com.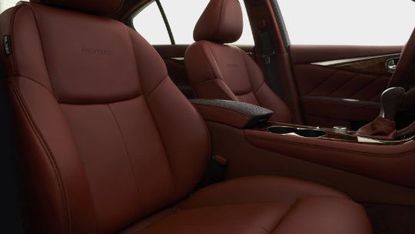 (Image credit: Courtesy of Infinti)
Interior of Zac Posen's Infiniti Q50
For the ultimate definition of "riding in style", Zac Posen and Thom Browne teamed up with Infiniti and Gilt to design two special versions of the 2014 Infiniti Q50. Evocative of each designer's aesthetic, Zac Posen's interior was more feminine, using a deep red throughout the interior reminiscent of the red carpet, while Thom Browne took a more masculine approach, lining the seats with red, white, and blue stripes to highlight the curves of the Q50. The cars will be priced at $75,000 dollars with a portion of the proceeds going to St. Jude Children's Research Hospital. Additionally, two buyers of the Thom Browne and Zac Posen 2014 Infiniti Q50 cars will receive $10,000 of Gilt.com shopping credit and a style consultation at Gilt.
Matching the car designs, the designers are also releasing limited-edition accessories.
Browne is creating a solid silver smartphone case with the red, white, and blue stripe for $650, while Posen will create a red smartphone clutch with a gold chain for $250.
The cars and accessories will be available on Gilt.com on Thursday, December 12th at 12pm (opens in new tab).
Zac Posen's Infiniti Q50
Interior of Thom Browne's Infiniti Q50
Zac Posen's 2014 Infiniti Q50 Clutch