32 Movie Star Couples Who Met on Set
Including a bunch you've forgotten!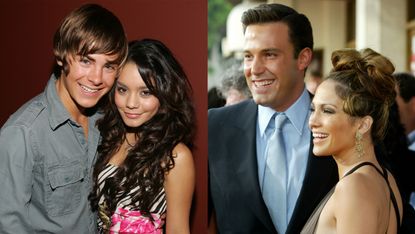 (Image credit: Getty Images)
It will shock exactly nobody to hear this, but movie, TV sets, and stage shows can be intense places. Spending so much time with the cast and crew, dealing with the pressure of a rigorous schedule, and going through the highs and lows of performances together can either make actors intensely frustrated with each other or...intensely enamored with each other, let's say. The movie star couples who meet and get together on set particularly capture our interest because we get to watch them on screen literally falling in love with each other. It feels like a fairy tale—unless that couple breaks up, of course, and then it's just dramatic.
We've seen some truly epic couplings come out of actors falling in love on projects together. What's amazing is that some of these couples have ended up in relationships for years, even decades. Some of the most iconic Hollywood couples absolutely met on set—and you might not have known, because it was so long ago. Keep scrolling to learn more.
Andrew Rannells and Tuc Watkins
Rannells and Watkins originally met in the Broadway show Boys in the Band, and later starred together in the Netflix movie of the same name, started dating shortly after the original show. Rannells told People in May 2023 that he'd definitively decided he hadn't wanted kids, but then (plot twist), "I met someone with two children...And all of that clarity disappeared. Tuc is a wonderful father. I was confronted with the fact that I was in love with someone who did have two children."
Alexis Denisof and Alyson Hannigan
Willow and Westley Wyndam-Price (witch and watcher, respectively) were played by Alyson Hannigan and Alexis Denisof on the hit show Buffy the Vampire Slayer—and they immediately had a connection when they first started working together. Hannigan told Moviehole in 2003, shortly before getting married, "I was just instantly attracted to him and we were friends for a year and a half before we dated, which I recommend because you really just get to know the person and then if they're still there, that's a really good sign."
Anna Paquin and Stephen Moyer
Anna Paquin and Stephen Moyer originally met on the set of True Blood when they were starring as Sookie and Bill, respectively, who played on-and-off love interests throughout the series. Both single at the time, they met while screen-testing, and Moyer said there was an instant spark. When they started filming (and spending more time together), the two developed intense feelings. "By day three or four—oh, this is going to sound so syrupy—but I knew I wanted to spend the rest of my life with her. It was within seconds, really, and it just became a thing," Moyer said on Watch What Happens Live in 2020. The two wed in 2010.
Sarah Michelle Gellar and Freddie Prinz Jr.
If you like the 1997 movie I Know What You Did Last Summer, watch it again and pay attention to Sarah Michelle Gellar and Freddie Prinz Jr. The two met and weren't into each other initially, but then became friends before dating in 2000—apparently it was an "accident" since the third person in their dinner party cancelled. "We were just two people at dinner catching up," Gellar told People in 2020. "We had a long car ride and a long dinner and things just happened." After they realized they had a connection, things happened fast: They got engaged in 2001 and married in 2002.
Jessica Alba and Cash Warren
In 2004's Fantastic Four film, Jessica Alba (Sue Storm) immediately connected with a director's assistant named Cash Warren. "Right after I met [Warren], I called my best friend and was like, 'I met this guy and I feel like I've known him forever and I'm gonna know him for the rest of my life,'" Alba told Cosmopolitan in 2010. In a video on Alba's YouTube channel, Warren said, "I fell in love with you from the first moment I saw you." The two started dating soon after they met and married in 2008.
Mariska Hargitay and Peter Hermann
On season three of Law and Order: SVU, Peter Hermann joined the cast as defense attorney Trevor Langan. Mariska Hargitay, playing Detective Olivia Benson, recalled later on The Drew Barrymore Show, "Who is that Clark Gable, superman guy that I need to marry today?" After Hermann wrapped his guest appearance, he asked Hargitay to attend church with him. "We went to church together, and it was like getting hit with a lightning bolt," she said. "I just started sobbing. Peter thought I was crying because I was so moved by the service. No, it was because I was just overwhelmed, realizing he was the one."
Keri Russell and Matthew Rhys
Technically, Rhys explained on Watch What Happens Live that the two met at a celebrity kickball party many years prior, and had a spark but didn't pursue a relationship (apparently Rhys left an inebriated voicemail). When the two connected while costarring in The Americans many years later in 2013, Rhys told Page Six, "We were both at an age where we've done it long enough to go, 'You know workplace [romances] can be disastrous.'" He added, "So, I think it was approached with caution and a great deal of trepidation...Thank God it worked!"
Beanie Feldstein and Bonnie Chance Roberts
Beanie Feldstein and Bonnie Chance Roberts met on the set of 2019's How to Build a Girl, which Feldstein was starring in and Roberts was co-producing. Feldstein wrote in 2018 on Instagram, "She's the brightest, silliest, warmest, most loving woman and i can't believe she's mine." The two made their red carpet debut in 2019 and wed in 2023. Feldstein told Teen Vogue in 2019 that she wasn't into relationships until she met Roberts: "Whoa! Now I get it…I get why people write songs."
Kelly Ripa and Mark Consuelos
When Mark Consuelos auditioned for All My Children in 1995, Kelly Ripa had already seen a photo of him and had had a premonition, as she later recounted in 2018 on "Lunch With Bruce," saying, "I saw my entire future with him flash before [my eyes]...And I don't believe in any of that and now I do because of that moment." Consuelos was cast on the show shortly after their screen test—they had total chemistry, naturally—and the two started dating soon after.
Kaitlin Olson and Rob McElhenney
If you've ever watched It's Always Sunny in Philadelphia, it will delight you to know that Mac (Rob McElhenney) and Deandra (Kaitlin Olsen) met and fell in love on set. Olsen was cast in 2005; She later recounted that McElhenney was professional, but she pursued him pretty directly. On Dax Shephard's podcast in 2018, she said that she made her move at a game night with their costars. "I'd been drinking, because that's how I handled being nervous around him," she explained. "I would just move in to sit at the game and back up in between his legs, and like, move myself into his lap." McElhenney was mystified, but the two started dating shortly thereafter.
Ginnifer Goodwin and Josh Dallas
The actors who played star-crossed lovers Snow White and Prince Charming on Once Upon a Time were actually falling in love. Ginnifer Goodwin and Josh Dallas apparently began dating as soon as they realized they had chemistry. "I think falling in love is always a surprise, right?" Dallas told People in 2012. "It hit me like a blinding light. I thought, 'I'm in trouble now.'" He also said to Kelly Ripa in 2018, "We didn't fight it. We went straight for it."
Zendaya and Tom Holland
While the pair haven't spoken often about their connection, Zendaya and Tom Holland met on the the set of Spider-Man: Homecoming. Holland told People at the time, "We are like best friends. She's so great and amazing...I'm a little worried [about dealing with fame…but] Zendaya is super famous and she's been through this, and I just call her up and say, 'How do I manage being famous?' I'm very glad I have a friend like her." According to a source talking to People in 2017, they started dating during filming but kept things low-key.
Leighton Meester and Adam Brody
Both Brody and Meester had dated costars previously (Brody was with Rachel Bilson of The O.C. fame, and Meester dated Gossip Girl guest star Sebastian Stan). The two originally met briefly on Gossip Girl then reconnected on the set of The Oranges. The two remained quiet about their relationship, but "I wouldn't change anything [in the past] because I'm happy where I am now," Meester told PorterEdit in 2018. "And I think that's one of the many wonderful parts of not only having a child and meeting your soulmate, but also, I feel really lucky career-wise, really in a place that I want to be."
Rose Leslie and Kit Harington
Rose Leslie and Kit Harington met while shooting season two of Game of Thrones and were first spotted out together in 2012 (they split briefly in 2013 and reunited in 2014). Leslie spoke about falling in love on set. "Because the country is beautiful, because the Northern Lights are magical, and because it was there that I fell in love," Harington told Vogue Italia in May 2016. "If you're already attracted to someone and then they play your love interest in the show, it becomes very easy to fall in love."
Claire Danes and Hugh Dancy
While starring in the film Evening together, Claire Danes and Hugh Dancy met and immediately connected. "I was very recently single, and I had never been single before, so we were just friends for a while," Danes told Marie Claire in 2017. "[Hugh and I] met in Rhode Island when it was at its most audaciously beautiful, in the fall. And there was one day when we were bicycling by the water and it was sparkly and idyllic, and I just had this dumb epiphany, like, 'I'm really just happy.'"
Jenna Dewan and Channing Tatum
If Step Up is one of your favorite movies, then you undoubtedly know that the two leads, Jenna Dewan and Channing Tatum, met while filming the movie. Dewan later told Cosmopolitan in 2016, "We went out one night and danced at a club, and there was that feeling. Then we started hanging out. But he had just gotten out of a relationship, so I said, 'You know what? You are probably not ready to jump into another one. Why don't you take time and figure out what you want?'" Tatum figured out pretty quickly that they should pursue a relationship.
Gwyneth Paltrow and Brad Falchuk
In 2010, Gwyneth Paltrow met producer Brad Falchuk on the set of Glee. Both were married at the time, but Falchuk told Harper's Bazaar in 2020, "She's stunning and she's charming and she's completely disarming. We had similar enough backgrounds—a little bit Jewish, a little bit East Coast, her dad was a TV producer—and so we just sort of developed this really lovely friendship." After both had gone through divorces, they began dating in 2014. They got married in 2018.
Penelope Cruz and Javier Bardem
One of Penelope Cruz's first films, Jamón, Jamón, was also the set in which she met Javier Bardem. Nothing happened at the time (Cruz was 16 and Bardem was 23), but Bardem said there was absolutely chemistry. "One day we're going to have to show the kids—imagine! 'Mummy, Daddy, what did you do in the movies together?'—'Well, my children, you should celebrate this movie as you're here because of it!'" he told GQ in 2017. Years later they actually reconnected on set again with Vicky Cristina Barcelona in 2008—and then started dating. They appeared as a couple for the first time in 2010 and got quietly married later that year.
Gwen Stefani and Blake Shelton
Two singer-songwriters and judges on The Voice, Shelton and Stefani first connected thanks to the show. They met in 2014, bonded over their respective divorces in 2015, with Stefani telling Howard Stern in 2016 that both were dealing with a lot of stress and that it was "unbelievable that God would put us in a position to have each other at that moment, in the same exact moment." She added that she "wasn't trying to start a relationship," but it just evolved organically later in 2015.
Kirsten Dunst and Jesse Plemons
Fargo season two was about a (somewhat unhappily) married couple who become embroiled in drama after the wife accidentally hits someone with her car—but real life was somewhat simpler for the two actors, Kirsten Dunst and Jesse Plemons. Dunst told the LA Times in 2021 that "we fell in love creatively first." She added, "He was like a creative soul mate to me and the way we both work. On Fargo, I knew after two weeks. I didn't remember saying this, but one of my best friends told me that I said to her that 'I will know this man for the rest of my life. I just know it.' Just because I felt such an immediate connection."
Alicia Vikander and Michael Fassbender
One of the most secretive couples on this list, Alicia Vikander and Michael Fassbender apparently met on the set of The Light Between Oceans. The two insisted their connection didn't impact their performance, with Vikander explaining to Entertainment Weekly, "We've made a clear statement that we keep certain things just between us. It was very easy to unite, but that's quite personal." Vikander did share with Vogue in 2018 that the two had gotten married and said, "I feel I'm more happy and content than I've ever been."
Zac Efron and Vanessa Hudgens
At their chemistry test for High School Musical, Zac Efron and Vanessa Hudgens apparently really nailed it. Efron told People in 2007, "For all of the partner things, me and Vanessa always got paired up," adding, "I was like, 'They're not trying us with other people.' For some reason we kept sticking around [for callbacks]. I don't know what it was with Vanessa, but we kind of clicked from the very beginning." They got together shortly after and attended their first event in 2005, before the movie aired.
Chrissy Teigen and John Legend
While not technically a movie set, it's still on set! While filming Legend's music video for "Stereo," he met Teigen—and Teigen, who has never never shy about sharing details about their relationship, said, "I closed the deal the first night," on Watch What Happens Live in 2018. Then the two took it slow. Teigen told Cosmopolitan in 2014, "I played it cool for a long time. Never once did I ask, 'What are we?' Marriage was never my goal because I've never been very traditional. I was just happy to be with him."
Goldie Hawn and Kurt Russell
In 1968, the pair originally met on The One and Only, Genuine, Original Family Band. It would be another decade and a half before the two started dating, but Russell made an immediate impression on Hawn. In 2012, she said, "I was 21 and he was 16 and I thought he was adorable but he was much too young...And then years later we met up again and I liked him and I remembered that I liked him very much when I first met him. But we both said we would never go out with another actor so it just shows you never can tell."
Eva Mendes and Ryan Gosling
In 2011's The Place Beyond the Pines, Eva Mendes and Ryan Gosling met. At the time, Gosling was coy about their chemistry, telling ELLE, "I think that she...I would like to say it's our chemistry, but I think the reality is that it's [director Derek Cianfrance's] process...I think that chemistry is evident in other relationships in the movie, as well, and the kind of environment that he puts you in evokes a kind of connection." But the two were soon seen out together, and they officially confirmed their relationship in 2012 on the red carpet.
Kristen Stewart and Robert Pattinson
On the first Twilight chemistry test with Robert Pattinson, Kristen Stewart recalled they had an immediate connection. "It was so clear who worked," she told the New Yorker in 2021. The actor had an "intellectual approach that was combined with 'I don't [care] about this, but I'm going to make this sing.' " She added, "I was, like, 'Ugh, same.'" Pattinson told Marie Claire UK that he asked her out "a lot" but she turned him down a bunch. Stewart would later tell Entertainment Tonight that he was her first love.
Tom Hanks and Rita Wilson
Way back in 1981, Tom Hanks and Rita Wilson met on the set of the aptly named Bosom Buddies. Hanks was married at the time, and Wilson was only in one episode. But the two immediately had chemistry, Wilson explained. "One of the things, when we met, was that we just got along instantly," Wilson she explained to Kelly Clarkson in 2020. "First of all, I love a good storyteller...So anybody who could tell a good story, I'm down with that." She added, "He makes me laugh all the time."
Jennifer Lopez and Ben Affleck
While on set of the rom-com Gigli, Affleck and J. Lo met and definitely had on-screen chemistry (even though the film failed to perform at the box office). She was married at the time to Cris Judd; They divorced in 2003 and Affleck and J. Lo went public not long afterwards. "The truth is that when we did start working together we got along great. I mean, we really did become friends, really good friends," J. Lo told NBC in 2003. "Bennifer" split in 2004, then reconnected in 2021.
Blake Lively and Ryan Reynolds
While Lively and Reynolds met on Green Lantern, the two were dating other people at the time. In 2011, both single, they sparked rumors they were dating. True to form, the couple apparently started actually dating in the most hilarious way. "About a year after Green Lantern had come and gone and we were both single we went on a double date—she was on a date with another guy and I was on a date with another girl—and it was like the most awkward date for the respective parties because we were just like fireworks coming across," said Reynold on SiriusXM's Entertainment Weekly Radio Deadpool special in 2016.
Daniel Craig and Rachel Weisz
Although the two have rarely discussed it, Daniel Craig and Rachel Weisz connected while filming Dream House in 2010. The two had actually first met in the 1990s. Producer Ehren Kruger told MTV News in 2011, "There is method acting and I guess there is matrimonial method acting. They were playing the roles as professional, and it went from there." They secretly got married in June 2011; Weisz announced the two were expecting in 2018 and told the New York Times, "I'm very happy being married, very, very happy."
Angelina jolie and Brad Pitt
One of the more epic on-set couplings ever, Jolie and Pitt met on the set of Mr. and Mrs. Smith—while Pitt was still married to Jennifer Aniston. Although they denied that they were getting romantic, they later admitted they fell in love on set. Jolie told Vogue in 2007 that their friendship just evolved naturally, saying, "I think a few months in I realized, 'God, I can't wait to get to work'...Anything we had to do with each other, we just found a lot of joy in it together and a lot of real teamwork."
Elizabeth Taylor and Richard Burton
The ultimate scandalous Hollywood couple (who were on and off their entire lives), Elizabeth Taylor and Richard Burton met while costarring on the set of Cleopatra in the '60s. According to Taylor's memoir, it was an originally rocky start. "Has anybody ever told you that you're a very pretty girl?" he asked condescendingly. She told her girlfriends at the time, "Here's the great lover, the great wit, the great intellectual of Wales, and he comes out with a line like that." But then they couldn't deny their chemistry. During a love scene, according to Furious Love: Elizabeth Taylor, Richard Burton, and the Marriage of the Century, "They repeated the scene several times, their kiss lasting longer with each take. Finally, [director Joseph] Mankiewicz shouted, 'Print it'—but the scene continued."