Are Brett and Tiffany Still Together After 'Love Is Blind'?
These two are impossible not to root for.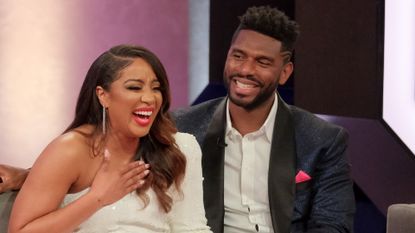 (Image credit: Netflix)
Each season of Love Is Blind has an all-star couple—the couple who make it to the altar with little to no doubts of whether they'll say yes at the end, who makes the viewers truly believe in the reality show's premise for as long as they're on the screen. So far, none of these matches have held up to the show's standard meant-to-be pair, Lauren Speed and Cameron Hamilton. Then came Love Is Blind season 4's Tiffany Pennywell and Brett Brown.
The 37-year-old client lead recruiter and the 36-year-old design director hit it off immediately in this season's premiere episode, and they're the kind of couple that you can't help but root for. Some viewers may wish for all of season 4 to drop at once so they can mainline the drama, but I'm wishing for it so we can be assured that Brett and Tiffany reached their happy ever after. To help with the impatience, read on for everything we know about the pair so far, including any hints about whether they made it past the altar.
What happens between Brett and Tiffany on 'Love is Blind' season 4?
Brett and Tiffany have an instant connection when they meet in the pods, as it's clear that they have the same life and relationship goals. They quickly go deep with their conversations, and appear to be all in with each other instead of exploring other connections. Some of the sweet moments include Brett giving Tiffany the first shoe he ever designed, and Tiffany emotionally supporting Brett when he opens up about his deceased brother.
Their relationship hits its first snag during an emotional moment in the pods, when Brett confesses his love for Tiffany and doesn't get a response. Brett's confused that Tiffany's suddenly quiet for several minutes, and he even eventually leaves his pod. But Tiffany wasn't rejecting Brett's confession; she had fallen asleep! Two of her fellow contestants have to wake her after he leaves, and she later told Tudum that she didn't sleep at all the following night out of nerves.
"I don't think I slept at all that night once I woke back up because I was so scared," she said, noting that she knew at the time that "it takes a while for Brett to open up." "I was like, 'I ruined my moment.' There was this good man right here, and all I had to do was stay awake."
Thankfully, Brett understood when Tiffany explained that she has a record of falling asleep at the worst possible times. After she apologized at the start of their very next date, it ended with Brett going down on one knee, and Tiffany says yes. Their love story continues during the trip to Mexico, where they explore their physical connection and keep being more and more adorable with each scene.
Once they return to the real world, things continue to be mostly sunshine and roses for the couple, who meet each other's friends and have deep conversations about their future. There's also a moment where they have an honest conversation about finances, as Tiffany asks Brett about his occasionally lavish lifestyle, including owning a $1,200 piece of luggage. This is the closest thing to a disagreement they have, but Bougie Brett is open to Tiffany's concern about his luxury spending, adding another tally to the "Brett and Tiffany are meant to be" board.
By the third set of episodes, Brett and Tiffany are the only couple left guaranteed to raise viewers' serotonin with their scenes. Tiffany meets Brett's father and brother and they quickly give their approval after a sweet conversation. There's also a teary moment where Tiffany opens up about how stressed she's been while balancing wedding planning with her work. "I just want my mom [to be] in town and [also] trying to plan everything, like [making] sure the bridesmaids have everything for their dresses. It's just all too much," she says. Brett soothes her worries and reassures that everything would work out. Then he takes her on a surprise date where they fly via seaplane to a beautiful dinner location, where he surprises her with their engagement photos.
Basically, everything about Tiffany and Brett's relationship seems too good to be true, even enough to give Tiffany pause. In an interview with Women's Health, she revealed that she felt their journey was almost too good to be true while filming.
"We had no hiccups," she told the outlet. "It was too perfect for me, and I'm sitting here trying to figure out am I making the right decision?"
She added that she was able to lean on both Brett and her close friends during the chaotic time, saying that her fiancé has "that calming type of presence," and that her friends are her "sounding board."
"They know how to bring me back down. I'm an anxious person at heart, so it's just like having kind of those calming spirits around me, I was able to take a step back, delegate, and lean on my fiancé at that time for support," she added.
Do Brett and Tiffany get married?
Tiffany and Brett's wedding day is an emotional day for the couple. During her confessional in her bridal suite, Tiffany is moved to tears when she thinks about their relationship and how secure Brett makes her feel. She reassures herself that she needs to follow her intuition, and her family and friends are all very supportive and happy about the day, including her mom.
In the groom's suite, Brett meets Tiffany's dad and they have a great conversation about fatherhood and being an attentive husband and parent. Tiffany's dad gives Brett his blessing, and everything about the day seems perfect!... Until Brett tries on his suit and realizes it doesn't fit right. The tense teaser clips of Brett's annoyance on the wedding day was about the suit all along, but luckily he finds a tailor who can alter the pants in time for the ceremony (he gets back with half an hour to go!).
Finally, Brett and Tiffany make it to the altar, where they exchange lovely vows (and Tiffany falling asleep makes it into the speech. To the delight of Brettany shippers, they both (unsurprisingly, tbh) say yes! With their happy ending secured, Bougie Brett and Sleeping Beauty Tiffany party into the night as they begin their life as a married couple.
What happened at the reunion?
Brett and Tiffany were in attendance and in love as ever during the (delayed) live reunion, and started off the special on a positive note by dishing about the past year of marriage. Tiffany revealed that she relocated to Portland to move in with Brett (so many people this season based in Portland!) following the wedding, adding that it was a big transition but that the pair followed their family's advice to "never stop dating" even as they adjusted to the change. They also shared a mini-tour of their married home, with Brett showing off his growing sneaker wall, and playing a small prank where he filmed Tiffany as she was napping on the couch. (The nicknames Bougie Brett and Sleeping Beauty are sticking forever.)
Tiffany also addressed her untimely nap, explaining a bit of the date that was not shown on camera. "We were playing like a game before then," she said. "I was just like, 'Brett, I think I'm falling in love you.' It was just an emotional release, and it was like, alright. I've said what I needed to say." She continued that she doesn't even know how long she was out, with Brett chiming in, "It was about 20 minutes."
We also got more info about the Brett and Marshall bromance, with Marshall revealing that he told both Tiffany and Brett that their future spouse was among the pod daters. "I felt like I had known Brett before all of this. We had just instantaneously connected," Marshall said. "I felt like Tiffany was the right person for Brett and Brett was the right person for Tiffany... I said to Tiffany, your person is here, and you will get through this, and look where they are now."
Celebrity news, beauty, fashion advice, and fascinating features, delivered straight to your inbox!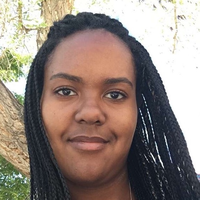 Contributing Culture Editor
Quinci LeGardye is a Contributing Culture Editor who covers TV, movies, Korean entertainment, books, and pop culture. When she isn't writing or checking Twitter, she's probably watching the latest K-drama or giving a concert performance in her car.