Are Shake and Deepti Still Together After 'Love is Blind'?
"It all happened exactly how it's supposed to."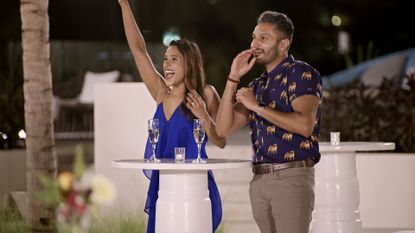 (Image credit: Netflix)
Deepti Vempati and Abhishek "Shake" Chatterjee had a shaky journey from the first episode of Love is Blind season 2. Though they instantly connected over their shared culture, and never having dated anyone Indian before, Shake immediately showed his true colors with a superficial question about whether he'd be able to carry her on his shoulders. "Shake doesn't understand how Love Is Blind is supposed to work here," Deepti said in a confessional. "The whole point is about finding out who we are as people. Not, can you carry me?"
Despite the rough start, the couple built a deep connection, and left the pods engaged after finally seeing each other in person. Though Shake descrbied Deepti as "his best friend," he said he didn't feel a physical attraction to her, and obsessed over his feelings throughout the season, mentioning them to everyone from the other Pod men to his own mother. At one point he even said, "It feels like I'm with my aunt or something."
As they approached their wedding day, Shake and Deepti finally discussed the elephant in the room. "I want him to pull me in and kiss me. I want him to show affection," Deepti said. "Even if our physical connection is not gonna grow at all, it's becoming overshadowed by this emotional connection."
Did Deepti and Shake get married?
Nope. At the altar, when asked if she could commit to being Shake's wife, Deepti said, "I hope you know how much mean to me and the impact you've made on my life, but no, I cannot marry you. I deserve somebody who knows for sure, so I'm choosing myself. I'm going to say no."
(That sound you hear is the entire Netflix-watching population screaming YOU GO, DEEPTI!)
"He's not the one for me. Because if he was, he would make me feel like I was the one. And he never did that," Deepti says in her post-wedding confessional. She explains to her mom, "I chose myself. I'm happy."
"We're still good, though," Shake announces to the assembled crowd. "This is a celebration!" Then he makes everyone start dancing; it's all very weird. "She will definitely be my friend," he tells a guest. "Part of me is upset. But it's a net positive...Thank God I didn't have to say anything, you know. I was the one who was more on the fence, you know what I mean? If I would have said, she would have said yes." (ARGH.)
Meanwhile, Deepti puts it best: "I don't think he realizes what he just lost. And a little time from now, he's going to look back and realized he lost the best thing of his life. And when that day comes, I'll be long gone. He doesn't deserve me."
Are Deepti and Shake together now?
Absolutely not. In an interview with Vulture, Deepti explained: "I hadn't really known the extent of what [Shake] was saying until I watched it with the rest of the world. As the days unfolded, it made me realize that I don't think I can even have him in my life as a friend. Now that the show aired, there's no hope for a friendship there."
At the reunion, Deepti finally got to have the last word: "It's OK to not be physically attracted to somebody. Guess what? There are a million other people who are. It's the way you go about life. It's how you do it and how you say it that's extremely disrespectful and degrading to women. And I'm so happy for every single person sitting on this couch today because they have my back and they call you out."
One person sitting on the couch who's especially glad things didn't work out with Shake: Kyle. "Biggest regret is I should have asked Deepti to marry me," Kyle admitted at the reunion. "I should have tried harder for you...And I wish I saw what was right in front of me and that's my biggest regret."
Speaking to Vulture, Deepti said: "Kyle and I have such a beautiful friendship. We're just figuring it out..
Celebrity news, beauty, fashion advice, and fascinating features, delivered straight to your inbox!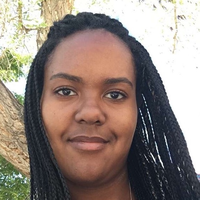 Contributing Culture Editor
Quinci LeGardye is a Contributing Culture Editor who covers TV, movies, Korean entertainment, books, and pop culture. When she isn't writing or checking Twitter, she's probably watching the latest K-drama or giving a concert performance in her car.
With contributions from