'Selling Sunset's Bre Tiesi Answers All Your Burning Questions About Season 6
"I wish people weren't so small-minded or judgmental, but at the end of the day, I can't force anyone to accept my situation or like me."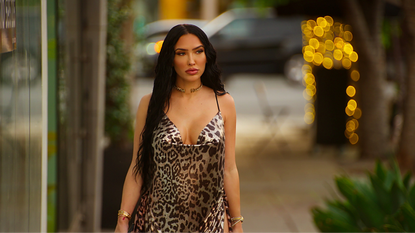 (Image credit: Courtesy of Netfix)
Selling Sunset's newest member Bre Tiesi may have joined the Netflix docusoap six seasons in, but she's already bringing her full, unapologetic self to the reality TV phenomenon. The Los Angeles native quickly fit in with the rest of the Oppenheim Group agents, thanks to Tiesi's calm confidence and straightforward attitude.
Viewers meet Tiesi in the premiere of season 6, during a pre-first day meetup with a welcoming Heather Rae El Moussa. Before the two women bond by trading stories of squat chairs and shaving around a pregnant belly, the newcomer announces her arrival with a premonition. "I'm ready. I don't know if they're ready, but I'm here."
Tiesi's personal life preceded her both for both viewers and fellow cast members. She's best known for welcoming her first child—nine-month-old Legendary Love—with Nick Cannon, who is father to 11 other children. On Selling Sunset season 6, Tiesi's nontraditional family becomes the subject of office discussion before she even arrives, with light gossip eventually building to ongoing friction with colleague Chelsea Lazkani.
"I'm in a very non-traditional situation, and people for whatever reason feel very opinionated about it," Tiesi tells Marie Claire ahead of season six's arrival. "It would be hypocritical for someone that is always honest and outspoken to be bothered by somebody else having an opinion. I do think that I wish people weren't so small-minded or judgmental, but at the end of the day, I can't force anyone to accept my situation or like me, nor do I really care to. It kind of just bounces off at this point. I've heard it a million times."
Here, Tiesi chats about her prior experience on reality TV, the conversations that were left on the cutting room floor, and which cast members she's still friends with today.
Marie Claire: You started out your career mostly in modeling and entertainment. How did you get seriously started in real estate?
Bre Tiesi: I think that I just was kind of coming to like a pivotal point in my life. I had been in the industry where everything was fun and cool and I've made all these great contacts, but like what am I gonna really do long term? Beauty only lives so long, so with modeling and all that, you have an expiration date. So I was like, what can I do that's the quickest and most money, where I can actually have longevity, appearance doesn't matter, and I can utilize my contacts. I basically came to real estate. There's obviously other things you can do, investments, et cetera, but I thought this would be the closest thing I could stay in that would feed both sides for me.
MC: Were you a fan of the Selling Sunset universe before you joined?
BT: I watched it a little bit. I think all the girls were great, and I was a fan enough to be interested in joining.
MC: I imagine it might have been an interesting transition to have day-to-day parts of your job, but now you're doing them in front of a camera. How was it to have showings and everything be filmed?
BT: I kind of unfortunately forget the camera's there sometimes. So I'm actually very comfortable in that instance. It's definitely something that I think keeps you on your toes, on your A-game. You can't afford to slack because you know, everyone will see that. So it definitely holds you accountable to a different level.
MC: You also have experience on other reality shows. Was it different shooting a more real estate-based reality show versus like WAGS and Wild 'N Out?
BT: I definitely feel like this is different because it's business-forward. Even this show I feel like was based more around fashion and stuff, which is interesting cause you would think that would've been on WAGS or another show. There is a level of professionalism [in Sunset] and things that you want to make sure are coming across and perceived. And then the other shows, you can kind of do whatever, there are no real rules or anything.
MC: I feel like your style was more professional than a lot of the looks on the show. Did you work with a stylist, or did you plan ahead for the outfits?
BT: I definitely tried to keep it professional. I also have a very masculine type of vibe. Even though I love the glam, I love a good dress, I'm more sporty and masculine. So I tried to implement a lot more suiting and three-piece and all of that. I definitely stuck with like my core designers that I love, that are a little bit more edgy. I'm kind of a monochromatic, neutral type of gal, so I'm definitely different from the majority of the girls' fashion.
MC: Especially since you're on the show as a new mom, I imagine it was a really busy time for you. Like did you actually have glam every day before filming started?
BT: Yeah. I mean thank god for my glam, I would've never made it. Being a new mom is intense, and especially a first-time mom, so I didn't even really know what to expect and I definitely didn't know what to expect filming this show. There's a lot of work that goes into even just coordinating the team to be here from having help with a stylist—I'm very involved in what I pick and my choices—and then scheduling hair and makeup. Our show tends to be very last minute, so you could be doing all this like the night before, which is stressful and you don't know what the scene's gonna be and all of that. For me, the fashion side of it is a really big deal. My hair and makeup has to fit whatever that outfit is and everything is tailored to that and the scene. So there's definitely a lot of time and effort that goes into planning that.
MC: It's like the 24/7 job of real estate and then another 24/7 job on top of that.
BT: I literally felt like I had four jobs this year. I had being a mom, I had actual real estate, I had the show, and then you have everything else outside of that for jobs, social media and everything else that comes with that, investments. There were a lot of hats I was wearing this year. It was interesting.
MC: I really appreciate your candor with being a new mom. When you realized the show's filming would fall pretty soon after you gave birth, did you decide you were gonna show the real experience of juggling work and being a new mom?
BT: I feel like that's just who I am. I live very outwardly and open and I feel like we're in a different time where everyone is starting to live that way and be comfortable, and I love that and embrace that. I hope it empowers women to be like that, cause I very much just am who I am, and I'm very consistent and you know what to expect of me. I feel like women are just dragged through the ringer and expected to snap right back and be okay while juggling all of these things and it's bullshit. I think for me, I wanted to show that we can do those things, but it's not easy. I just wanted to show the real rawness of how hard it can be and also how rewarding and beautiful it can be. Even [with] the breastfeeding and stuff, I feel like a lot of women feel shame and don't really share the struggles that we go through and the things that happen to our body and to us. And I don't have any shame, so I was very open about all of it. A lot of it didn't make the cut because they were laughing so much about stuff that I would say. So I definitely hope to empower women with all of that.
MC: Was there anything specific that you really wished made the cut?
BT: I wouldn't say anything specific. I think that Heather and I had a lot of discussions about things that happen to your body and what happens in labor, and just things that people don't really discuss. It was more like mom talk, so it was just different. There was just so much I wasn't prepared for and I was looking at my girlfriends like, "How did none of y'all tell me this?" So that was what motivated me to come out with the majority of the information.
MC: As for joining the show in season six where relationships have been established, how did you get past that new girl in the office feeling?
BT: I don't think I ever really felt like that to be honest. I'm not somebody that goes into things like, "Oh, I hope the girls like me, I wanna make friends." That's just not my motivation. I'm a personality that you're either gonna love or hate and, in time you're gonna be able to see the differences. I'm loyal, I'm honest, you know what you're gonna get, and I have a lot of qualities that you don't really find a lot in LA. I know myself enough and I'm secure enough to know that over time these girls are going to like me because I am a good person and they'll see all those qualities. So I kind of just fall back and let people figure it out.
MC: Did you form any opinions about the cast members, like before meeting them?
BT: Not necessarily. I really try to not let outside things ever sway or impression anyone. I like to make my own judgements and opinions on people based on my own interaction, because I feel like that's just very gossipy and it's just not really how I roll. I went into it very neutral and just let people show me who they were. For the ones that did show me, I was definitely correct in my initial opinions on that.
MC: How did it feel to have your coworkers form opinions of you based more on your personal life than what you professionally were bringing to the table?
BT: Unfortunately I feel like that's just something that comes with the territory at this point. I'm in a very non-traditional, controversial I guess, situation, and people for whatever reason feel very opinionated about it. It would be hypocritical for someone that is always honest and outspoken and living their life how they want to be bothered by somebody else having an opinion. I do think that I wish people weren't so small-minded or judgmental, but at the end of the day, I can't force anyone to accept my situation or like me, nor do I really care to. I hope that at some point, you people could not be so nasty or like, shoving their opinions down your throat, but you can't really do much about that. It kind of just bounces off at this point. I've heard it a million times.
MC: Yeah, going into a reality show, you know that people are gonna be judgmental based on what is presented to them on the screen.
BT: Yeah, exactly. And I have no control over the narrative. Even though you think you know exactly what you said that day filming. You think everything's good and then you see an edit and you're like, "Well then, where did that come from?" I've learned at this point there isn't anything I can do about it. I signed up for it; it is what it is. People will either see who I am and see what's happening here or they won't, and either way it doesn't affect my bag or my happiness.
You did find some lovely friendships on the show. Have you been keeping in touch with Heather and Amanza at all?
BT: I'm actually really close with the majority of the girls. I just had lunch with Emma yesterday, and I had dinner with the girls for my birthday. I'm gonna go see Heather next week. I definitely feel like I've made some really good relationships and I adore them, and we're still continuing our relationships outside of filming.
MC: I don't know if you've had the opportunity to watch the whole edited show yet. If so, how was that experience watching it back?
BT: I honestly only watched some of it because the screener expired and I wasn't even ready to get the screener. I didn't plan my time accordingly to watch this. I think overall business-wise and everything, I was very happy with that edit. I felt like my stuff made the cut, so I was happy about that. I think they showcased my business very well. A little bit of my personal life was hard to watch. Inside you're like, I have so much to say, this is not it. But at the same time I'm like, Okay, I understand what's happening here. I just have to look at it a little bit differently and remember that I'm doing a show. I've just been like mentally preparing myself for watching it and hearing everyone's opinions and everything that's about to happen.
MC: How do you take care of yourself while juggling so much? What are you doing to prepare for the show to come out and for everything to be magnified?
BT: I think that's the thing that I've been lacking the most. I was just talking to my assistant downstairs being like, I need to be somewhere other than home this weekend, like when this all unfolds. I've been working my off for the last year. I go to a spiritual healer every week, and I work out and try to do the day-to-day routines of just overall physical and spiritual maintenance and all of those things. But I think this weekend I'm probably gonna take my son and go to a hotel and just be at the pool, spend time with him, take myself out of it and then come back and deal with it on Monday. That's the plan.
Marie Claire email subscribers get intel on fashion and beauty trends, hot-off-the-press celebrity news, and more. Sign up here.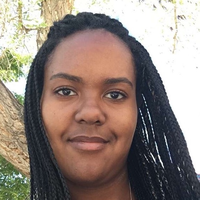 Contributing Culture Editor
Quinci LeGardye is a Contributing Culture Editor who covers TV, movies, Korean entertainment, books, and pop culture. When she isn't writing or checking Twitter, she's probably watching the latest K-drama or giving a concert performance in her car.