The 'Single's Inferno' Season 2 Cast: Your Guide
South Korea's answer to 'Bachelor in Paradise' has finally returned. (Spoilers ahead.)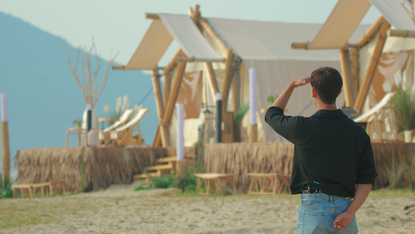 (Image credit: Netflix)
South Korea's answer to Bachelor in Paradise has finally returned. The second season of Single's Inferno premiered on Netflix on December 13, 2022, after the first round of the dating show introduced fans to several star influencers looking to find love. For anyone who's still catching up, the variety series is filmed on an uninhabited island south of the country, where contestants are dropped off in "Inferno" and left to make connections while cooking all their meals and fetching their own water. If a couple like each other and pair up, they can escape to "Paradise," spending the night in a luxury hotel where they can explore their connection.
Though Single's Inferno offers a slower pace and fewer clandestine hookups than your Too Hot to Handles and Love Islands, the dramas that build among the charming cast are super engrossing. There's also an element of mystery, as the cast is forbidden from telling each other their career or age until they get to Paradise. Basically, if you're a fan of K-drama slow burns and relatable reality stars, this series is a must-watch.
Speaking of relatable stars, the season 2 cast ranges from fitness enthusiasts to university students to a pageant queen. Read on to learn about the faces of Single's Inferno 2. Spoilers ahead for the ending of Single's Inferno 2.
Shin Seul-ki
University student and piano major Seul-ki, 25, seems cold and snobbish at first, but people who get to know her describer her as easygoing and "surprisingly fun." In her intro, she says that she hasn't dated anyone in a long time, so she came on the show to meet new people. She's also interested in nice guys who are considerate and have a friendly personality. Her ideal type is Signal and Move to Heaven actor Lee Je-hoon.
Did she leave Inferno with someone? Yes, with Jong-woo.
Park Se-jeong
Model Se-jeong, 26, is a fitness enthusiast who keeps in shape through weight training and tennis. In her intro, she says that her most attractive features are her eyes, "sexy body," and surprisingly playful side. She says she came on the show to meet someone who's as hot as she is and that she's looking for someone with a pretty smile who can take care of her.
Did she leave Inferno with someone? No, she left alone.
Choi Jong-woo
Barista Jong-woo, 25, runs a café with his parents that's famous for its super sweet corn coffee. He's a competitive former athlete who has played soccer since elementary school. In his intro, he says that his charming points are his empathy, sensitivity, and the corners of his mouth which naturally curl up. He also said that he made the decision to come on Single's Inferno after getting his fortune read, where a monk said that if he came on the show, he might meet some who he could end up marrying.
Did he leave Inferno with someone? Yes, with Seul-ki.
Lee So-e
University student and acting major So-e, 23, has appeared in several K-dramas, including her role in the new Netflix revenge melodrama The Glory. She's an avid dancer with a honest and kind personality, though people say she can be clumsy at times. She says that her type is tall guys with strong features, who are generous and reliable. She thinks that she's attractive because she laughs a lot and she's a good listener. She's only had a crush on one guy and ended up dating him, so her success rate is 100 percent.
Did she leave Inferno with someone? Yes, with Se-jun.
Jo Yoong-jae
Finance manager Yoong-jae, 32, is confident that he'll be the strongest guy on the show, and he keeps in shape by doing CrossFit and going on hikes. In his intro, he says that he's attracted to wisdom in a woman, and he's looking for someone he can be with for the long run and not just for the summer.
Did he leave Inferno with someone? Yes, with Seo-eun.
Lee Nadine
Nadine, 23, is a Harvard pre-med student majoring in neuroscience, who previously went viral for her college acceptance reaction video on YouTube. She plays lacrosse and soccer, and she describes herself as having a cold and honest personality. She came on the show because she wanted to step out of her comfort zone, and because she wanted to date. Her ideal celebrity type is Parasite and Our Beloved Summer actor Choi Woo-shik.
Did she leave Inferno with someone? No, she left alone.
Kim Han-bin
Han-bin, 24, is an award-winning chef with a huge smile and a bright, cheerful personality. He likes people who don't avoid eye contact, and says when he meets a woman like that, he'll fall head over heels in love. He says he wants to meet someone who's also positive and create a combined positive energy with her.
Did he leave Inferno with someone? No, he chose Seo-eun and she left with Yoong-jae.
Shin Dong-woo
Cosmetic surgeon Dong-woo, 32, is a weightlifter and basketball player whose friends say that he lives life to the fullest. In his intro, he says that he has a calm personality so he prefers someone very energetic. He also says that since Single's Inferno is a place where they can only attract people with their looks and charm, he's curious to see how much he can appeal to people.
Did he leave Inferno with someone? No, he chose Seul-ki and she left with Jong-woo.
Choi Seo-eun
Artist Seo-eun, 28, is a former Miss Korea who says that no matter who she talks to, she's able to create a relaxed vibe. She graduated from Pratt Institute in New York and her specialty is painting. She enjoys paddleboarding and meditating on the Han River. She also says she can get very cutesy and affectionate when she likes a guy, and she wants to be in a happy relationship with someone who can make her happy just by looking at his face. Her celeb ideal type is 2PM's Lee Jun-ho.
Did she leave Inferno with someone? Yes, with Yoong-jae.
Kim Jin-young
Jin-young, 28, is a former solider for the Korean navy special forces, who now runs a YouTube channel on military content. He says he's very shy at first but that once he warms up to people, he's fun to be around. He works out five times a week and enjoys riding motorcycles, saying that it feels good to be in his own little world when on his bike. He also says that when he meets a woman, it only takes three seconds to feel a spark, and he's searching to feel that spark while on Inferno.
Did he leave Inferno with someone? No, he chose Seul-ki and she left with Jong-woo.
Kim Se-jun
Tailor Se-jun, 27, works as a garment cutter at season 1 cast member Oh Jin-taek's store Ascottage. (He even appeared in Jin-taek's montage, though he had long hair back then.) Se-jun is an avid tennis player who says that his attractive features are his unique cuteness, kindness, and ability to make others feel comfortable. He wants to meet a woman who is kind and has a bubbly personality, because he tends to open up to people like that. Though he's joining the show late, if he meets someone he likes, he plans to go out of his way to win her over regardless of the circumstances.
Did he leave Inferno with someone? Yes, with So-e.
Lim Min-su
Model Min-su, 26, is the CEO of an online clothing store and describes herself as "an iron fist in a velvet glove." Though people think of her as someone with a soft personality who laughs a lot, she's very determined when there's something she wants or feels like she has to do. She says she likes a specific type of guy, so if she meets someone like that, she puts her "blinders" on and goes all in. Since she's coming in late, her plan is to quickly find someone she likes and focus on that one person.
Did she leave Inferno with someone? No, she left alone.
Contributing Culture Editor
Quinci LeGardye is a Contributing Culture Editor who covers TV, movies, Korean entertainment, books, and pop culture. When she isn't writing or checking Twitter, she's probably watching the latest K-drama or giving a concert performance in her car.