Tips to Buying a Designer Handbag
Consider it your ultimate checklist before investing in a pricey carryall.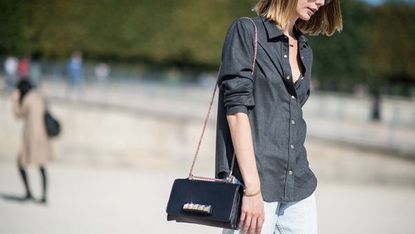 (Image credit: Archives)
Dropping a portion (or all), of next month's rent on a new designer bag can be a scary thing, and certainly not something to be entered into lightly. For BagSnob (opens in new tab) founder Tina Craig, a veteran when it comes to purchasing (and assessing!) handbags, there is plenty to consider before investing in a new saccessory. Here, she shares her top tips to buying a new bag.
1. Before splurging, assess your current arsenal of bags. We like to categorize our bags into five essential categories in order to determine what kind of bag we really need vs "want".
1. Travel bag
2. Tote bag
3. Treasure (or exotic) bag
4. Trendy bag
5. Clutch bag
Have a handful of black tote bags but not a single bright colored clutch? Probably time to splurge on one.
2. To save time, start researching online to see the available bag options out there before hitting the pavement, unless, of course, shopping is your cardio, in which case hit all the malls within 50 miles of your home base.
3. When you're ready to shop, dress appropriately. If you're looking for a winter shoulder bag, either wear your heaviest coat or ask to try on a heavy coat when you test out the bag to make sure it fits over the bulky shoulders. There's nothing more annoying than slipping straps over my winter coat! If you have long hair, walk around to see if your hair gets tangled in the chain.
4. Found your dream bag? The time to dissect it is BEFORE you purchase.
-Turn it inside out to see how the interior is constructed. I always say that a truly well made bag should be as beautiful on the inside as it is on the outside (kind of like friends!)
-Pay close attention to exterior stitching and seams as well. Turn the bag upside down, are the seams well stitched? If you're dropping hundreds, if not thousands of dollars on a bag, it better have straight and tight stitching.
-Take out all the stuffing and tissue and put your own wallet and make up bag inside for the following tests: How does it hold up filled with your things? Does the bottom collapse? Is it easy to open and to access your wallet without your business spilling all over the sidewalk? If there are interior cell phone pockets, see if yours fit and if the wall of the bag collapses when the phone is in the pocket. How heavy is it? You may think you'll be getting a good arm work out but a super heavy bag may actually cause serious damage to your back (remember the heavyweight Chloe Paddington with the 3lb lock?!)
5. Last but not least, find out the store's return policy.
Have fun shopping for your dream bag!
Related Links:

Investment Shopping: 5 Tips on Purchasing Your First Piece of Art (opens in new tab)


Why Does This Bag Cost $1,550? (opens in new tab)


How Can a Bag Cost More Than Medical School? (opens in new tab)

Image by Tyler Joe