The Case for Hose
After years of disdain, Catherine Hageman, the voice behind Small Town, Big Wardrobe, gives pantyhose another shot.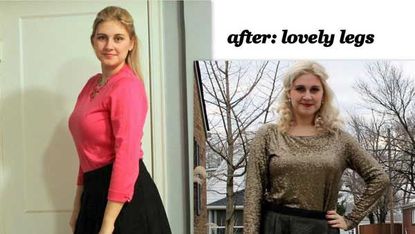 (Image credit: Archives)
Pantyhose: just the word makes me shudder. The hose and tights season is thankfully ending soon (though for my Midwestern self, probably not for another long month), but if you haven't already added hose to your wardrobe, you should. And, this recommendation comes from a girl who formerly hated hose as much as Crocs, leggings as pants, and other crimes against fashion.
My experiences with pantyhose (let's just call them hose) were limited to holidays, occasions when I'd struggle to hike up my hose only to find a run in them. I threw them away and swore I'd never invest in hose again.
Until this winter, that is. I can't bear to say goodbye to some of my skirts and dresses when it gets cold, so tights are a staple of my winter wardrobe. But, after looking at a skirt I had worn with tights, I realized I had fallen prey to the dreaded stumpy legs, and would have to invest in something more sheer. I gritted my teeth and tried hose again.
I decided to start with sheer black hose, and I was thrilled with my first outfit featuring my new legwear! Tights are still part of my winter wardrobe, but hose are actually super flattering — they make your legs look longer (and thus you look taller).
However, no matter how much the Duchess of Cambridge wears them, I refuse to buy nude hose. For now, anyway.
Catherine Hageman dispatches fashionista tendencies fit for a corporate career on Small Town, Big Wardrobe.