9 Rainy Day Outfits You'll Want to Leave the House In
Your hair may be ruined, but the rest of you will look great.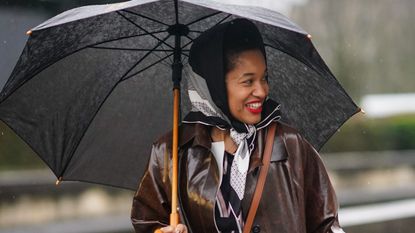 (Image credit: Edward Berthelot / Getty Images)
Rainy days aren't just bad for your hair—they can wreak havoc on your outfit, too. I can't count the number of times my soaked jeans stuck to my legs and my feet squished wet in my shoes because I didn't check the weather or bring an umbrella before leaving for work. But who are we to let a little rain stand in the way of a good outfit? There's no need to settle for leggings and rain boots (though there are plenty of cute options (opens in new tab) available)—you could wear a colorful, mood-boosting rain jacket (opens in new tab) to brighten up your day and everyone else's, or skip the jacket altogether for another pretty water-repelling accessory. Take a scroll through our favorite rainy-day inspo, and you'll be waiting eagerly for the next storm.
Rachael is a sustainability-focused fashion writer and creator. She works full-time as the Brand and PR coordinator for Mara Hoffman whilst focusing her writing efforts on covering sustainable fashion for Marie Claire and EcoCult. As an Aussie living in Brooklyn, you'll catch her splitting her time between Sydney & NYC.