A Long Leather Jacket Is a Worthy Investment
Take outerwear indoors with a knee-length leather trench that can be worn as a power blazer.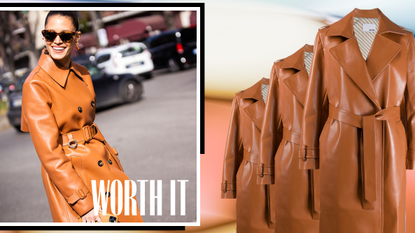 (Image credit: Hearst Owned)
Marie Claire Newsletter
Celebrity news, beauty, fashion advice, and fascinating features, delivered straight to your inbox!
Thank you for signing up to Marie Claire. You will receive a verification email shortly.
There was a problem. Please refresh the page and try again.
Most of us have a cropped leather jacket in our closets for those elusive spring and fall days when the temperature is just right. But what about one in the trench variety, as seen on the Coach runway? The sharp street style look can also sub in for a blazer at the office, making it the elongated, elegant power piece you need for 2020. We asked David Mesquita, vice president of Leather Spa, to weigh in on the trend and teach us how we can take care of a long leather jacket once we (inevitably) buy one.
Marie Claire: Have you seen long leather jackets gain popularity?
David Mesquita: Yes, because a long jacket looks important and powerful. I like it as a statement piece.
MC: What's the best way to store a leather jacket to extend its life?
DM: Store your jacket in a breathable garment bag (not a plastic bag), and make sure that you're keeping it in a place that's not moist or too dry.
MC: How do you spot clean a leather jacket at home?
DM: The trick is to do something right away. A spot cleaner is best, or you can gently rub the spot using a paper towel and a bit of leather conditioner, which is safer than using soap and water. Always do an unobtrusive spot check first!
MC: What should you look for when buying?
DM: Consider your use. If you buy a "fashion" leather jacket, don't wear it for protection against the elements. Any jacket you really love is going to be worth
the investment.
Shop our Favorite Long Leather Jackets
A version of this story appears in the March 2020 issue of Marie Claire.
Celebrity news, beauty, fashion advice, and fascinating features, delivered straight to your inbox!
Megan DiTrolio is the editor of features and special projects at Marie Claire, where she oversees all career coverage and writes and edits stories on women's issues, politics, cultural trends, and more. In addition to editing feature stories, she programs Marie Claire's annual Power Trip conference and Marie Claire's Getting Down To Business Instagram Live franchise.